William Benjamin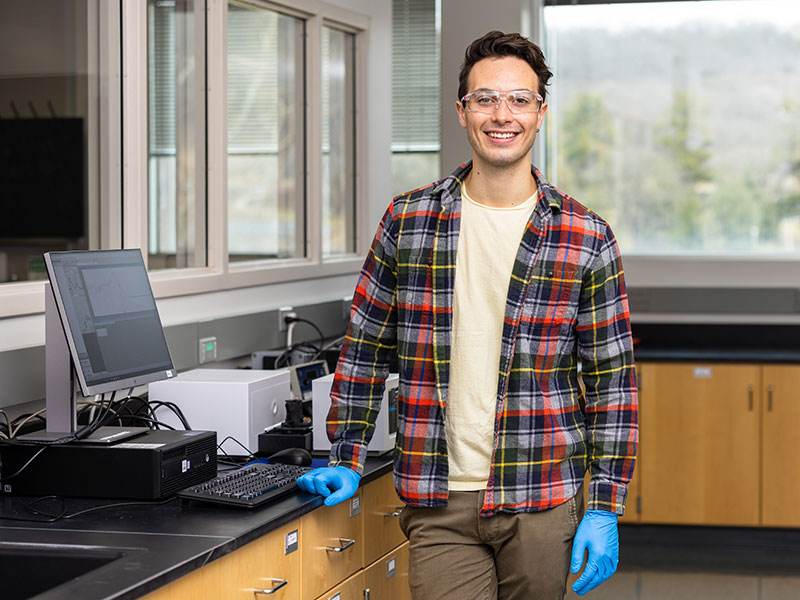 Mixing a Love of Chemistry and Music
During his senior year of high school, William Benjamin '22 became captivated by perfumery—the science of making perfumes and scents. He bought his own ingredients and experimented with mixtures, but he thought it would just be a hobby.
"I had a cool story to tell people, but it was more of just a personal fascination," Benjamin said. "I didn't think of it as a realistic option at the time."
Luckily, Benjamin had another love to guide him: music. His lifelong passion for singing led him to apply to colleges with strong music programs. Because of his interest in perfumery, he also looked for colleges with strong academic programs, especially in the related field of chemistry.
"At some colleges, the chemistry departments weren't that good," Benjamin said. "And at vocal performance conservatories, I couldn't take a single class in something other than music. I was put off by that because I'm interested in a lot of different subjects."
The Perfect Combination
That's what drew Benjamin to Luther. It had the perfect combination of rigorous degree programs and musical opportunities. Luther actively encourages all students to participate in its music program, which is one of the largest undergraduate music programs in the United States. So he accepted a scholarship for vocal performance and enrolled.
Coming from St. Paul, Benjamin worried that he wouldn't be comfortable in a small liberal arts college environment. But he quickly found a community that made him feel at home.
I knew that the academics were good, and I liked the faculty. But ultimately, it was the people. It was my friends down the hallway in my dorm that really made me love Luther and love the community.

William Benjamin '22
Chemistry in Action
As Benjamin settled into life at Luther, his love for chemistry blossomed. He greatly appreciated his chemistry professors, who taught him to use analysis equipment in the labs and explained difficult concepts.
"You wouldn't believe the amount of time that I've spent working on homework outside of their offices, just so I can be right there," he said. "No matter how many questions I have asked, they're always happy to make sure that I really learn."
By his sophomore year, Benjamin chose to major in chemistry. That's when he saw his perfumery curiosity overlap with classes like organic chemistry. While Luther has no specific courses in perfumery, through the school's unique academic calendar, Benjamin gained firsthand experience with a perfumer.
January Term, or J-term, is a month-long mini-semester in which students can explore different passions and interests. They have the option to take a course, study away, or get an internship.
So during one J-Term, Benjamin completed a month-long perfumery internship in Los Angeles.
"I made huge batches of perfume for some clients," he said. "Then the rest of the time, I got to have free rein over the laboratory, use whatever ingredients I wanted and experiment. I documented the research that I was doing and things I was learning, wrote a paper, and got credit for it."
Now, William is putting his education and experience to work as an aroma chemist at Estée Lauder's Aveda.
Musical Passion
Because of Luther College's commitment to helping students shape their college experience, Benjamin was able to balance his new love for chemistry and his continued love for music.
"The nice thing about Luther is if you want to sing without a vocal performance major, that's totally allowed," Benjamin said. "I'm still singing every day in the choir, and I'm practicing close to every day for personal lessons. All these dynamics that played into me coming to Luther."
During his first year, Benjamin joined Norskkor, a choir composed of first-year tenors and basses. The next year, he auditioned for and joined the prestigious Nordic Choir, one of Luther's touring ensembles. Now, Benjamin is rehearsing for Christmas at Luther, in which all the school's music ensembles combine to perform beautiful advent works.
"Christmas at Luther is a full production. There's a top-notch set, and we have very calculated transitions—from moving around on riser formations from piece to piece to making everything smooth. It's a really cool experience."
People Make the Magic at Luther
Thanks to Luther's ability to combine his love for music, interest in chemistry, and passion for perfumery, Benjamin has truly found his home here.
"The community here at Luther has a fit for any puzzle piece, no matter who you are and what you are about," he said. "If you want to be an athlete, but you want to do a capella on the side, bingo! If you want to be a statistics major and go dance at the dance studio on the weekends, you can do that. If you want to do all of the above, you can probably do that, too!
"At the end of the day it's about the community that surrounds you. Above all, what really matters at Luther is the people that come together to make it all happen. That's where the magic happens."