Jackson Churchill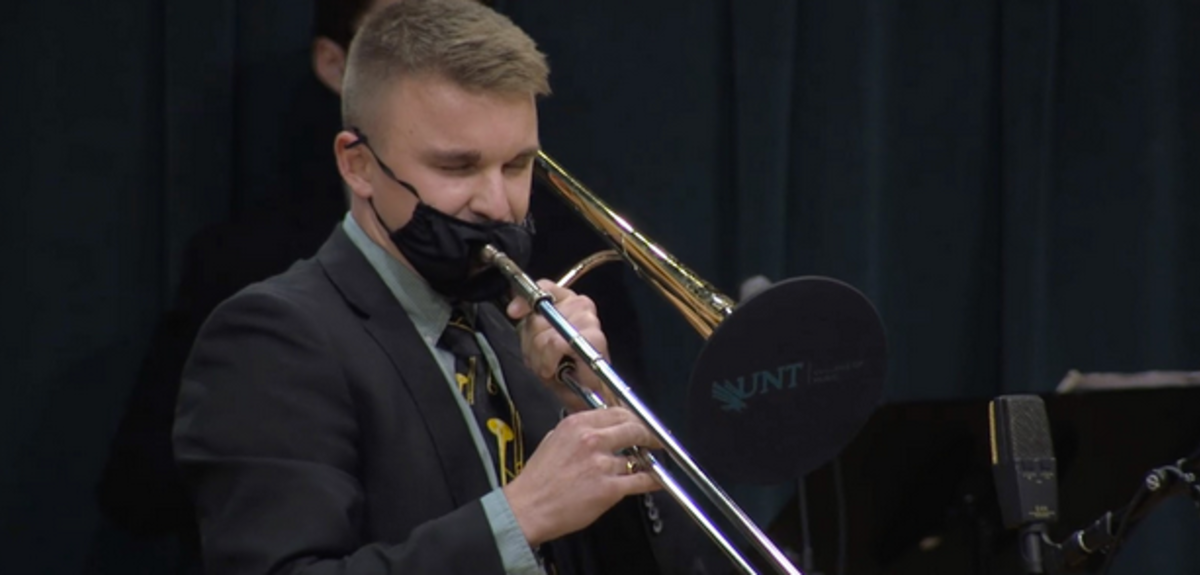 Part of Something Meaningful
While at Luther, Jackson Churchill '20 got more than just a curriculum. "Alongside the amazing professors from whom I learned technical skills, the focus on compassionate and intentional instruction prepares Luther educators to be truly meaningful teachers," he says. "Because of the liberal arts focus, I also learned critical reading, writing, and discussion skills that have helped me advocate for myself, my colleagues, and my students in the workplace."
Touring with fellow ensemble members is often a mountaintop experience for Luther students, including Jackson. From connecting with audiences through performance to making lifelong friendships with peers, ensemble tours are a foundational element of the music program at Luther.
"I didn't realize it at the time, but my transition into college was not the easiest, so the tours helped me truly feel like I was a part of something meaningful and life-giving," Jackson recalled. "From traveling to Vienna with the orchestra to touring the Midwest with the band, each experience shared a piece of our hearts with those who experienced our gifts for whatever they needed: to smile, cry, or simply feel at peace."
Perfecting a Craft—Even in a Pandemic
Navigating the onset of a global pandemic in combination with the obstacles of senior year is a tricky task for anyone. However, along with guidance from faculty advisors, Jackson's perseverance and flexibility helped him sail the uncertain seas.
"I can say that professors such as Jill Wilson, Tony Guzman, and Jon Ailabouni made me feel confident and assured of my skills, and they each encouraged me to keep improving my teaching craft, even if I couldn't do so in a conventional manner," he shared.
Beyond awards, competitions, or recognitions, I feel the most fulfilled when I give 100 percent of my effort to my craft and the musicians I interact with each day. As I move forward, I want to help others experience the joyful, challenging, and life-sustaining experiences that come from this kind of music-making.

Jackson Churchill '20
A Path Toward Inspiring Others
After graduating from Luther with a degree in music and a minor in K–12 education, Jackson felt called to further his education on the trombone. He is currently in his first year as a graduate student in jazz trombone performance at the University of North Texas. There, Jackson directs the Seven O'Clock Lab Band and serves as a teaching assistant for the jazz department.
The school is also home to the Grammy-nominated One O'Clock Lab Band, a jazz ensemble that Jackson had dreamed of playing in since middle school. He was thrilled to get accepted into the ensemble in the fall of 2020. "While I am currently stepping outside of typical public teaching employment, I try to never lose the educator's mindset, and I constantly work to build relationships and inspire others' willingness to succeed," Jackson reflects. "That's a direct result of my experience at Luther, and I believe these skills prepare students for any career, whether or not it aligns with their primary subject of study."
Advice for Future Norse
As Jackson continues with his graduate studies, he aspires to open more doors to meaningful performance opportunities in the future. His hopes are to work every day to become the best musician, educator, collaborator, and friend that he can be.
Jackson advises future Norse to build relationships with professors, lean into difficult times, and fully immerse themselves in the Luther experience. "By making a conscious effort to engage in this way, I began to realize how many unique opportunities Luther offers for future success and, more importantly, a life of fulfillment and meaning," he says. "Learning in community alongside the folks with whom you live, work, and play is a powerful thing. And, you will ALWAYS be a part of that community. Soli Deo Gloria to that!"