Emily Dirks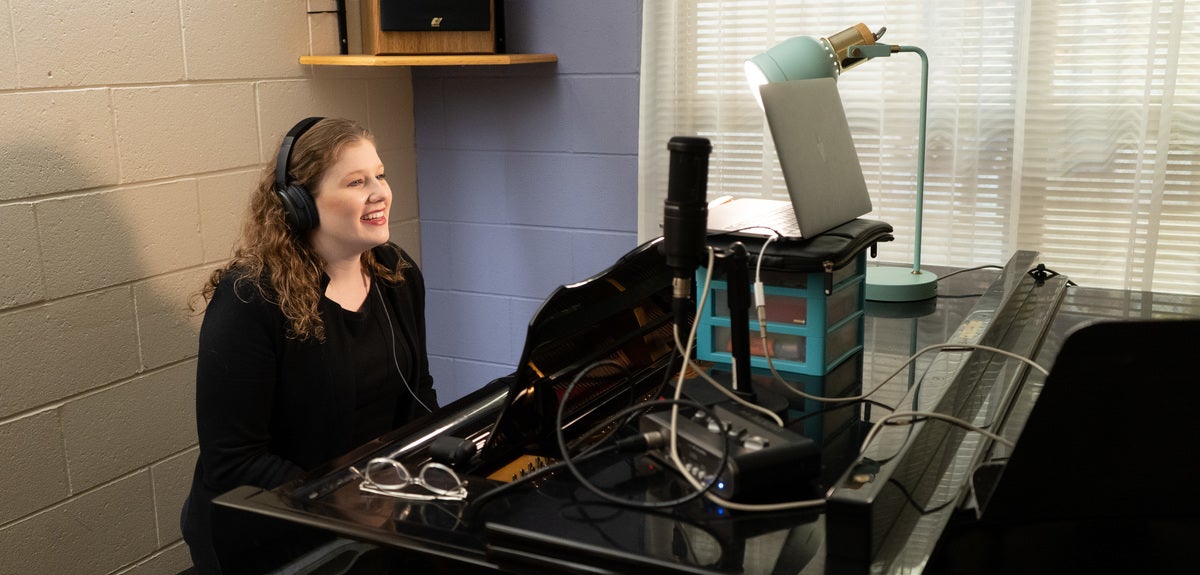 A Full-Circle Opportunity
Not many can say that they've returned to their alma mater to teach only two years after they graduated, but this is a defining part of Emily Dirk's '18 story. Following her graduation from Luther, Emily spent the summer months studying Italian opera in Novafeltria, Italy, before attending Louisiana State University (LSU) for graduate studies. While there, she was given the enriching experience of working under the assistant vice provost in the LSU Office of Academic Affairs, which fully funded her master's degree.
Throughout her time at LSU, Emily expanded her knowledge of operatic studies and honed her craft as a performer. She even got to sing in her dream role of Musetta in La bohème with Opera in the Ozarks the summer after her first year at LSU. Upon completing her masters, Emily returned to Luther as an alumni guest lecturer in music (voice), where she currently teaches private voice students and a course on singing.
Smooth Transitions
Emily's transition from being a student to a faculty member went smoothly for her. "I felt incredibly supported as a faculty member by both the music department and the college," she shares. One of the biggest changes Emily notes is that she is surprisingly less busy teaching 30 private voice students and a course than she was throughout her undergraduate and graduate studies.
I'm thankful for the time to reflect, research, and become a stronger scholar in my field.

Emily Dirk's '18
A Program Full of Immersive Experiences
As a student, what made the choice to attend Luther clear for Emily was how immersed she could be in Luther's campus community. At the beginning of her journey, Emily became involved in the choir and opera programs at Luther. During Emily's junior year, she became involved in the Student Life Office as a resident assistant. Through performing lead roles in Luther's annual operas, touring nationally with the Nordic Choir, and being assistant hall director in Baker Village, Emily felt that she was developing lifelong skills that she could carry with her after her Luther journey.
"These opportunities provided leadership experience, cultivated interpersonal skills, and developed my professional resume. They helped me earn an administrative graduate assistantship in Louisiana State University's Office of Academic Affairs to fully fund my master of music degree," Emily shares.
Encouraging Faculty Mentors
Even before attending Luther, Emily felt supported by the encouraging faculty at Luther. "Before I made my choice [to attend Luther], Dr. Beth Ray reached out often, answered my questions thoughtfully, and offered sample lessons," Emily remembers. "She explained that Luther provided undergraduate singers the unique opportunity to audition for lead roles in operas without competing with graduate-level singers."
Upon arriving at Luther, Emily felt even more support from other music faculty. Through being pushed academically by Dr. John Strauss throughout two years of piano lessons and Professor Kathy Reed in the classroom, Emily was challenged to reach new heights, paving the way for further success. "Kathy Reed was my first-year Paideia instructor," Emily explained. "I became a better writer as her student, as she challenged me more than I was accustomed to in high school. However, her plentiful feedback always guided me to improve. She inspires me now as I grade my own students' essays."
Meaningful Experiences to Last a Lifetime
Reflecting on her experiences at Luther, Emily can point to career-defining roles on stage, concerts she performed with fellow ensemble members, and supervisors and faculty who mentored her along the way. Through involvement within the music department, student life, and work study at Sunnyside Cafe, Emily was able to define her Luther experience on her own terms.
Emily's advice to future Norse is to "discover how you learn best and use it to inform you for the rest of your life." Cultivating relationships with your faculty mentors will provide meaningful, lifelong relationships that help you blossom into your career. "I believe the time spent during your undergraduate years should teach you this. In any job, one needs to understand new information and form ideas about it," she says. "This is exactly what the professors at Luther will guide you to do, no matter your major!"