Contact Information
Laura Barlament
Executive Director of Strategic Marketing and Communications
Send Email
Phone: 563-387-1332
Wisconsin Public Radio to feature "As the Twig is Bent: A Memoir" co-edited by Luther College's Joseph L. Breitenstein
March 11, 2022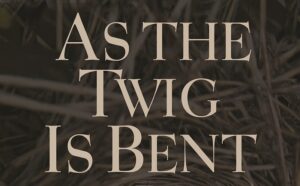 A Luther College professor will have his work featured on Wisconsin Public Radio this month. Beginning on Monday, March 14, WPR will feature "As the Twig is Bent: A Memoir" on its "Chapter a Day" program. The book, by Wallace Byron Grange, was co-edited by Joseph L. Breitenstein, Luther College professor of psychology.
"Along with my co-editor, Richard Thiel, an accomplished naturalist in his own right, we are honored that 'Chapter a Day' selected 'As the Twig is Bent: A Memoir.' This program has been a mainstay of Wisconsin Public Radio since it was first broadcast in 1931," said Breitenstein. "When editing this book, Richard and I agreed early on that our main goal was to bring attention to Grange's life work. His observations about saving the environment are more salient than ever, and we are very appreciative that WPR's audience will be able to hear about this amazing man."
The memoir elicits admiration for a largely self-taught man whose early relationship with nature formed him into a pioneering conservationist, including leading the fight to ban DDT.
"The book we edited is essentially a memoir of Grange's childhood placed in the context of his entire life. The most important years of his childhood were spent in Northern Wisconsin where he lived at the nexus between pristine forests and devastation from clear-cut logging. How to nurture damaged land back to productivity became Grange's life work," said Breitenstein.
This project allowed Breitenstein to channel his psychological interests in personal development, environmentalism and politics. He collaborated with other faculty experts at Luther College to gain necessary technical information including Mark Eichinger and Tex Sordahl of the biology department.
Read by Norman Gilliland, "As the Twig is Bent: A Memoir" can be heard at 12:30 p.m. and 11 p.m. on WPR's Ideas Network Monday, March 14, through Friday, March 25.  Episodes are available online a week after being broadcast.
About Luther College
Luther College is home to about 1,800 undergraduates who explore big questions and take action to benefit people, communities and society. Our 60+ academic programs, experiential approach to learning and welcoming community inspire students to learn actively, live purposefully and lead courageously for a lifetime of impact. Learn more at luther.edu.
Contact Information
Laura Barlament
Executive Director of Strategic Marketing and Communications
Send Email
Phone: 563-387-1332