Tickets available now for "Christmas at Luther 2021: Awake! and Greet the New Morn"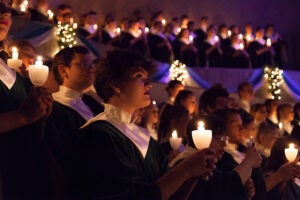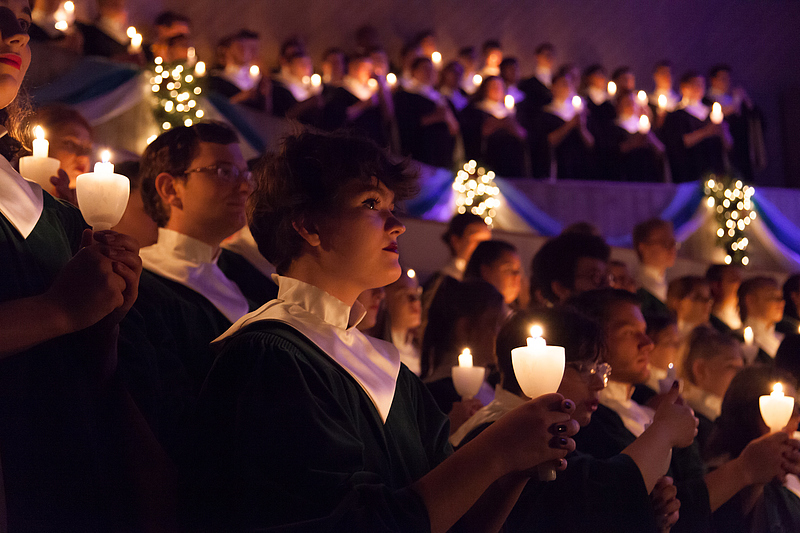 Luther College will present "Christmas at Luther 2021: Awake! And Greet the New Morn" Dec. 2-5 in the Center for Faith and Life Main Hall. Tickets are available now for the live performances as well as a livestream option to enjoy this award-winning show from the comfort of home.
"We are thrilled to be able to meet our audiences where they're at during this unique time in history by offering several options to take in the magic of Christmas at Luther," said Andrew Last, director of choral activities and artistic director for Christmas at Luther. "People can look forward to a wonderful balance of new works and traditional carols in this production as well as some new lighting effects."
Live performances will take place on:
Thursday, Dec. 2 at 5:45 p.m.
Friday, Dec. 3 at 6:15 p.m.
Friday, Dec. 3 at 9:15 p.m.
Saturday, Dec. 4 at 7:30 p.m.
Sunday, Dec. 5 at 2:30 p.m.
The Sunday, Dec. 5 show at 2:30 p.m. will be livestreamed. Purchasing a ticket to the livestream allows unlimited views by the audience member for a 72-hour period. Tickets are available now at tickets.luther.edu. To promote the safety of our community, patrons are required to wear masks in the CFL Main Hall.
This year's theme "Awake! And Greet the New Morn" comes from a hymn by distinguished Luther alum Marty Haugen '73. It is not only a celebration and anticipation of the birth of Christ, but also a hope to exit the 18-month pandemic slumber and begin to welcome a return to a familiarity of life.
"The active strength in words such as 'awake' and 'greet' signal an eagerness and intentionality that has been missing for so long. The 'new morn' for me signals the opportunity to reenter life with an awareness of embracing those things that bring us joy and challenge us to rethink how and if we allow space for things that don't," said Last. "It will be easy to revert back to a holiday season filled with so much that there is little time for reflection and we hope you'll prioritize taking an evening to celebrate with us the birth of Christ."
About Luther College
Luther College is home to about 1,800 undergraduates who explore big questions and take action to benefit people, communities and society. Our 60+ academic programs, experiential approach to learning and welcoming community inspire students to learn actively, live purposefully and lead courageously for a lifetime of impact. Learn more at luther.edu.