Ride for Ukraine raises nearly $7,000 for Ukrainian organizations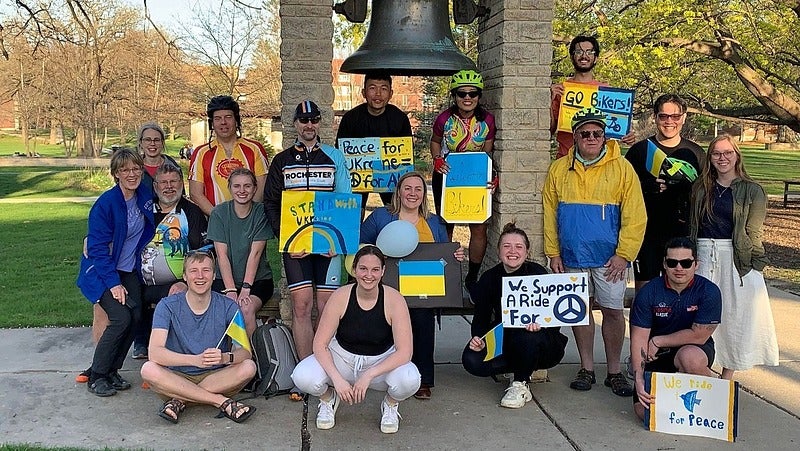 The Ride for Ukraine fundraiser, organized by Luther College students, was a major success. On Saturday, May 7, a group of students and professors from Luther, along with local community members, completed a 75-mile bike ride from Rochester, Minnesota to Decorah, Iowa, to advocate for peace in Ukraine.
"As I had never organized something like that before, and the event had been postponed, I was unsure of how it would go," said Anita Tamang, student organizer. "After seeing the whole team arrive, I felt relieved and knew it was going to be a great day. I am grateful to the entire team who invested so much time and effort into it, including some of my friends who pushed themselves and completed 40-70 miles despite not being regular cyclists. Others made a super-early trip from Decorah to Rochester to support the cause. The whole team gave their best effort, and I am so proud of them. It is difficult for me to adequately express how grateful I am to each of them for their dedication and contribution to this cause and most importantly, for believing in us."
Tamang organized the event with the help of Souk Sengsaisouk and their faculty advisor, Maryna Nading, who is from Ukraine. To date, close to $7,000 has been raised which will go directly to the oncology clinic in Khmelnytskyi, Ukraine, where Nading's mother works. Funds will also be given to address current gaps in care for people impacted by war, including the internally displaced.
As the day wrapped up and riders made it back to Decorah, Nading was at the Luther Bell to welcome them back.
"I felt both joy and gratitude as I watched the riders arrive at Luther Bell one by one or in small groups. Truly, they have given me something I can never repay-a deeply meaningful gesture of support and the ability to send much-needed funds to the volunteers in my hometown who are best positioned to provide immediate support to people impacted by war," said Nading. "On the ground, there are many gaps in care, and being able to close some of these gaps with the help of everyone who participated in this ride is an essential work towards peace. I am grateful that I can serve as a bridge, and hope to welcome people to Ukraine someday when the war ends!"
The GoFundMe page will remain active for several weeks.
About Luther College
Luther College is home to about 1,800 undergraduates who explore big questions and take action to benefit people, communities and society. Our academic programs, experiential approach to learning and welcoming community inspire students to learn actively, live purposefully and lead courageously for a lifetime of impact. Learn more at luther.edu.