Pulitzer Prize-winning author Geraldine Brooks to give Farwell Distinguished Lecture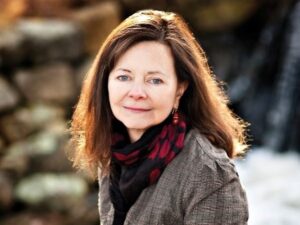 Esteemed author Geraldine Brooks will give the 2021 Farwell Distinguished Lecture and the Luther College Writers Festival keynote address at 7:30 p.m. Friday, Sept. 24, in the Main Hall of the Center for Faith and Life via Zoom.
Presented by Campus Programming and the Luther College Writers Festival, the Pulitzer Prize-winner and New York Times bestselling author will speak about her role in giving context to the past in the address titled "Hearing the Unheard: How Historical Fiction Works."
"I've been an avid fan of Geraldine Brooks since I read 'Year of Wonders,' her book about the plague. When we started living through our own plague in 2020, I thought about that book constantly," said Kristen Underwood, director of campus programming. "I'm so excited to be presenting her. She has recently been advised not to travel, but she will be speaking to us live from her home in Martha's Vineyard, and is looking forward to a Q&A with our in-person and viewing audiences via Zoom."
Brooks' 2005 novel "March" was awarded the Pulitzer Prize for fiction. She is also the author of the international bestsellers "Caleb's Crossing," "People of the Book" and "Year of Wonders." Her acclaimed nonfiction works include "Nine Parts of Desire" and "Foreign Correspondence."
"A rule of thumb in writing historical fiction is that the farther away from your audience you're going in place and time, the greater the leap and the more delicate your balancing act as a writer must be," said Amy Weldon, co-director of the Luther College Writers Festival. "Yet no matter the time or place, Geraldine Brooks makes the leap look effortless. From the biblical world of King David to the 17th century plague village of Eyam, to 19th century America, Geraldine Brooks is a writer who travels."
Sponsored by the Elwin D. and Helen Farwell Distinguished Lecture Series Endowment, this lecture is open to the public with no charge for admission. Brooks will speak to a live audience in the CFL via Zoom, with a Q&A session to follow. Masks are required for gatherings of over 100 in the CFL. To join virtually, a link will be available at luther.edu/events.
About Luther College
Luther College is home to about 1,800 undergraduates who explore big questions and take action to benefit people, communities and society. Our 60+ academic programs, experiential approach to learning and welcoming community inspire students to learn actively, live purposefully and lead courageously for a lifetime of impact. Learn more at luther.edu.