One Team Giving Day was a win at Luther College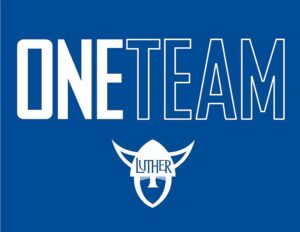 Luther College hosted its second annual One Team Giving Day on Thursday, Nov. 18. The campaign raised more than $329,000 from 1,890 donors to support student-athletes, exceeding the college's $250,000 goal.
"It was such an exciting day for coaches and student-athletes of the Luther College Athletics programs!" said Renae Hartl, director of intercollegiate athletics. "I want to say thank you to everyone who supported and participated in the day through their messages and donations. We want our coaches to be able to create competitive schedules and provide cutting-edge training equipment for our student-athletes. The outcome of this day ensures that we can do so."
One Team Giving Day highlights the importance of athletics and student-athletes within the Luther community. The campaign kicked off at 6 a.m. on Nov. 18 and wrapped up at noon on Nov. 19 and included opportunities to support all student-athletes as "˜one team' or individual athletic programs.
"I am so grateful for the way our alumni, parents and families, faculty and staff, and friends of Luther came together to support our student-athletes," said Megan Torkelson, director of annual giving. "These donations go directly to each program, not only to maintain our tradition of excellence but to further enhance the student-athlete experience. The Luther community truly is "one team,' and it's so much fun to watch everyone come together to support Norse sports."
One Team Giving Day followed a record-breaking Luther Fund Giving Day 2021 on March 11, when more than $1.1 million was raised to support scholarships and financial aid, field study trips, music tours, student organizations, volunteer opportunities in the community, college ministries, residence hall improvements, campus landscaping, building maintenance, intramural sports, student/faculty research and more. The seventh annual Luther Fund Giving Day will be held on Thursday, March 10, 2022.
Luther College, a NCAA Division III athletics program, is a member of the American Rivers Conference (A-R-C) located in Decorah, Iowa.