Contact Information
Laura Barlament
Executive Director of Strategic Marketing and Communications
Send Email
Phone: 563-387-1332
Luther College Nordic Choir to perform Homecoming concert as part of its 75th Anniversary Tour
May 12, 2022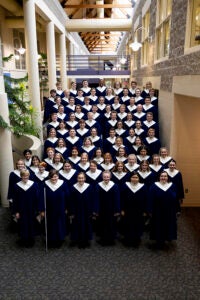 The Luther College Nordic Choir, one of the premier collegiate choral ensembles in the United States, will perform at 7 p.m. Wednesday, June 1, at Decorah Lutheran Church.
Hallie Johnson, Lily Smith, and Abs Trewin from Decorah will be among the performers.
The concert is part of Nordic Choir's 75th Anniversary Tour. The group was founded by Sigvart Steen and memorably conducted for 57 years by Weston Noble '43. Previous conductors also include Craig Arnold and Allen Hightower. Since 2017 the choir has been under the direction of Andrew Last, associate professor of music and director of choral activities.
"After a year with no opportunity to tour, Nordic Choir is excited to share music with audiences around the Midwest," said Last. "As we celebrate the 75-year history of this ensemble, the concert program promises to include something for those who wish to celebrate the past and for those who look forward to the future!"
Audience members can look forward to hearing classical pieces including "Alleluia" by Randall Thompson and "Lost in the Night" arranged by F. Melius Christiansen as well as new music including "The Gift to Sing" by Gregory Berg, commissioned by the Luther College Class of 1970, and "I Won't Forget" by Zachary L. Moore.
"I Won't Forget" was commissioned by the Studt Family of Eau Claire, Wisconsin, in memory of Rachel Studt " '89 who recently passed away from rare, young onset dementia. Her husband, Larry, wrote the lyrics, and their daughter, Laurel '22, sings in Nordic Choir and will perform the piece among her peers.
"I would say it's a very reflective piece," said Laurel. "It's a lot about dealing with trials and tribulations of an illness which a lot of people had to go through during the pandemic. Our situation wasn't specifically related to COVID, but it's a very emotional piece, just reflecting on the difficulty of the pandemic, not being able to see the people we love and being in that kind of isolation. But it does end up in wrapping up with just being grateful for all of the memories that we've been able to make over these past years and the time we get with our loved ones."
The world premiere of "I Won't Forget" was at the ACDA Midwest convention in Chicago in February.
Tickets are not required and there is no charge for admission but a a freewill donation will be collected.
This Homecoming concert is the final event of Nordic Choir's regional tour which includes stops in Eau Claire and Janesville, Wisconsin; Iowa City and Clive, Iowa; Sioux Falls, South Dakota; La Grange, Illinois; and St. Michael and Minneapolis, Minnesota.
Last, a 1997 alumnus of Luther College, earned a master's degree in choral conducting from Northern Arizona University and a doctor of musical arts in choral conducting from the University of Nebraska Lincoln School of Music.
Nordic Choir is Luther's principal touring choir in a choral program that comprises three upper-class mixed touring choirs and two first-year choirs. Nordic Choir honors the Lutheran choral tradition while exploring new and innovative choral works that span styles and genres.  Performances have been described as "thrilling," "breathtaking" and "rock-solid in intonation and rhythmic clarity."
The choir tours annually, performing in churches of all denominations, schools and concert halls, including Lincoln Center in New York, the Kennedy Center in Washington, D.C. and the Walt Disney Concert Hall in Los Angeles. Internationally, the ensemble has toured in Germany, Italy, England, Ireland, Scandinavia, the Caribbean, Mexico, Russia and Eastern Europe.
About Luther College Music
Luther is home to one of the largest undergraduate music programs in the nation, with five choirs, three orchestras, two bands and two jazz bands. One-third of all Luther students participate in music, including large ensembles, faculty-coached chamber groups, private lessons and master classes. Nearly 175 music majors study music theory, ear training, history, education, composition, jazz, church music and performance. Learn more at luther.edu/music.
Contact Information
Laura Barlament
Executive Director of Strategic Marketing and Communications
Send Email
Phone: 563-387-1332