Contact Information
Laura Barlament
Executive Director of Strategic Marketing and Communications
Send Email
Phone: 563-387-1332
New members to serve on the Luther College Board of Regents
June 8, 2022
Luther College President Jenifer K. Ward is announcing that Alessandro Raniolo, Leah Vriesman and Liang Chee Wee will join the Luther College Board of Regents.
"I am pleased and excited to welcome this impressive slate of new Regents to our board," said Ward. "Their varied life experiences, professional backgrounds, and local, national, and international perspectives will contribute so much to the important work our board does in support of a Luther College that is both grounded in Decorah, Iowa, and global in reach and impact."
Raniolo, Vriesman and Wee will attend their first Board of Regents meeting in October. The regents serve as trustees and stewards, ensuring that Luther fulfills its mission by providing fiduciary and strategic oversight in collaboration with college constituents.
Alessandro (Sandro) Raniolo '88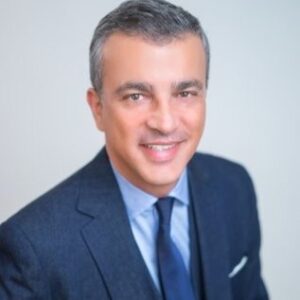 Sandro Raniolo has over 30 years of international experience working for luxury brands and selective distribution. He is the former president of global commercial real estate for Ralph Lauren. In this role, he was responsible for expanding the brand's retail and wholesale business globally. Prior to joining Ralph Lauren in 2012, Raniolo held brand and general management positions with L'Oreal, The Estee Lauder Companies and Ermenegildo Zegna.
Raniolo and his family have lived in multiple countries and territories including Malta, the U.S., Hong Kong, Singapore, Japan and the United Kingdom. One common thread for Raniolo lies in his interest and support of museums and contemporary art.
"By serving on Luther's Board of Regents, I hope to deepen my connections to the college and its community and to give back to an institution that has shaped my life so significantly. I hope to bring my international network and business experience for the good of the school," said Raniolo.
He holds a master's degree in economics from the College d'Europe and bachelor's degree in management information systems and economics from Luther College. He speaks English, Italian, Maltese and French.
Raniolo is married to Christine B. Pillsbury. The couple has two children named Marc and Eleanor. He currently lives in Singapore.
Dr. Leah Vriesman '88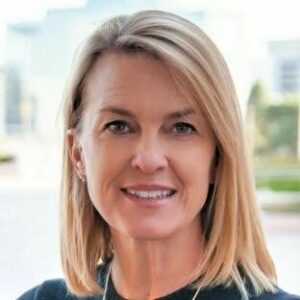 Beginning in July 2022, Leah Vriesman will realize her promotion to associate dean of academic and faculty affairs at the University of California Los Angeles. Previously, she was a professor and the executive director of Executive Programs in Health Policy and Management at UCLA's Fielding School of Public Health. An expert in her field, Vriesman teaches about strategic management of health service organizations and international health systems and travels often to give keynotes for audiences on healthcare innovation and transforming healthcare delivery systems.
Vriesman was chosen as the inaugural 2018 National Faculty of the Year from the Association of University Programs in Health Administration. As a 2010-11 U.S. Senior Fulbright grant recipient and German Scholar Exchange award winner, she spent a year in Neu Ulm, Bavaria, Germany teaching international healthcare management and strategic marketing to German physicians studying for their healthcare MBA at the University of Applied Sciences.
For eight years, Vriesman has served on the board of Angel Flight West, a volunteer non-profit pilot organization based at the Santa Monica airport that provides medical transportation in all states west of the Rockies.
"After my husband, Jonathan Wee, and I received the Luther College Distinguished Service Award in 2008 for our early alumni work with the college, I've been interested in continuing to give my service once my kids were grown," said Vriesman. "Representing West Coast alumni and higher education leadership, I look forward to serving as a regent for Luther's continued growth and success."
Vriesman received her Ph.D. in medical sociology from UCLA and her MHA and MBA in strategy from the University of Minnesota-Minneapolis. She lives in Hermosa Beach, California, with her husband Jonathan Wee '88 and kids, Xander Vriesman and Linnea Wee.
Dr. Liang Chee Wee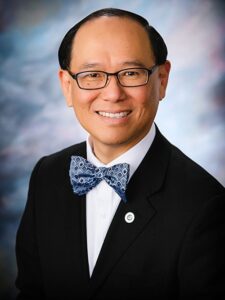 Dr. Liang Chee Wee has been an educator for over 35 years. 15 of those years were spent at Luther College teaching and serving as a department head and associate dean. In 2007, he left Luther to become the provost and later assumed the presidency of Northeast Iowa Community College, a position he is retiring from in June 2022. Wee has a passion for establishing partnerships in the interest of creating educational opportunities for all learners, driving economic development for business success and enhancing community vitality for northeast Iowa.
Wee grew up in a rural village in Singapore and arrived in the U.S. on July 4, 1983, after serving in the Singapore Armed Forces. Now, he is a board member of many groups and organizations including the Community College Alliance for Agricultural Advancement of nine midwestern states, the Sector Partnership Leadership Council of the State of Iowa, MercyOne Dubuque and the Greater Dubuque Development Corporation. He is a member of the Decorah Rotary, Calmar Economic Development and the Post-Secondary Course Audit Committee of the Iowa Department of Education.
"During my time at Luther College, I developed a deeper understanding of vocation and service," said Wee. "Through my service on the board, I look forward to supporting President Ward's leadership, the caring work of the faculty and staff and the learning journey of the students."
Wee holds a Bachelor of Science degree in business administration with distinction from the University of Arizona and an MBA and a Ph.D. in business administration from the Karl Eller Graduate School of Management at the University of Arizona, Tucson.
Wee lives in Decorah with his wife Jane Ann Whelan who worked at Luther College for 34 years in the academic Dean's office. His stepson Paul Whelan '95, daughter-in-law Kristy (Miller) Whelan '94 and stepson Mark Whelan '02 all graduated from Luther College.
About Luther College
Luther College is home to about 1,800 undergraduates who explore big questions and take action to benefit people, communities and society. Our academic programs, experiential approach to learning, and welcoming community inspire students to learn actively, live purposefully, and lead courageously for a lifetime of impact. Learn more at luther.edu.
Contact Information
Laura Barlament
Executive Director of Strategic Marketing and Communications
Send Email
Phone: 563-387-1332