Luther College's Nordic Choir selected to perform at Midwest ACDA Conference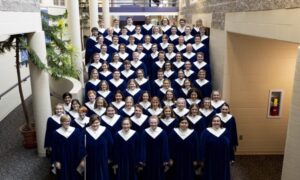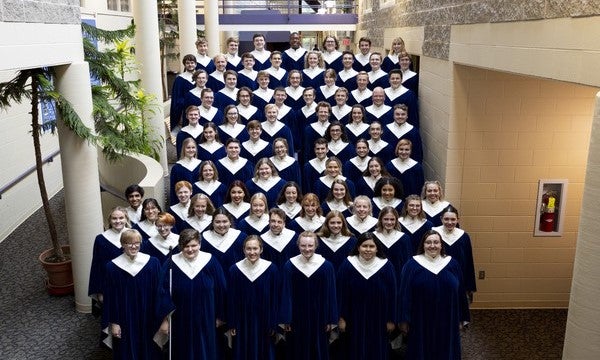 Luther College's Nordic Choir was selected to perform at the American Choral Directors Association conference held at the Harris Theater for Music and Dance in Chicago on Feb. 18.
"In the choral music world, an invitation to perform at one of the ACDA conventions is one of the great honors," said Andrew Last, conductor of Nordic Choir. "The convention itself is an opportunity for teachers/conductors from around the country to come and share ideas, learn from master teachers and perform for one another."
The selection process for the prestigious conference is multifaceted. Choirs must anonymously submit three years  worth of audio recordings to a panel of judges. Invitations for various categories are based on the panel rankings. Being selected is an honor, and Last expressed the "huge sense of responsibility" that the ensemble felt in representing Luther College.
"This is an opportunity for choral musicians at all levels to get a first-hand look at the excellence of music at Luther," said Last.
The theme of Nordic Choir's program was "Our COVID Journey." It featured five songs that aimed, in part, to reflect on emotions felt when students and faculty were sent home in 2020. The program also sought to inspire a sense of hope and community.
"There were definitely tears shed both on and off stage," said Brenna Reiland, Nordic Choir member. "Knowing we got to share such real and raw moments with an esteemed audience was very cool. I am proud of how we conveyed the story, I am proud of the performance we shared, and I am proud to call myself a member of the ensemble."
The theme of the Midwest ACDA conference was "Sing Together as One," something this choir is happy to be doing again, on the road.
"It was a wonderful taste of the touring experience that we've been longing for since January 2020 and it made us feel much closer to each other," said Rhylan Peterson, Nordic Choir member. "It was emotionally and physically draining, but we would all do it again in a heartbeat, for the message we gave and the friendships we strengthened."
"The music we make feels like it is coming from our souls, in a sense. Everyone I have spoken to about the conference is just ecstatic about how it went. I cannot wait for more amazing opportunities like this," said Reiland.
About Luther College
Luther College is home to about 1,800 undergraduates who explore big questions and take action to benefit people, communities and society. Our 60+ academic programs, experiential approach to learning and welcoming community inspire students to learn actively, live purposefully and lead courageously for a lifetime of impact. Learn more at luther.edu.