Luther College's Nora Nyi Myint announced as the 2022 Jenson Medal Award recipient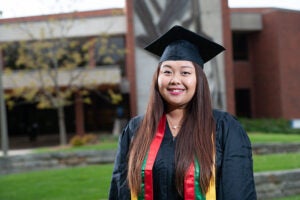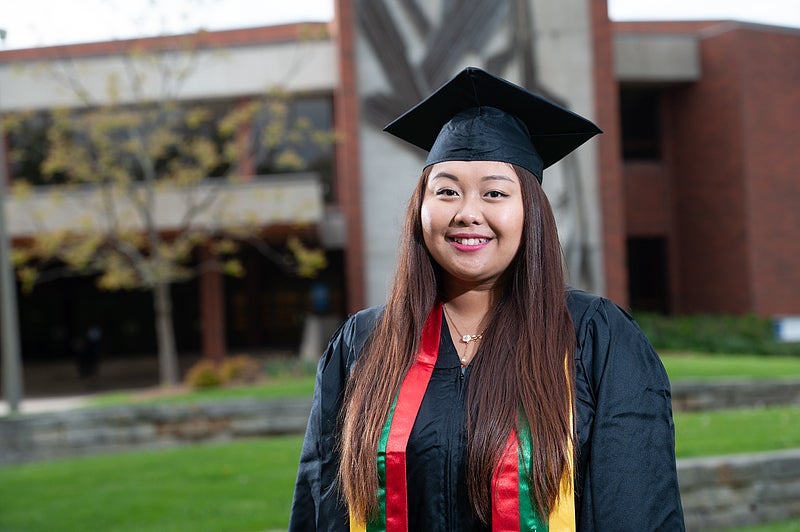 Luther College graduating senior Nora Nyi Myint of Yangon, Myanmar (Burma) received the college's Elizabeth A. and Paul G. Jenson Medal for the class of 2022. The announcement was made during the Commencement ceremony on Sunday, May 22.
"I am truly humbled to learn that I won the Jenson Medal," said Nyi Myint. "I believe I am just one of the many voices in our class that did everything in their power to help make Luther a place where we can feel like we belong, are nurtured and can grow. I worked tirelessly to give back to the Luther community as a form of gratitude for all the opportunities that have been given to me, and my heart soars knowing that some of my work helped and touched the hearts of my classmates."
Luther's Elizabeth A. and Paul G. Jenson Medal is presented each year to an outstanding senior, selected by the graduating class, who best demonstrates the ideals of the college through service to students and the college community. Established through an endowment gift from Luther alumni Paul '48 and Elizabeth (Dybdal) Jenson '49 of Vassalboro, Maine, the Jenson Medal supports Luther College's mission of service.
Nyi Myint served as the lead career peer advisor at the Luther Career Center and lead outreach specialist at the Luther College Counseling Service. She was the president of the Model United Nations Club and Intersectional Feminist Club and she represented Luther as the college ambassador to the Iowa United Nations Association in 2021.
During her introduction of Nyi Myint at the Commencement ceremony, Ashley Benson, dean of student engagement, said, "Nora regularly served as an outspoken voice within the Luther community, such as when she served as a panelist at the Center for Ethics and Public Engagement's Pop-up Panel: Tell Me about Myanmar, highlighting how the 2021 military coup in Myanmar impacted four Luther students and their home country. On top of all the hardships that an undergrad student faces, she was serving her country by being a human rights activist as part of Sisters 2 Sisters Myanmar, a civil society organization that raises awareness and alleviates gender-based violence perpetrated by the Myanmar military, and worrying about what it means for her ability to return home. Despite this, Nora is finishing her time at Luther with a cumulative GPA of 3.9 to prove that you can persevere through adversity."
Nyi Myint rounded out her time at Luther by taking part in the Washington Semester program where she interned as the program assistant at the Public Leadership and Education Network (PLEN), a nonprofit organization that empowers, educates and engages women and marginalized gender groups in the public policy arena. She is a recipient of the 2021 Kuh Family Positively Luther Award and the Lynn Arthur and Mary Frost Steen Fellowship.
"As I reflect on my time at Luther, my heart is full of gratitude for the endless support and inspiration I received from faculty, staff and my peers to pursue my dreams. I was able to share my light with others when they were burned out by the many adversities we face in this world today, and when the time came that I was burned out, plenty of people in the Luther community stepped up to ignite a flame in me that inspired me to do good, move forward and fight on for peace, justice and love. I will always treasure this experience and carry this priceless sense of community with me as I go on to serve the world to the best of my capabilities as a leader," said Nyi Myint.
Nyi Myint graduated with degrees in international studies with a peace and dialogue concentration and women and gender studies. In June, she will begin her new role as the program associate for Burma at the International Republican Institute, a nonpartisan nonprofit organization that advances freedom and democracy worldwide in Washington, D.C.
"This position means the world to me as someone who wants to help my country, Myanmar, which suffers from political unrest after our democracy has been stripped away from our people due to the military coup in 2021. I am utterly fortunate that I will get to do work perfectly in line with my education and passion."
About Luther College
Luther College is home to about 1,800 undergraduates who explore big questions and take action to benefit people, communities and society. Our academic programs, experiential approach to learning and welcoming community inspire students to learn actively, live purposefully and lead courageously for a lifetime of impact. Learn more at luther.edu.