Luther College students use remote sensing technology to study Decorah history
Luther College students are using their archaeology knowledge and specialized technology to learn more about a piece of Decorah history – the Ice Cave Mill.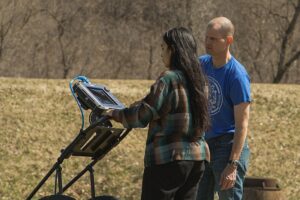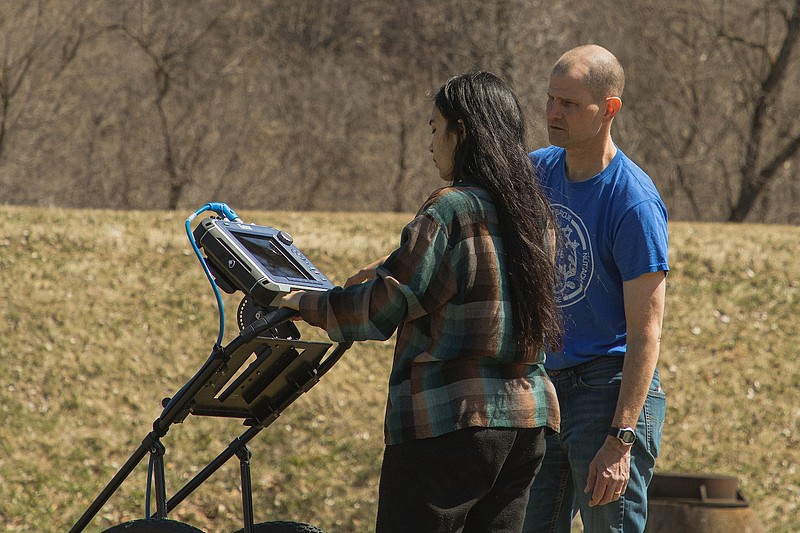 "This project was particularly exciting because it provided the ability to reveal an important, but largely forgotten, aspect of Decorah's history that remains buried just beneath the surface," said Colin Betts, professor of anthropology. "It was the perfect way to have students apply the knowledge from the classroom to a real world setting. Not only were they able to get practical experience using the technology and interpreting the results, but in the process, we were able to generate information that will be of interest to the larger Decorah community."
The Ice Cave Mill was constructed in 1874 and was an important part of Decorah's economy. Located in what is now Wold Park on the east side of Decorah, it was a large, three-story structure that provided the area with flour until it closed in 1931. The building burned down in 1939 and was demolished years later. Although the general location is known, and the associated mill race is still visible, the exact location and archaeological preservation of the mill were unknown until now.
"The students used cutting edge geophysical remote sensing techniques, including ground penetrating radar and soil resistivity, to investigate the site. These techniques are able to provide a picture of archaeological remains below the ground without having to dig. Our research allowed us to accurately map the location of the intact mill foundations and traces of the associated railroad siding," said Betts.
Identifying the location and features of the mill proved to be a memorable research opportunity for Betts' students.
"I am very grateful I had the opportunity to experience archaeology firsthand with this project. It definitely gave me a different perspective on how the field can contribute not only to my education as an anthropology major but to the impact that we, as researchers can have on the community," said student researcher Salome Valvidieso '23.
Betts has shared their findings with city officials. Researchers may also present what they learned during a public event in the near future.
"It's great to be able to drive five minutes from campus and have a research spot like the Ice Cave Mill within town. I also like the fact that there's a lot of local interest in stuff like this from the historical society and beyond," said Betts.
About Luther College

Luther College is home to about 1,800 undergraduates who explore big questions and take action to benefit people, communities and society. Our academic programs, experiential approach to learning, and welcoming community inspire students to learn actively, live purposefully, and lead courageously for a lifetime of impact. Learn more at luther.edu.