Luther College students inducted into Phi Beta Kappa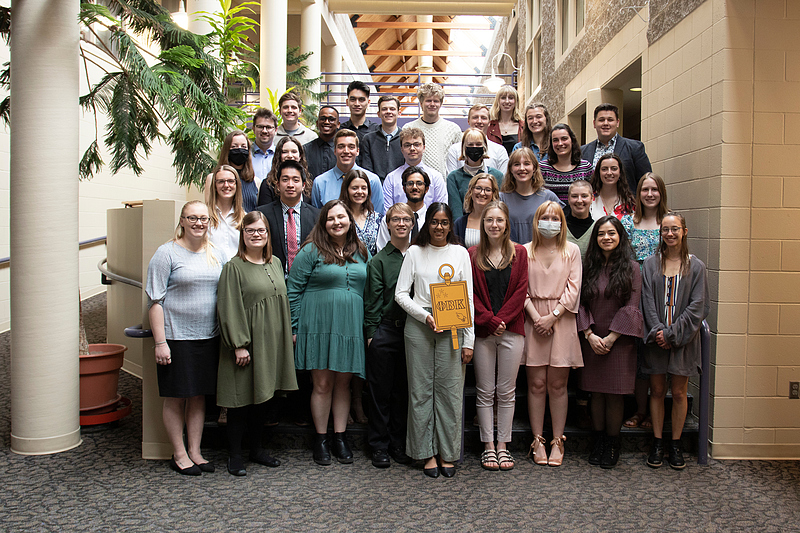 The Luther College chapter of Phi Beta Kappa has 45 new members including 41 seniors and four juniors. On Sunday, April 24, the students were inducted into the oldest and most respected undergraduate honors organization in the United States. Members are elected on the basis of broad academic interests, scholarly achievement and good character.
The 2022 inductees include seniors:
Riley Taylor of Ames, Iowa
Sarah Hoehns of Cedar Falls, Iowa
Clare Rolinger of Cedar Falls, Iowa
Sam Schillinger of Cedar Falls, Iowa
Sarah Damhof of Clearwater, Minnesota
Jarod Phillips of Decorah, Iowa
Heather Hostager of Dubuque, Iowa
Frost Bowen-Bailey of Duluth, Minnesota
Laurel Studt of Eau Claire, Wisconsin
Hunter Hobbs of Fountain, Minnesota
Kim Duc Chu of Hanoi, Vietnam
Quang Anh Nguyen of Hanoi, Vietnam
Quenton Max of Iowa City, Iowa
Lindsey Parrott of Iowa City, Iowa
Jake Sharafuddin of Iowa City, Iowa
Fred Farrand of Kansas City, Missouri
Isaac List of La Crosse, Wisconsin
Sarah Benton of Le Mars, Iowa
Lexi Orth of Madison Lake, Minnesota
Siyabonga Mabuza of Malkerns, Swaziland
Kirsten Loynachan of Marion, Iowa
Hailee Gilliand of Minneapolis, Minnesota
Owen Johnson of Minneapolis, Minnesota
Jane Bremer of Minnetonka, Minnesota
Ahmed Abdrabu Hamid of Yemen and Budapest, Hungary
Sneha Verma of New Delhi, India
Kirsten Melaas-Swanson of North St. Paul, Minnesota
Jessi Labenski of Northfield, Minnesota
Elena Dant of Owatonna, Minnesota
Matt Benson of Park Rapids, Minnesota
Kien Huynh of Hanoi, Vietnam
Siri St. Louis of Rochester, Minnesota
Emilie Gitter of Saint Paul, Minnesota
Mary McTeague of Saint Paul, Minnesota
Leif Saveraid of Saint Paul, Minnesota
Catherine Vitt of Saint Paul, Minnesota
Greta Anderson of Saint Peter, Minnesota
Jill Richards of Solon, Iowa
Logan Olson of Stacy, Minnesota
Megan Grimm of Swisher, Iowa
Ben Meyer of Urbandale, Iowa

And juniors:

Marin Leone of Chanhassen, Minnesota
Ghazal Alabtah of Palestine and Syria
Sydney Clausen of Rochester, Minnesota
Nathan Anderson of Saint Paul, Minnesota
The junior members will become student leaders in the organization during their senior year. They will be invited to chapter meetings and encouraged to participate in chapter activities, including the Phi Beta Kappa Visiting Scholar events.
Luther College is one of a select group of private liberal arts colleges in the United States with a chapter of Phi Beta Kappa. The society has fostered and recognized excellence in the liberal arts and sciences since 1776 and the society's distinctive emblem, a golden key, is widely recognized as a symbol of academic achievement.
About Luther College
Luther College is home to about 1,800 undergraduates who explore big questions and take action to benefit people, communities and society. Our academic programs, experiential approach to learning and welcoming community inspire students to learn actively, live purposefully and lead courageously for a lifetime of impact. Learn more at luther.edu.