Luther College receives grant to tell the stories of its Norwegian-Lutheran heritage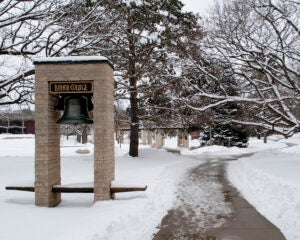 Luther College has received a NetVUE Reframing the Institutional Saga grant of nearly $40,000 to prepare and publish a collection of essays that explore the college's identity as a Norwegian-Lutheran liberal arts college. The grant begins in February of this year and runs through January 2024, when the anthology will be published and made available to the public.
"It's a great honor to receive this grant and to engage in broad conversations about Luther's identity," said Maren Johnson, associate professor of Nordic studies and project lead. "Personally, I am energized to have the conversation with students, colleagues and community members to think about how we see our Norwegian-Lutheran foundation as being inclusive and how we develop a strong story about these identities and what they mean for the college moving forward while being rooted in history."
Johnson, along with Brad Chamberlain, vice president for mission and communication at Luther, will edit the anthology comprised of 10-12 essays written by current and retired faculty and staff, as well as local partners and global collaborators. The diverse group will contribute their unique perceptions and understanding of the Norwegian and Lutheran identities of the college, historically, now and their potential role in the future.
Whether scrolling on luther.edu or viewing items in the Book Shop, Johnson points out that presently, Luther's Norwegian-Lutheran identity is evident. "But more than just now, as we look to the future of Luther College, how do the Norwegian and Lutheran identities shape and inform what Luther may look like 150 years from now? These are exciting questions to engage how we think about our identity, our values and our culture."
The anthology will be integrated into the orientation programs for new members of the campus community and in outreach materials. It will also be used as part of the bicentennial celebration of Norwegian immigration to the United States in 2025.
In addition to publishing costs, the grant will fund research, several writing retreats, author stipends and a post-publication symposium. NetVUE (Network for Vocation in Undergraduate Education) Grants for Reframing the Institutional Saga are made possible through financial support to the Council of Independent Colleges by Lilly Endowment Inc.
About Luther College
Luther College is home to about 1,800 undergraduates who explore big questions and take action to benefit people, communities and society. Our 60+ academic programs, experiential approach to learning and welcoming community inspire students to learn actively, live purposefully and lead courageously for a lifetime of impact. Learn more at luther.edu.