Luther College piano faculty members to perform live Valentine's Day concert on Iowa Public Radio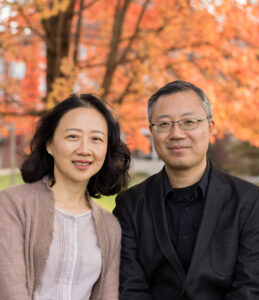 Luther College piano faculty members Xiao Hu and Du Huang will perform a Valentine's Day concert to be broadcast live on Iowa Public Radio Classical at 7 p.m. on Tuesday, Feb. 14. 
The program opens with their performance of "Sheep May Safely Graze" by J.S. Bach, arranged by Leonard Duck, with works by Sergei Rachmaninoff, Doming Lam and Astor Piazzolla to follow.
To stream the broadcast, visit iowapublicradio.org, click "All Streams" at the top right corner of the IPR home screen, and select IPR Classical. 
Huang and Hu are husband and wife and perform regularly as the Unison Piano Duo. 
"We are ordinary people, and share the ebb and flow of joy, sorrow, and hope of human life every day including Valentine's Day," said Huang. "When we perform piano duo concerts together, we always want to communicate a lot of things in our hearts, and at the same time, enjoy each other's good company."
Ahead of their Valentine's Day performance, Huang and Hu will present a concert as part of Luther's Faculty Artist Series at 7:30 p.m. Saturday, Feb. 11, in the Noble Recital Hall in Jenson-Noble Hall of Music.
The New York Concert Review has remarked that the Unison Piano Duo is "sparkling and fleeting…unusually high level of ensemble playing." Recently, their world premiere performance of Luther College Composer in Residence Brooke Joyce's "He Hung His Head and Died," was featured on National Public Radio's Performance Today. They have presented piano duo recitals at Weill Recital Hall at Carnegie Hall and Merkin Concert Hall in New York City, and performed abroad in Brazil, China, the Czech Republic, Japan, Malaysia and the Philippines.
About Luther College Music
Luther is home to one of the largest undergraduate music programs in the nation, with five choirs, three orchestras, two bands and two jazz bands. One-third of all Luther students participate in music, including large ensembles, faculty-coached chamber groups, private lessons and master classes. Nearly 175 music majors study music theory, ear training, history, education, composition, jazz, church music and performance. Learn more at luther.edu/music.