Luther College Opera Theatre presents "Die Fledermaus"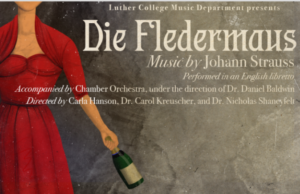 For the first time since 2018, the award-winning Luther College Opera and Chamber Orchestra are combining to present Johann Strauss's "Die Fledermaus" at 7:30 p.m. Friday, May 6, and Saturday, May 7, in the Center for Faith and Life Main Hall.
The groups will present their twist on the timeless classic which features a 1950s sitcom concept.
"This production is essentially a love letter to 50s television and the Decorah community," said Abs Trewin '22, who plays the part of Prince Orlefse. "Rather than the traditional setting in Vienna at the turn of the 20th century, the show is set in Decorah through the guise of a 1950s television set, with a party hosted by a Norwegian prince and characters who drank a little too much champagne. We are thrilled to be able to share our artistry with the public once again."
"Audience members can look forward to exciting musical numbers, light banter, waltzing and many champagne toasts," said Ben Meyer "˜22, who plays the part of Gabriel von Eisenstein. "The comedy is sure to delight audiences of all ages."
Audience members will also enjoy a special guest appearance by Robert Vrtis, director of visual and performing arts at Luther.
"Die Fledermaus" is directed by Carla Hanson with assistant direction from Carol Kreuscher and musical direction by Nicholas Shaneyfelt. Daniel Baldwin will conduct the Chamber Orchestra.
Come 45 minutes early, at 6:45 p.m., to hear the pre-show lecture and learn more about the original "Die Fledermaus" and its historical setting.
Every other year, Luther's Opera Theatre and Chamber Orchestra students come together to present the spring opera production. It's a collaborative experience that students, including Trewin and Meyer, very much enjoy.
"My favorite thing about this production is being able to work with so many of my talented friends. I also am particularly excited to perform with Luther's Chamber Orchestra," said Meyer.
The spring 2021 opera production of "Dido and Aeneas" was awarded first place in Division II of the National Opera Association's (NOA) 2020-21 Opera Production Competition.
Tickets are on sale through Luther's Ticket Office and online at tickets.luther.edu, by emailing tickets@luther.edu, or by calling (563) 387-1357.
About Luther College
Luther College is home to more than 1,800 undergraduates who explore big questions and take action to benefit people, communities and society. Our 60+ academic programs, experiential approach to learning, and welcoming community inspire students to learn actively, live purposefully, and lead courageously for a lifetime of impact. Learn more at luther.edu.