Contact Information
Laura Barlament
Executive Director of Strategic Marketing and Communications
Send Email
Phone: 563-387-1332
Luther College Opera awarded 1st Place in Division II of the National Opera Association's Opera Production Competition
December 2, 2021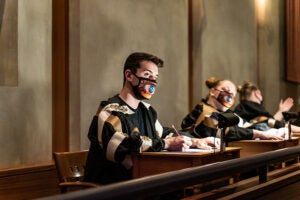 Luther's spring 2021 opera production of "Dido and Aeneas" has been awarded first place in Division II of the National Opera Association's (NOA) 2020-21 Opera Production Competition.
The competition promotes excellence in opera education and pedagogy through its support of a diverse community of opera educators and professionals. This was the first time Luther has entered this annual contest.
"This award is an outstanding tribute to our program," said Andrew Whitfield, coordinator of opera. "The judges noted wonderful musicality, the full engagement of the ensemble throughout the piece, the inventive concept and the cohesive staging. We are very proud of the work of our students. We see their talent and dedication evidenced on campus every day, and it is exciting to see these attributes celebrated at the national level."
"I'm very proud of the production we put together," said Dylan Schang who played the role of Aenas. "Our production of 'Dido and Aeneas' spoke to the importance of preserving democracy, particularly in today's political climate, set to the tragic story of the two lovers. I think this award represents the vision of our directors, realized by our cast and crew, to offer a sincerely impactful production."
Due to the ongoing pandemic, instructors and students were met with challenges they had to overcome such as mask-wearing, limited rehearsal times and having to act to the student vocalists' and instrumentalists' pre-recorded audio for a livestream performance.
"Winning first place is a great honor," said Molly Holcomb who played the role of Belinda. "It really shows the amount of effort both the cast and crew put into the opera production, especially considering the circumstances. It was a kind of production that Luther had never put on before, sort of like a big experiment. Winning the award means that the experiment was a success, and that's something we should all be proud of. It was truly a team effort."
The production was directed by Whitfield and Carla Thelen Hanson, instructor in music, with Nicholas Shaneyfelt, assistant professor of music, as the music director. Mick Layden, digital media producer for the music department, served as sound technician and livestream videographer. Mark Potvin, assistant professor of music, was the scene designer. Other production team members included Cleo Garza, Emmelyn Cullen, and Marann Faget.
Cast members included Evan Berth, Kyla Billington, Andrea Blocker, Patrick Carew, Nicholas Drilling, Willa Eacret, Megan Elford, Gabe Goeddeke, Molly Graff, Mikaela Hanrahan, Ashley Harms, Joshua Hartl, Molly Holcomb, Emily Lauer, Stefanie Maas, Hunter Meyer, Rhylan Peterson, Ash Rebmann, Barbara Reed, Brenna Reiland, Brynja Riehm, Dylan Schang, Anne Sedlacek, Abs Trewin, Thomas Warden, Madeline Wilkins and Ethan Williams.
Orchestra members included Nathan Eck, Ben Gunsch, Eric Head, Shana Liu, Frances Marshall, Malachi Rettmann and Belle Searcy.
The goal of the NOA Opera Production Competition is to further the organization's mission by encouraging and rewarding creative, high-quality opera productions at academic institutions and music conservatories. Due to the vast range of resources available to producing organizations, the entrants are first divided into undergraduate and graduate levels (based on predominant age group or training level of the cast), and then each level is divided into three divisions according to production size and budget. Luther falls into Division II.
"The Luther music program as a whole creates so many opportunities beyond just opera; the history of excellence in music education training specifically in the choral field is truly exemplary," said Schang.
"Luther provides a high caliber music education, and you constantly feel like you're not only being pushed by those around you, but supported as well. I feel extremely grateful to be a part of Luther's music legacy and the community it creates," said Holcomb.
About Luther College Music
Luther is home to one of the largest undergraduate music programs in the nation, with five choirs, three orchestras, two bands, two jazz bands and more than 600 student musicians. Luther students participate in large ensembles, faculty-coached chamber groups, private lessons and master classes. Nearly 175 music majors study music theory, ear training, history, education, composition, jazz, church music and performance. Learn more at luther.edu/music.
Contact Information
Laura Barlament
Executive Director of Strategic Marketing and Communications
Send Email
Phone: 563-387-1332