Luther College hosts Dream Week in honor of Rev. Dr. Martin Luther King, Jr.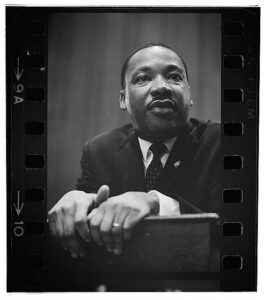 Luther College is honoring Rev. Dr. Martin Luther King, Jr. through Dream Week, Jan. 16–20, 2023. Special events and activities are planned each day on campus to bring awareness to the work of King and the state of racism, bias, inequity and injustice in the world.
At 4 p.m. Monday, Jan. 16, in the Center for Faith and Life Main Hall, Dr. Ronald Ferguson will present the keynote address "Strategy and Action for the 21st Century: The Costly Lessons Learned from MLK." Supported by the Williams Endowment Fund and the Identity Studies Department at Luther, Ferguson will speak about the necessity of engaging in equity work and the inherent risks that accompany it. 
"I am thrilled to be hosting Dr. Ferguson on this day that reminds us of the movement put into motion by the Rev. Dr. Martin Luther King, Jr.," said Char Kunkel, head of the Identity Studies Department at Luther College. "Dr. Ferguson will remind us that we have yet to achieve the dream of Dr. King. There is much work to be done. This lecture is intended to embolden us to keep struggling and fighting for social justice."   
Ferguson is a former Luther College faculty member. Now, he works for the Minnesota State University system as an equity and inclusion coordinator in which he facilitates system-wide initiatives to promote educational equity and belonging. He also teaches sociology at Ridgewater College in Willmar, Minnesota, where he offers courses in racialization and social inequity. 
At 6 p.m. Wednesday, Jan. 18, in the Center for Faith and Life Recital Hall, students, faculty, staff and community members are invited to A Conversation on Racial Healing. This event is in recognition of the National Day of Racial Healing which calls on colleges and universities across the country to engage in activities, events and strategies that promote healing and foster engagement around the issues of racism, bias, inequity and injustice in our society. 
On Tuesday and Thursday, Jan. 17 and 19, Luther community members will be reading books to area elementary students about service, leadership, justice, civility and diversity. And at 10:30 a.m. Friday, Jan. 20, all are welcome to attend MLK Day Chapel: A Service Lamenting Racism in the Center for Faith and Life Recital Hall. This special service will inspire all in attendance to recognize and work to repair the harm caused by racism through confession, lament and praise. 
Working alongside people of all ages, races and backgrounds, King encouraged Americans to come together to strengthen communities, alleviate poverty and acknowledge dignity and respect for all human beings. King's legacy is the continuing work for tolerance, peace and equality.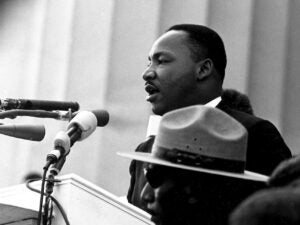 "Dream Week is a true reflection of Luther College's mission in action," said Dr. Robert Clay, chief equity and inclusion officer and assistant to the president for community engagement at Luther. "Rev. Dr. Martin Luther King, Jr, was a drum major for justice. He challenged us to embrace diversity and create a sense of belonging for all regardless of where you live and your background. It is my hope that the programming taking place during Dream Week reminds us that there has been some progress made, however, there is much work to be done to create change that will transform and heal our communities."
About the Williams Endowment Fund for the Rev. Dr. Martin Luther King, Jr. Lecture
Luther College's Martin Luther King Jr. Day Lecture began in 1987 to provide ongoing scholarly conversation about the struggle for human rights in the United States. It is supported by the Williams Endowment Fund, named in recognition of Lawrence and Queen Williams for their dedication and years of service to Luther. The endowment assures the continuation of the college's annual Martin Luther King Jr. Lecture. Lawrence Williams planned and solicited funding for more than 20 of these lectures throughout his career as a Luther faculty member. His dedication to the lecture series reflected a commitment to understanding civil rights that went beyond academic study. Williams' personal experiences with the civil rights movement and its protests allowed him to share a firsthand perspective with students, and his acquaintance with civil rights leaders brought extraordinary people to campus to share their lives and stories.
About Luther College
At Luther College in beautiful Decorah, Iowa, students explore big questions and take action to benefit people, communities and society. Our academic programs, experiential approach to learning and welcoming community inspire students to learn actively, live purposefully and lead courageously for a lifetime of impact.