Luther College hosts Common Cause: Phoebe Ferguson and Keith Plessy in Conversation with President Jenifer K. Ward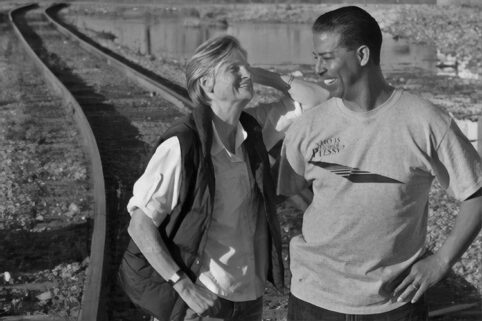 At 7 p.m. Wednesday, April 19, Luther College will host Phoebe Ferguson and Keith Plessy, descendants of the 1896 Plessy vs. Ferguson landmark decision, for a conversation with President Jenifer K. Ward in the Center for Faith and Life Recital Hall.
Homer Plessy, an African American from New Orleans, was detained in 1892 on suspicion of breaking Louisiana's Separate Car Act of 1890, which required separate accommodations for white and Black railroad passengers. The higher court supported Judge John Ferguson's decision that Mr. Plessy had broken Louisiana's Separate Car Act and that his constitutional rights had not been infringed. During the ensuing 58 years, the decision upheld Jim Crow's "separate but equal" rules. 
On January 5, 2022, John Bel Edwards, governor of Louisiana, pardoned Homer Plessy.
Presently, Keith Plessy and Phoebe Ferguson formed the Plessy AND Ferguson Foundation rather than Plessy VERSUS Ferguson. Together, they travel to elementary through secondary schools as well as academic or historical organizations to convey the idea of using one another's histories to foster peace and mutual comprehension. Their goal is to inform the public about the legacy of the Plessy ruling, its effects on African American life, and to serve as an example of how to successfully find common ground.
"I think it's our responsibility, that's how we look at it," Ferguson said. "We want people to understand what legacy is, and not to wait until the end of your life to understand legacy, but to understand legacy at an early age." 
The discussion with President Ward will cover a variety of topics, such as how Plessy and Ferguson came to share a cause, their activism philosophies and tactics, and their viewpoints on how the U.S. The Supreme Court affects everyone.
This event is sponsored by the President's Office and organized by The Center for Ethics and Public Engagement (The CEPE). 
About Luther College
At Luther College in beautiful Decorah, Iowa, students explore big questions and take action to benefit people, communities and society. Our academic programs, experiential approach to learning and welcoming community inspire students to learn actively, live purposefully and lead courageously for a lifetime of impact. Learn more at luther.edu.