Luther College history professor receives the Gerald Strauss Prize for his new book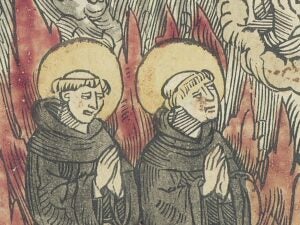 Robert J. Christman, Luther College professor of history, has received the Gerald Strauss prize for his book "The Dynamics of the Early Reformation in their Reformed Augustinian Context."
The Gerald Strauss Book Prize is named in honor of Gerald Strauss, the influential scholar of the German Reformation and long-time distinguished professor of history at Indiana University. The prize recognizes the best book published in English during the preceding year pertaining to German Reformation history.
"This book is the product of more than seven years of hard work, so it is deeply gratifying that my peers have recognized it as meritorious with this award," said Christman.
"The Dynamics of the Early Reformation in their Reformed Augustinian Context" explores the incident on July 1, 1523, when two Augustinian friars from Antwerp were burned on the Grand Plaza in Brussels, becoming the first victims of the Reformation for adhering to "Lutheran Beliefs." The book recounts the events that led up to these executions and their subsequent impact on the Reformation. Among other things, the deaths prompted Martin Luther to write his first musical composition, a twelve-stanza ballad entitled "A New Song Now Shall be Begun" that narrates the arrest, interrogation and burning of the two men.
"As a child growing up in a Lutheran household, I came across the ballad and was quite taken with the story of the two friars. In many ways this book has its origins there and is my effort to understand this historical event," said Christman. "But over the course of writing it, it also became an effort to describe the unfolding of the early Reformation, not in retrospect as a watershed spiritual and historical event, but as it happened in the moment, and as it was experienced by the real people who were involved in it.  My hope is that it will help to humanize the Reformation for its readers."
The book is the product of three extended research stays in Europe supported by grants from the Fulbright Commission, the Alexander-von-Humboldt Foundation, and Luther College, in particular, The Marilyn Roverud Endowed Fellowship in Lutheran Studies. 
About Luther College
Luther College is home to about 1,800 undergraduates who explore big questions and take action to benefit people, communities and society. Our 60+ academic programs, experiential approach to learning and welcoming community inspire students to learn actively, live purposefully and lead courageously for a lifetime of impact. Learn more at luther.edu.