Luther College Collegiate Chorale to perform Homecoming Concert on April 26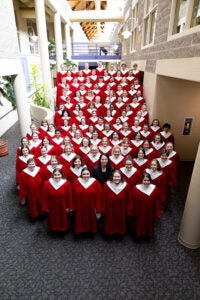 The Luther College Collegiate Chorale, under the direction of Adrianna Tam, will present their Homecoming Concert at 7:30 p.m. Tuesday, April 26, in the Main Hall of the Center for Faith and Life on the Luther College campus. The performance is open to the public with no charge for admission; a freewill offering will be collected.
Among the performers are Abby Zeeh from Mcgregor, Zoey Frey from West Union, and Emma Rooney, Hayden Carlson, Christian Johnson and Jarod Phillips from Decorah, Iowa; and Owen Feye from Prairie du Chien, Wisconsin.
The theme of the choir's performance is "A Place for Us" and includes pieces by Stephen Paulus, Johannes Brahms, Leonard Bernstein and Shawn Kirchner.
"Our audiences should expect a heartfelt performance of our diverse repertoire," said Christina Dressler, a junior member of the choir. "Dr. Tam has taught us that each piece has a different story to tell, and she works diligently with us to make sure we convey that story and the emotions attached to it to our audiences."
Collegiate Chorale is composed of select junior and senior singers. The choir, featuring approximately 75 mixed voices, performs sacred and secular choral works of a variety of periods and styles. Collegiate Chorale sings for various events on campus and performs in the college's annual "Christmas at Luther" musical celebration.
This concert is the final performance of Collegiate Chorale's 2022 Spring Tour. It comes after stops in Altoona and Oconomowoc, Wisconsin; Rockford, Illinois; and Cedar Falls, Iowa, and is the first tour under the direction of Adrianna Tam.
Along with Collegiate Chorale, Tam conducts Aurora, an auditioned soprano and alto ensemble at Luther. She also teaches academic courses in the music department specific to her expertise. Tam holds a DMA degree in choral conducting from the University of Michigan School of Music, Theatre & Dance; an MA degree in choral conducting from the Universität für Musik und darstellende Kunst in Graz, Austria; and an MM degree in choral conducting from Yale School of Music and Institute of Sacred Music.
About Luther College Music
Luther is home to one of the largest undergraduate music programs in the nation, with five choirs, three orchestras, two bands and two jazz bands. One-third of all Luther students participate in music, including large ensembles, faculty-coached chamber groups, private lessons and master classes. Nearly 175 music majors study music theory, ear training, history, education, composition, jazz, church music and performance. Learn more at luther.edu/music.