Luther College celebrates 75 Years of Nordic Choir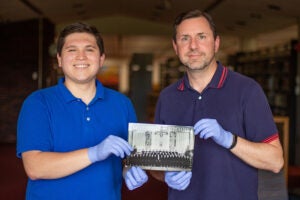 Bailey Connors '22 collaborated with Andrew Last, conductor of Nordic Choir, to research the 75 year history of the Luther College Nordic Choir. The student-faculty duo worked together over the summer in the archives of the Luther College Preus Library to sort through old images and documents and collected accounts from alumni who were in the choir.
"We looked at pictures and news articles trying to piece together a sort of narrative about the choir's history," said Connors. "The end goal was to create a timeline for people to look at so they can see the massive depth of Nordic Choir's history. Obviously we couldn't put everything in there, so we prioritized things like tours, firsts–like the first time they traveled internationally or nationally–conductor changes, and we interviewed alumni and previous conductors of Nordic Choir to get a more personal perspective on what the choir means to all who have been a part of it."
The research was initially going to be conducted in 2020, which officially marked the 75th anniversary year for Nordic Choir, but due to the pandemic, it was postponed. As restrictions related to the pandemic lessen, Last hopes the research can soon be shared with everyone.
"We will be producing a timeline that will be available to view online and in-person in the Jenson-Noble Hall of Music, we will also be putting together a compilation of pieces performed by Nordic Choir over the years, and as we celebrate 75 years of the performance tour, our audience members will be able to see a brief history of the Nordic Choir in the program. These are just a few of the ways in which people are going to be able to enjoy the research that we've done."
Connors, now a senior, feels an immense amount of responsibility in taking on the project. As a student involved in Nordic Choir, the responsibility of sharing decades worth of stories is a task that he does not take lightly.
"In doing this project, I've realized that this choir has quite the legacy, leaving an impact on people here in Iowa but also in California, in Norway, in Russia and beyond. This choir is historic and it is definitely one of the gems of the Midwest," said Connors. "The privilege to share its story is one I carry with great responsibility and I feel like this project is very important to me for that reason."
About Luther College Music
Luther is home to one of the largest undergraduate music programs in the nation, with five choirs, three orchestras, two bands, two jazz bands and more than 600 student musicians. Luther students participate in large ensembles, faculty-coached chamber groups, private lessons and master classes. Nearly 175 music majors study music theory, ear training, history, education, composition, jazz, church music and performance. Learn more at luther.edu/music.
About Luther College
Luther College is home to about 1,800 undergraduates who explore big questions and take action to benefit people, communities and society. Our 60+ academic programs, experiential approach to learning and welcoming community inspire students to learn actively, live purposefully and lead courageously for a lifetime of impact. Learn more at luther.edu.