Luther College Cathedral Choir to perform Homecoming Concert on April 27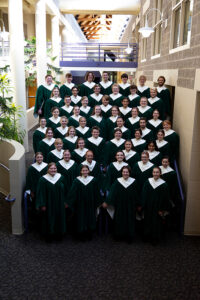 The Luther College Cathedral Choir, under the direction of Mark Potvin, will present their Homecoming Concert at 7:30 p.m. Wednesday, April 27, in the Main Hall of the Center for Faith and Life on the Luther College campus. The performance is open to the public with no charge for admission; a freewill offering will be collected.
Among the performers are Ruby Langholz and Kaj Spencer Berg of Decorah and Max Koeller of McGregor.
This concert is the final performance in Cathedral Choir's 2022 Spring tour which included stops in Kenyon, Pine City, and Plymouth, Minnesota, and Spirit Lake, Iowa.
The showcase was developed around the theme "Going On Our Way," a journey through life together. It is divided into four distinct segments: To Show the Way, To Befriend, To Encourage and To Give Us Peace. Highlights include "Ain'-A That Good News" by William L. Dawson, Benjamin Britten's famous "Rejoice in the Lamb" and an arrangement of  "Sunday" honoring the late Stephen Sondheim.
"As we continue to make our way through a distressing period of human history, I am reminded at every corner that none of us sojourns alone. How can we fail to be convinced of the steadfast goodness of creation when surrounded by those who reflect the spirit of the divine through their diverse beings, earnest optimism, and abundant love? In others, I have witnessed radiant light in these dark days. Such radiance is the essence of hope – a word I think is best described as joy not yet realized. If hope abides, joy will certainly prevail," said Potvin.
Cathedral Choir is one of five auditioned choirs at Luther College. The ensemble is comprised of select singers mostly drawn from the rich talent of the college's sophomore class. Cathedral Choir participates actively in campus worship, in the Christmas at Luther musical showcase, and at special events and concerts during the academic year.
"‹The ensemble takes great pride in reintroducing landmark, small-scale masterworks to contemporary "‹audiences and in performing choral music from non-western traditions.
About Luther College Music
Luther is home to one of the largest undergraduate music programs in the nation, with five choirs, three orchestras, two bands and two jazz bands. One-third of all Luther students participate in music, including large ensembles, faculty-coached chamber groups, private lessons and master classes. Nearly 175 music majors study music theory, ear training, history, education, composition, jazz, church music and performance. Learn more at luther.edu/music.