Contact Information
Laura Barlament
Executive Director of Strategic Marketing and Communications
Send Email
Phone: 563-387-1332
Luther College baseball makes history on the Field of Dreams
September 22, 2022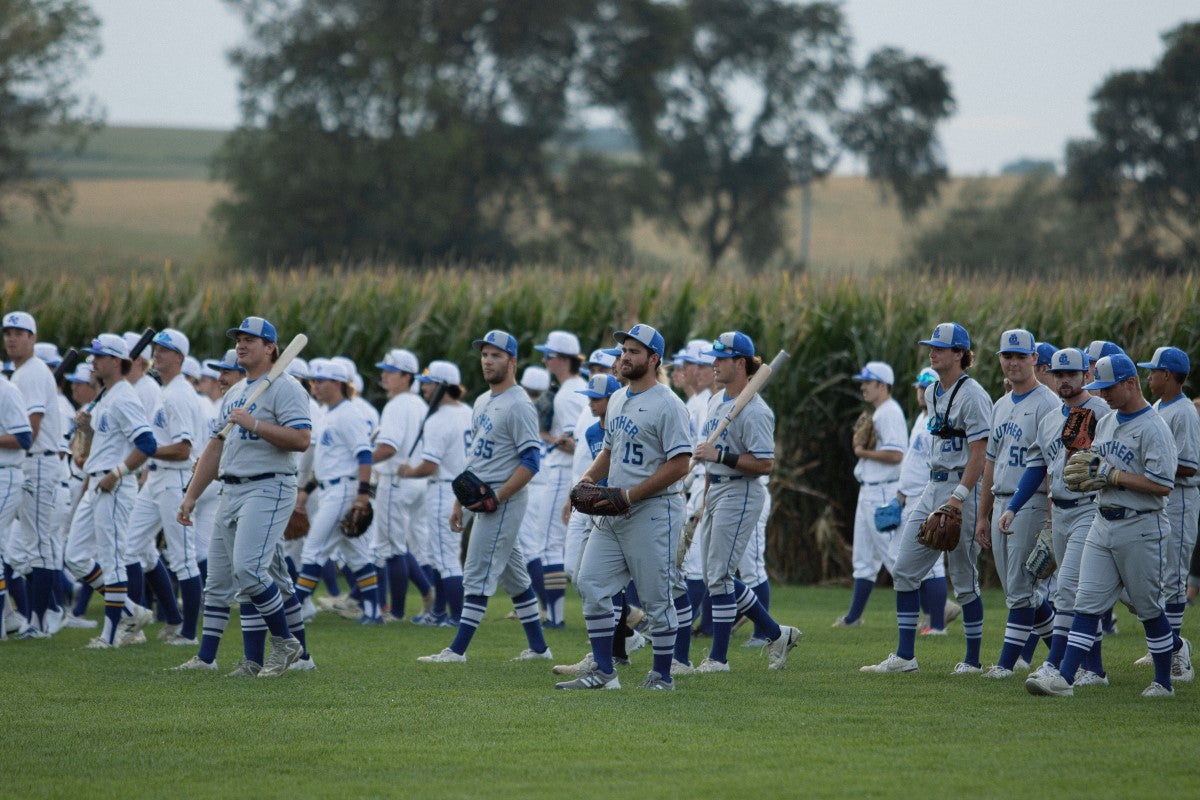 The Field of Dreams movie tag lines held true on the night of Sept. 16, 2022, when Luther College and Briar Cliff University became the first collegiate teams to play on the iconic field. The event was "built" over the past 18 months and people came. More than 2,200 attendees took in the sights and sounds of American baseball at its finest and some likely questioned, "Is this heaven?" 
"It's a surreal moment. I mean, just being out here is unbelievable. To step out on this field for the first time ever made it even cooler," said Nick Dufoe, Luther baseball player. 
"It's a dream come true. I've been here four or five times, but every time I come here, it gets more special. We watched the movie together as a team on Tuesday and it's exactly like the movie. Perfect, I guess, is the only way to describe it," said Ryan Manternach, Luther baseball player. 
This was more than a baseball game. This was a day full of meaningful connections and reconnecting. Hundreds of Luther friends, alumni, students and parents got the energy going at a pre-game gathering at Fuse, a restaurant and bar near the field. 
It was packed! Everybody was so excited to be here and so excited to see each other. It was exciting to see this sea of blue. It's just been a really great time for people to remember what it means to be connected to Luther College.

President Jenifer K. Ward
"There are some people here I haven't seen in a long time and even some family friends that I didn't even know went to Luther. So yeah, it's super awesome to see everybody's familiar faces," said Ellie Linmark '22.
The event was a perfect excuse for Luther College baseball alumni to get together again. Alumni players from each decade, from the fifties on up, came together to scrimmage before the big game.  
"Luther meant so much to me as a kid and it kind of changed my life. I thought 'I'm going to go back and see this game.' Then, I heard they were doing an alumni game and Kevin (Doseth '85) reached out. 'Kent! You want to play?' I just had knee replacement surgery 11 months ago, and I said, 'I'm in. I'm not going to miss that,'" said Kent Stock '85.
 "Luther baseball is a family. We used to get together on off nights and hang out–just to hang out. We did everything together, especially during the season. This was an excuse to try to get some older guys from our class to be involved and it ended up working out. There are five or six guys in our age group here, so it's amazing," said Doseth. 
A highlight for many was finally watching the Luther Baseball team walk out of the cornfield and onto the Field of Dreams. And the crowd went wild when Ghavin James, a senior player, hit a home run deep into the corn. 
While the end score didn't favor Luther, the game was still a major win. After the dust settled, families joined their players on the field for a late night game of catch. 
"It's family. And, you know, today really just encompasses that," said Dufoe.
About Luther College
Luther College is home to about 1,800 undergraduates who explore big questions and take action to benefit people, communities and society. Our academic programs, experiential approach to learning and welcoming community inspire students to learn actively, live purposefully and lead courageously for a lifetime of impact. Learn more at luther.edu. 
Contact Information
Laura Barlament
Executive Director of Strategic Marketing and Communications
Send Email
Phone: 563-387-1332