Contact Information
Laura Barlament
Executive Director of Strategic Marketing and Communications
Send Email
Phone: 563-387-1332
Luther College awards inaugural Joy Tlou Memorial Award
March 29, 2023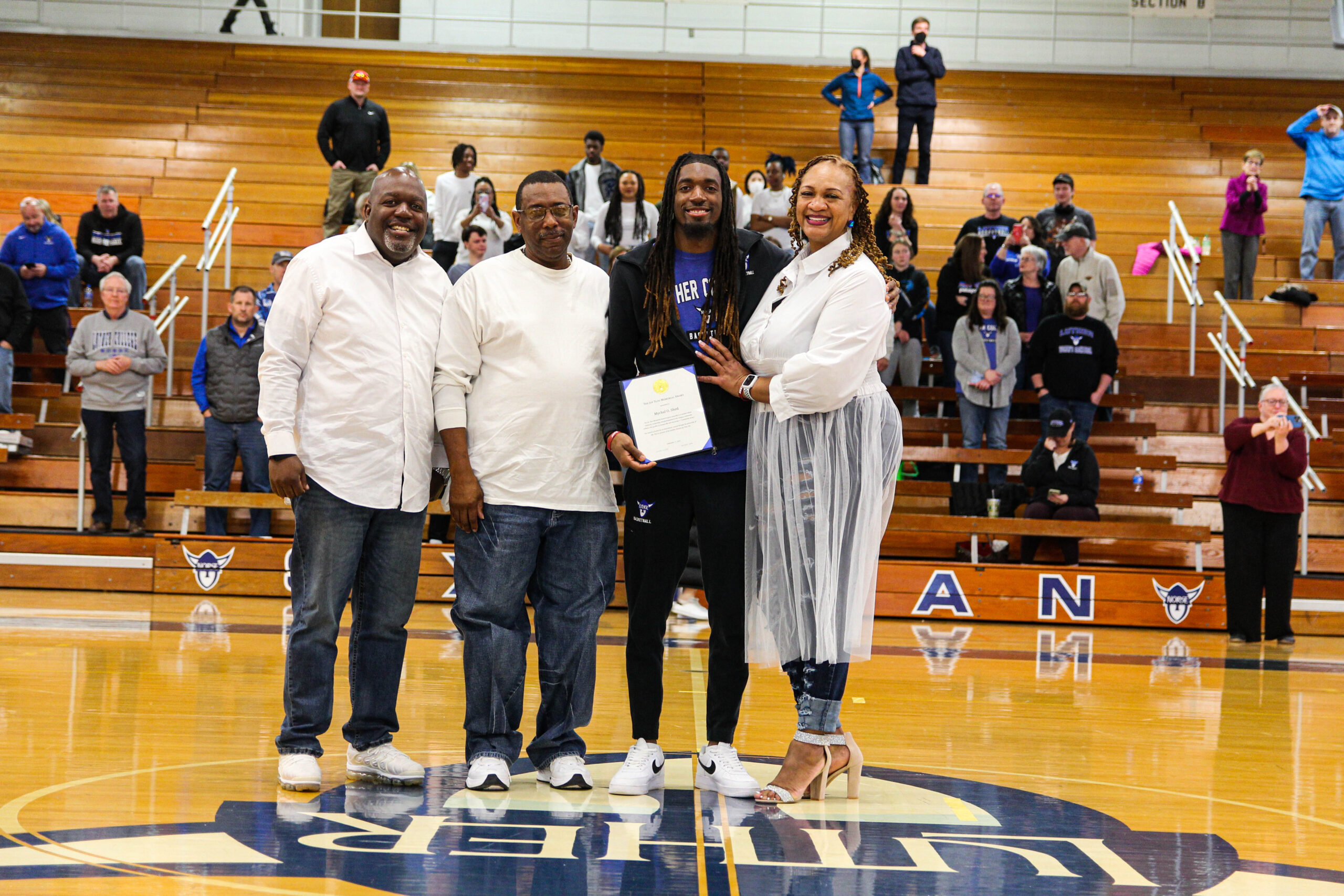 Luther College has awarded the inaugural Joy Tlou Memorial Award to Mychal Shed '23. 
The Joy Tlou Memorial Award is a new award at Luther established by Hla Tlou in memory of her brother, Bonolo Joy Tlou '86. It is awarded to students whose character, leadership, and participation in the campus community enhance the quality of campus life and encourage a "community of joy."

"I am so honored, grateful, and blessed to be the recipient of this award and scholarship as it has reminded me that my joy and genuine love for the people and community of Luther College is appreciated and will always be remembered as pure," said Shed. 
Shed will graduate with the class of 2023 with a degree in psychology. He is the son of Maya Sample and Marcus Shed and is from Teague, Texas. Shed is a member of the Luther men's basketball team and was voted team captain. Additionally, he is the president of the Black Student Union and serves on the Student-Athlete Advisory Committee and Luther's Diversity, Equity, and Inclusion Committee. He also works in the Admissions Office as a Lead Student Ambassador and is an active member of the Fellowship of Christian Athletes organization.
"As a community leader here at Luther, the organizations and people I have been blessed enough to serve and share my joy with have expressed their gratitude on a number of occasions," said Shed. "As the Black Student Union president, I have had members reach out to me personally and thank me for helping make our organization inclusive and respectful to all people, regardless of race, ethnicity, gender, beliefs, sexual or cultural differences."
Shed chose Luther because of the opportunity to be involved in a diverse, inclusive, proactive and genuine community, and to make connections with people of all denominations, life experiences and ethnic backgrounds. 
When asked, "What joy can you bring to the campus community?" Shed replied, "I have come to realize that happiness and joy are two completely different things. There is a quote that states, 'Happiness requires happy circumstances. Joy, on the other hand, sticks around. It doesn't get chased off by trouble.' My joy sticks around because it's bigger than me. I have a very simple, yet meaningful 'joy triune'–my faith, my family and my passion in life, which is serving others."
After graduating from Luther, Shed will be attending the University of Chicago this fall as he has been accepted into the Crown Family School of Social Work, Policy, and Practice in pursuit of obtaining his master's degree in social work.

About Bonolo "Joy" Tlou
Joy Tlou was born in Gwanda, Zimbabwe in 1963. He moved to Decorah with his mom and sisters when he was two years old to join his father who was a student at Luther College. Joy attended elementary school in Decorah; junior high school in Glencoe, Illinois; and graduated high school in Blacksburg, Virginia. He earned a bachelor's degree in communications from Luther College in 1986. No matter where Joy went, he was loved by everyone and was a friend to anyone. 
In addition to working as a college administrator, Joy was an artist who made beautiful pottery, a singer and musician, a cook who hosted dinners for no other reason than to bring people together. He enjoyed fishing, skiing, telling jokes and simply being in the company of friends and family.
About The Joy Tlou Memorial Award
The Joy Tlou Memorial Award shall be awarded to students, with or without a demonstrated need for financial assistance, whose character, leadership, and participation in the campus community enhance the quality of campus life and encourage a "community of joy." The $3,000 award is managed through both an application and nomination process. In addition to meeting the criteria above, the following questions are addressed through the application or nomination: 1) What gifts do you have to share; 2) What joy can you bring to the campus community; and 3) What will you do to be like Joy?
About Luther College
At Luther College in beautiful Decorah, Iowa, students explore big questions and take action to benefit people, communities and society. Our academic programs, experiential approach to learning and welcoming community inspire students to learn actively, live purposefully and lead courageously for a lifetime of impact. Learn more at luther.edu.
Contact Information
Laura Barlament
Executive Director of Strategic Marketing and Communications
Send Email
Phone: 563-387-1332