Luther College announces grants of tenure and promotions for faculty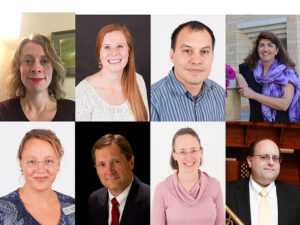 Luther College President Jenifer K. Ward and Provost Lynda Szymanski have announced promotions and grants of tenure for current faculty members.
At its February meeting, the Board of Regents granted tenure to Melanie Batoff, music; Laurie Bouska, nursing; Mike Garcia, English; and Susan Schmidt, social work. Batoff, Bouska, Garcia, and Schmidt were also promoted to associate professor.
The tenure process occurs in the sixth year of a faculty member's service. The process involves student evaluations, department evaluation, evaluation by a faculty committee, and approval by the provost, the president, and the Board of Regents.
The Board of Regents also announced the promotions of Carly Hayden Foster, political science; Rob Larson, management; Laura Peterson, environmental studies and chemistry; and Michael Smith, music, to full professor. The promotion to full professor involves student, department, faculty committee, provost, and president review.
"Each one of these faculty members has contributed to Luther College through their teaching, scholarship, and service," said Provost Lynda Szymanski. "They are extraordinary teachers and mentors, innovative and accomplished scholars, and dedicated members of the Luther College community. We celebrate the well-deserved tenure and promotions of these faculty and thank them for their commitment to their students, disciplines, and Luther College."
Melanie Batoff
Melanie Batoff has taught at Luther College since 2015. She earned her Bachelor of Music degree from Queen's University, her M.A. in musicology from the University of Western Ontario, and her Ph.D. in musicology from the University of Michigan. Batoff teaches courses in music history and ethnomusicology and coordinates the senior projects for music majors. A specialist in medieval chant and liturgy, Batoff's research centers on the Visitatio sepulchri (a sung enactment of the Gospel accounts of the Resurrection), exegesis, medieval religious experience, and the materiality of medieval manuscripts.
Laurie Bouska '08
Laurie Bouska has been teaching in the Luther College nursing department since 2014. After graduating from Luther in 2008,  Bouska went on to earn her Doctorate of Nursing Practice from Clarke University with a primary focus in nursing education and organizational leadership. Before teaching at Luther, she accumulated nursing experience at Mayo Clinic, University of Iowa Hospitals and Clinics, and Central Dupage Hospital. Bouska currently teaches the foundational-level courses in the nursing major. Her research examines the experiences of newly graduated nurses and workplace interruptions. She is also interested in nursing education research focused on integrating clinical judgment across the nursing curriculum.
Mike Garcia
Mike Garcia began teaching at Luther College in 2015. He received his Ph.D. in English, with a focus on composition studies, from the University of New Hampshire. Mike teaches Paideia, rhetoric, and professional writing, as well as the occasional literature course or first-year seminar. He is the writing director at Luther College; he directs the Nancy K. Barry Writing Center and collaborates with faculty who teach writing across disciplines. His scholarship focuses mostly on writing assessment and writing program administration.
Susan Schmidt
Susan Schmidt began teaching social work at Luther College in 2016. She studied philosophy, psychology, and Spanish at Houghton College before going on to pursue master's degrees from Columbia University School of Social Work and from Boston University School of Theology. She earned her Doctorate in social work from the University of St. Thomas. Schmidt's research focuses on unaccompanied minors traveling from Central America and Mexico and their reasons for migration. Prior to teaching, Schmidt worked for organizations such as the Lutheran Immigration and Refugee Service, the Young Center for Immigrant Children's Rights, and the United Nations High Commissioner for Refugees. 
Carly Hayden Foster
Carly Hayden Foster joined the political science department at Luther College in 2015. She earned her Ph.D. in political science from the University of Kansas in 2005. Foster teaches courses on a variety of topics including law, social policy, health policy, gender, political theory, and the Iowa Caucuses. She also leads several courses in the Paideia program. Foster recently published a chapter in the textbook "Getting Real about Inequality: Intersections in Real Life" (Sage Publishers, 2021), which explores the ways that political rhetoric influences social policy toward Black and Latina women. She is currently the head of the political science department, as well as being an active member in both the Luther and greater Decorah communities. 
Rob Larson
Rob Larson came to Luther College in 2003. He earned his B.A. from Concordia College and went on to achieve his Master of Business Administration from the University of St. Thomas. Larson's teaching experience has included courses in marketing, investments, management, and accounting, as well as leading courses abroad in Australia. Larson's research focuses on the relationships between the price of attending college, student debt upon graduation, and college enrollment. While at Luther, he served in an administrative role as executive director and later as vice president for communications and marketing from 2008 to 2017. Larson is also very involved in the Decorah community, serving on multiple boards and engaging in volunteer work.
Laura Peterson
Laura Peterson has been at Luther College since 2008; she teaches in the environmental studies program. She graduated from Carleton College with a B.A. in geology and went on to earn her Ph.D. in geosciences from Brown University. Peterson's teaching interests include the climate system, Earth history, and the Anthropocene. She has conducted research on past climate change and soil health.
Michael Smith
Michael Smith has been teaching at Luther College since 2001. He holds a Bachelor of Music degree from Stephen F. Austin State University, a Master of Music Education from McNeese State University, and a Doctor of Musical Arts degree from the University of Illinois at Urbana-Champaign. Smith currently teaches applied low brass (trombone, euphonium, and tuba) and brass techniques for music education majors. He also conducts the trombone choir and tuba-euphonium ensembles and has performed recitals throughout the U.S. on euphonium and alto, tenor, and bass trombones. Smith has served as the bass trombonist with the Rochester Symphony Orchestra since 2007 and has published more than 50 original music compositions and arrangements for brass.
About Luther College
Luther College is home to about 1,800 undergraduates who explore big questions and take action to benefit people, communities and society. Our 60+ academic programs, experiential approach to learning and welcoming community inspire students to learn actively, live purposefully and lead courageously for a lifetime of impact. Learn more at luther.edu.