Luther College and Winneshiek Medical Center partner to offer student health services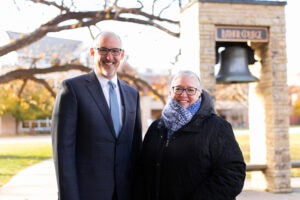 Luther College and Winneshiek Medical Center (WMC) are announcing an intent to form a new partnership to provide on-campus student health services. Beginning in February 2022, WMC will assume the sole responsibility for health services at the Luther College Health Service location in Larsen Hall and will provide athletic training services to student athletes beginning in the 2022-23 academic year.
"We are excited to enter into this partnership with Winneshiek Medical Center because of the excellent scope of care and services we know our students will enjoy, but also because we recognize that Decorah benefits when both of our organizations collaborate for the greater good," said President Jenifer K. Ward.
Previously, Luther managed all aspects of the Health Service and athletic training with support from local clinicians from WMC and Gundersen Health System. Now, at the start of the spring semester, students will have expanded access to the quality care provided by WMC, which has professional and management services agreements with Mayo Clinic Health System.
"WMC is excited at the prospect of this expanded partnership with Luther College," said Thomas Marquardt, chief medical officer of WMC. "Our team of highly skilled primary care and specialty physicians, advanced practice providers and nurses is well-positioned to help Luther College provide high-quality health care that is convenient, sustainable and affordable on campus in service to students, and athletic programs. The new model of care will allow both organizations to focus on their areas of specialization: WMC in providing quality health care; Luther in providing an exceptional education."
WMC will provide routine, preventative, acute and ongoing care to students on campus. They will also be responsible for providing COVID-19 testing and asymptomatic surveillance, and for performing contact tracing.
Medical directorship will be provided by Sarah Wymer, M.D., Mayo Clinic Health System family medicine physician, and WMC will provide all other medical, nursing and ancillary services. Dr. Wymer says, "Winneshiek Medical Center has enjoyed a long history of working alongside our Luther Health Service colleagues to provide care for acute needs, chronic conditions and support student travel. As the model for Luther's student health services changes, I am confident and optimistic about the future and how this new model will bring efficiencies while continuing high-quality care for the Luther student community."
Dr. Wymer is a board-certified family medicine physician with 15 years of practice experience. The Luther College campus is familiar to her as she has been providing care through the Luther College Health Service for 10 years. In addition to the care Dr. Wymer provides patients as a family medicine physician, she also provides expert obstetrical care and comprehensive women's health services. Dr. Wymer's role as Luther Health Services Medical Director will not impact her schedule or patients at Decorah Clinic.
Emily Connor, M.D., Mayo Clinic Health System orthopedics and sports medicine surgeon at WMC, will serve as the team physician for Luther athletics beginning in February 2022.  WMC will assume responsibility for the provision of athletic training services to Norse athletes beginning next academic year.
The terms of the partnership allow Luther College staff currently providing health and athletic training services to transfer their employment to Winneshiek Medical Center.
About Luther College
Luther College is home to about 1,800 undergraduates who explore big questions and take action to benefit people, communities and society. Our academic programs, experiential approach to learning, and welcoming community inspire students to learn actively, live purposefully, and lead courageously for a lifetime of impact. Learn more at luther.edu.