Luther College and University of Iowa create 4+1 Bachelor's to Master's Degree Program in public health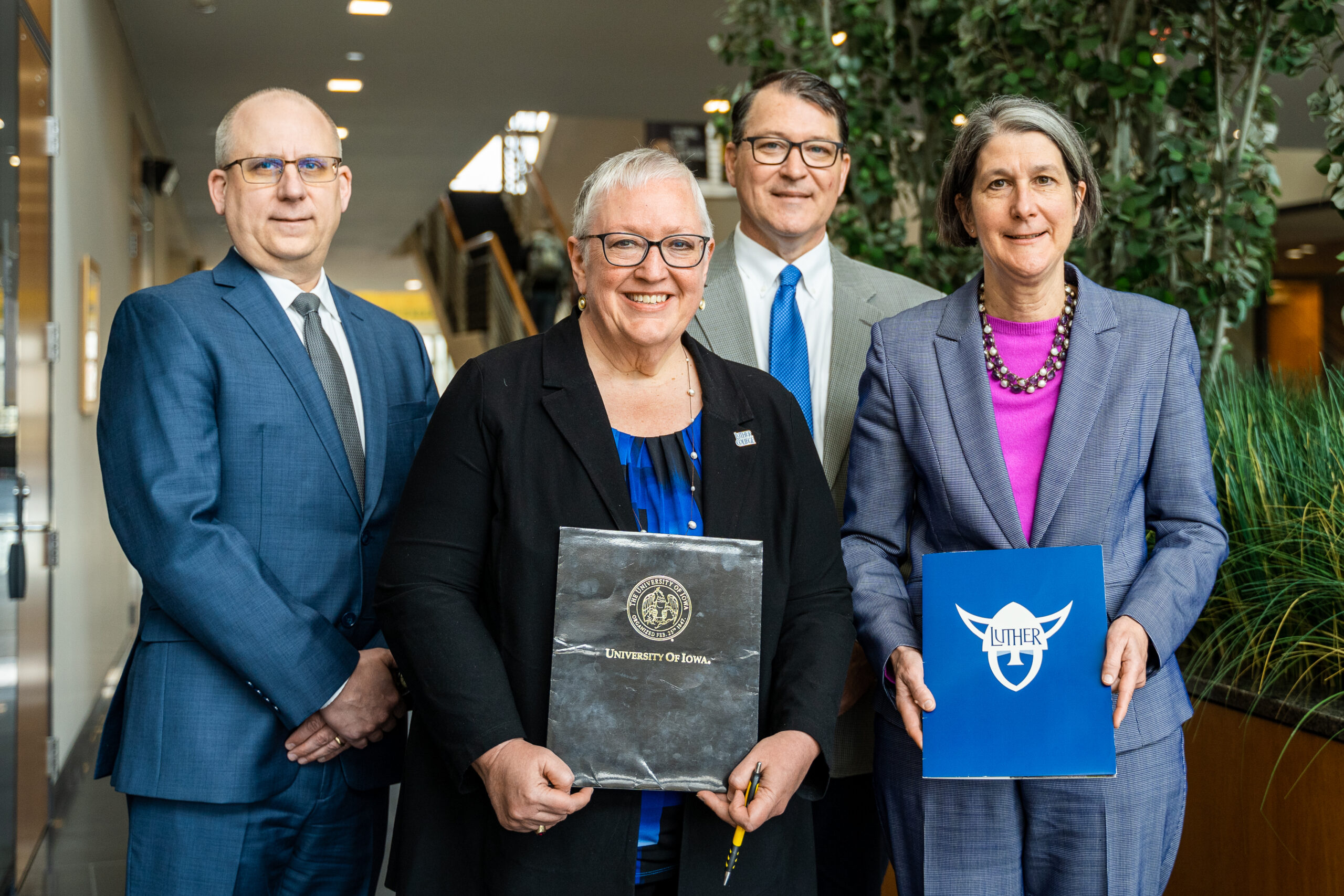 Luther College and the University of Iowa College of Public Health are partnering to create a 4+1 Bachelor's to Master's Degree Program in public health. Students who take advantage of this program will be able to earn a bachelor's degree plus a master's degree in public health in five years.
"This accelerated path allows for substantial savings in both time and money, while pursuing education in one of the top 20 colleges of public health in the U.S.," said Maryna Nading, associate professor of anthropology at Luther College. "During their senior year at Luther, students enrolled in this program will be taking both Luther courses and online graduate courses via U of I. They will be invited to participate in the events and activities at the College of Public Health, they will have a graduate school academic advisor, and will be encouraged to get to know other students in their cohort and their U of I faculty."
Luther students from any major will be considered for admission to the Master of Public Health degree program, which provides training in epidemiology, biostatistics, community and behavioral health, occupational and environmental health, and health policy. Graduates work as epidemiologists, policymakers, biostatisticians, administrators, program planners, and environmental specialists to name a few. 
An individualized plan of study will be prepared for each student upon admission to the program to ensure that their undergraduate and graduate degrees are completed within five years' time. 
"Luther College has a long history of opening doors for its students, especially to graduate and professional programs upon graduation," said Brad Chamberlain, provost at Luther College. "I am excited about this new partnership and new opportunity for Luther students—an opportunity that creates a direct and expedited path to a graduate degree at a respected partner institution in a field that is both timely and relevant."
Since the pandemic, public health careers are in demand. The Bureau of National Labor Statistics predicts that jobs in public health will increase 15% from 2019 to 2029, much faster than the average for all occupations. That translates to almost 2.4 million new careers in public health.
"Luther students are often guided by the ethic of service and many are committed to social justice. In the field of public health, this work often takes the form of preventing disease and reducing health disparities. What could be a more noble work in our world divided by inequalities?" said Nading. 
For more information contact Lexie Just, associate director of admissions and recruitment at the University of Iowa College of Public Health, at lexie-just@uiowa.edu.


About Luther College
At Luther College in beautiful Decorah, Iowa, students explore big questions and take action to benefit people, communities and society. Our academic programs, experiential approach to learning and welcoming community inspire students to learn actively, live purposefully and lead courageously for a lifetime of impact. Learn more at luther.edu.
About the University of Iowa College of Public Health
The University of Iowa, located in Iowa City, Iowa, is one of the nation's premier public research universities. The College of Public Health, one of 11 colleges that make up the university, serves Iowa and the Midwest as one of the nation's premier state-assisted schools of public health and leads the global community in rural public health education and training, research and practice. It is the only accredited school of public health in Iowa and is ranked among the nation's top 20 public health schools and programs.