Luther College alumnus awarded Torrison and Williams medical scholarships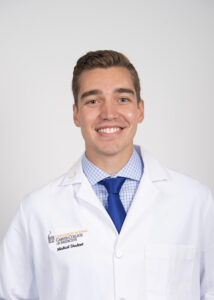 Luther College alumnus, Matthew Benson '22 has been awarded a graduate medical education scholarship through the Torrison and Williams Scholarship Program for the 2022-23 academic year.
The Dr. George and Emma J. Torrison Scholarship Fund with support from the Fredrick W. Williams Scholarship Fund annually awards scholarships to students pursuing careers in medicine. Endowments are managed by the Foundation of the Evangelical Lutheran Church in America (ELCA).
Benson studied biology and chemistry while attending Luther College and is currently attending graduate school at the University of Iowa Carver College of Medicine. While learning about various medical specialties and networking are Benson's priorities, he has long-term plans to use his knowledge to serve a smaller community.
"At the moment, my goal is to focus on my education in medical school to allow myself the opportunity to choose a specialty in a few years that I really have a passion for. I also plan on returning to a rural community in the future to serve a small town wholeheartedly," said Benson. 
Benson says he hopes to find a specialty he can connect with on a personal level and says his faith community has helped him take a step forward in that direction.
"I am very thankful to have received this scholarship. My faith has profoundly influenced my life and guided me to where I am today. It means a lot to me that the ELCA and my faith community have given me such a generous scholarship that helps me continue to pursue my career aspirations," said Benson
After completing several job-shadowing experiences, Benson has found interest in family medicine and general surgery. While he is keeping his options open, these specialties are a few he will be looking into as he furthers his career.
About Luther College
Luther College is home to about 1,800 undergraduates who explore big questions and take action to benefit people, communities, and society. Our academic programs, experiential approach to learning, and welcoming community inspire students to learn actively, live purposefully, and lead courageously for a lifetime of impact. Learn more at luther.edu.