Luther College students awarded Kuh and Krahn Family Awards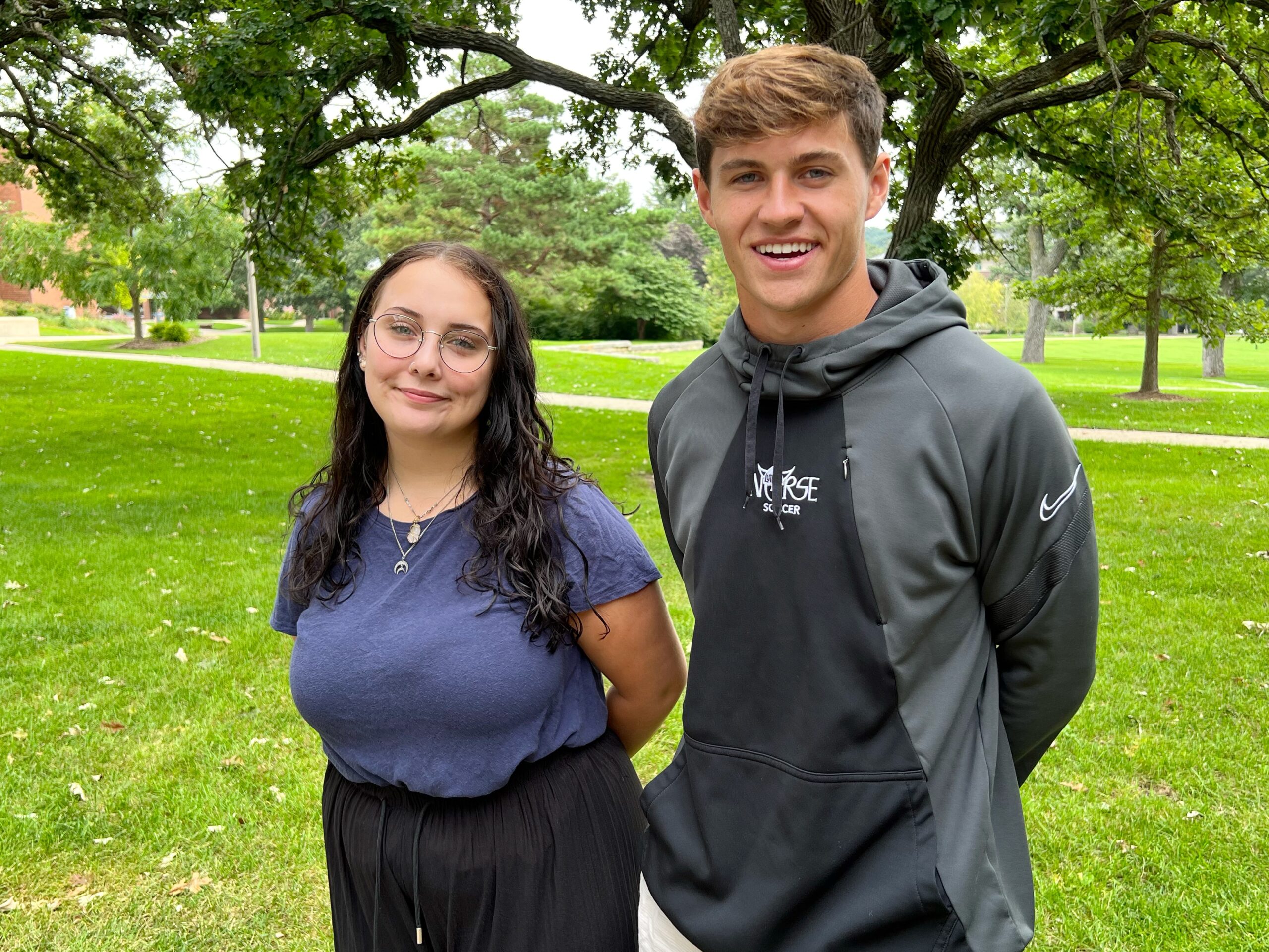 Jack Bell '25 and Kaylee Martin '23 have been awarded the Kuh Family "Positively Luther" Award and the Krahn Family Student Life Service Award respectively for their contributions to the Luther community and participation in activities that embrace the spirit and mission of Luther College.
Kuh Family "Positively Luther" Award
Established in 2015 by George D. Kuh '68, Warren R. Kuh '74, and Kristian R. Kuh '97, the "Positively Luther" award is given each year to a student whose character, leadership and participation in co-curricular and other educationally purposeful activities enhance the quality of campus life. Jack Bell '25 is receiving this award for his commitment to uplifting others while being a multiple sport athlete and excelling in his academics. He is also working towards improving mental health access and awareness on campus. 
Bell is a member of the men's soccer team, the men's swimming and diving team, and is a member of the American Rivers Conference Student Athlete Advisory Board. His swimming and diving coach, Aaron Zander, encouraged Bell to apply for this award.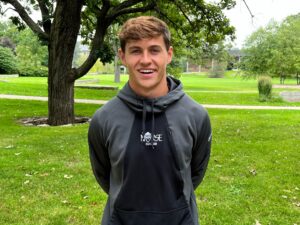 "Jack is Luther, through and through. He is one of the most positive, outwardly passionate and caring individuals I've had the chance to coach," says Zander. "He motivates his teammates and classmates in everything he's a part of. Combine that with high outcomes in the pool and the classroom – Jack exemplifies what Luther stands for."
Bell, an exercise science major with a leadership studies minor, says he is honored to be receiving this award. Because his academics and athletics take most of his time, he looks for ways to give back and encourage others in his day-to-day. 
"I set out to find ways to be better. I found ways to help team chemistry and to work in the Decorah community with classes," says Bell. "I'm trying to learn from everyone I can, and I hope that sets an example for others. Being awarded 'Positively Luther' after one year here makes me believe my efforts have been worthwhile. It's reassuring to know the school I picked for college believes in, recognizes and rewards many of my values." 
Krahn Family Student Life Service Award

The Krahn Family Student Life Service Award was established in 2013 by Roger A. '68 and Laurie Krahn and recognizes a student who makes a positive impact on student life. Kaylee Martin '23, a social work major, was nominated by multiple faculty and staff members for her commitment to helping others.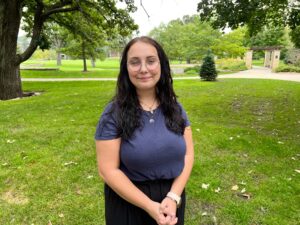 "Kaylee is a determined, self-sufficient individual who actively contributes to the well-being of others. Her work with individuals with disabilities and as a mentor with Helping Services showcases the value she places on serving others in the community," says Heather Cote, student achievement specialist. 
"Kaylee has impressed her social work instructors by her immense drive and deep commitment to social justice and to creating a campus that is safe for all and a place where everyone can grow and thrive," said Andy Eastwood, assistant professor of social work. 
Martin is building an impressive resume. On campus, she is the vice president of the Luther College Social Work Association, vice president of Special Olympics at Luther College, vice-chair of Alpha Lambda Delta, and she is a peer leader for the TRIO Achievement Program. She has also served on the honor council and was one of the Student Senate diversity representatives for gender and sexuality. Outside of Luther, Martin serves as a Mentor For A Day through Helping Services, she is a student representative for the National Association of Social Workers Iowa Chapter, and she is a skills trainer at Opportunity Homes Inc. in Decorah. 
"I am very grateful and appreciative to receive this award. I work very hard in extracurricular activities and receiving this award makes me feel as though I am making a difference through all of my commitments," says Martin. "It is important for me to contribute to campus life because I have been positively impacted by others at Luther and my goal is to continue that trend. Helping the Luther College community brings me a sense of happiness." 
About Luther College
Luther College is home to about 1,800 undergraduates who explore big questions and take action to benefit people, communities and society. Our academic programs, experiential approach to learning and welcoming community inspire students to learn actively, live purposefully and lead courageously for a lifetime of impact. Learn more at luther.edu.