Karen Hunt named vice president of enrollment management at Luther College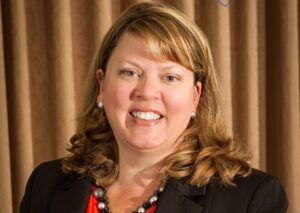 President Jenifer K. Ward has announced the appointment of Karen Hunt as vice president of enrollment management at Luther College. Hunt began working for the college in late 2021 as interim enrollment chief of staff and has quickly proven to be a valuable employee and effective leader. She steps into her new role immediately.
"Karen Hunt brings decades of progressive responsibility and leadership in admission, financial aid, marketing, enrollment management and executive leadership to Luther," said President Ward. "Since arriving as interim enrollment chief of staff, she has impressed us with her candor, empathy, strategic thinking, analytical skills and heart for the people and programs she has found here. We know she will be a great asset to Luther College in this new role."
Hunt's primary responsibilities will include leading and mentoring a team charged with recruiting and enrolling an academically driven and diverse student body. She will also serve as the principal steward of Luther's financial aid initiatives.
"I am honored and thrilled to join the Luther College community,"said Hunt. "The quality of Luther's transformational and mission-driven educational experience has inspired me from my first visit, and my conversations with students, faculty and staff have affirmed it. I am excited to continue to share the Luther College story and provide opportunities for future students to choose this beautiful, friendly, life-changing learning environment as their college home."
Over the past decade, Hunt has contributed to the enrollment of more than 11,000 students and the generation of more than $85,000,000 in first-year revenue. Before coming to Luther, Hunt worked as the vice president for enrollment management and marketing at Bethany College in West Virginia. In two years there, she was able to increase enrollment, improve student retention and enroll more international students. She also provided vision for Bethany College's strategic plan, served on the Pandemic Response Team and improved financial aid awarding policies.
Most of Hunt's nearly 30 year higher education career was spent in various admissions and marketing roles at Wittenberg University in Springfield, Ohio. From assistant dean of admission to interim vice president of marketing and communications to executive director of admission, Hunt cultivated skills in communications, marketing, strategic vision and high-level leadership.
Hunt earned her bachelor's degree in communications from Wilmington College and holds a master's degree in college student personnel service from Miami University of Ohio.
Hunt succeeds former vice president of enrollment management, Derek Hartl.
About Luther College
Luther College is home to about 1,800 undergraduates who explore big questions and take action to benefit people, communities and society. Our 60+ academic programs, experiential approach to learning and welcoming community inspire students to learn actively, live purposefully and lead courageously for a lifetime of impact. Learn more at luther.edu.