Canceled: Isabelle Demers to perform the 2023 Luther College Benefactor's Organ Recital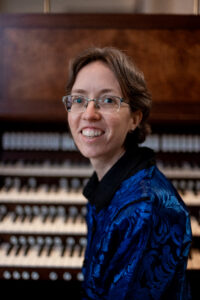 This event has been canceled due to winter storm conditions in Montreal. We hope to reschedule at a later date. 
Luther College will host its annual Benefactor's Organ Recital, featuring Isabelle Demers, associate professor of organ at McGill University in Montréal, Québec. The recital will take place at 4 p.m. Sunday, Feb. 19, in the Main Hall of the Center for Faith and Life on the Luther campus. 
"Isabelle Demers is one of the premier organists in North America. She plays traditional repertoire but approaches it in a new and innovative way. She's adventurous, well-rounded, and exciting to listen to. Her program will capture the musical capability of our instrument perfectly," said Alexander Meszler, organist and assistant professor of music at Luther. 
Demers' program will include works by Bach, Alkan, Heiller, Mozart, Albright, and Reger. The recital is open to the public with no charge for admission. 
The Chicago Classical Review has described Demers playing as having "bracing virtuosity" and the Amarillo-Globe News said she is "fearless and extraordinary." She has appeared in recitals throughout Europe, Oman, Australia, New Zealand, the United States and Canada including at the Cathedrals of Cologne and Regensburg in Germany; the ElbPhilharmonie in Hamburg; and the Royal Festival Hall, St. Paul's Cathedral, Westminster Cathedral, and Westminster Abbey in London to name a few.
Demers is in high demand to play at regional and national conventions of the American Guild of Organists, the Institute of Organ Builders and International Society of Organbuilders, the Royal Canadian College of Organists and the Organ Historical Society. She has released multiple CD recordings on the Acis and Pro Organo labels. Her latest album, recorded at Chicago's Rockefeller Chapel, was released in January 2020.
The annual Benefactor's Organ Recital features outstanding artists of international caliber on the Robert Sipe Organ in the Center for Faith and Life. The intent of the concert is to provide an inspirational role model for current and prospective students who wish to pursue organ study at Luther. It is sponsored through the Kathryn Ulvilden Moen '41 Organ Fund and the William B. Kuhlman Endowment.
Learn more about the organs at Luther College.
About Luther College Music 
Luther is home to one of the largest undergraduate music programs in the nation, with five choirs, three orchestras, two bands and two jazz bands. One-third of all Luther students participate in music, including large ensembles, faculty-coached chamber groups, private lessons and master classes. Nearly 175 music majors study music theory, ear training, history, education, composition, jazz, church music and performance. Learn more at luther.edu/music.