Luther College announces 2022 Distinguished Service Award recipients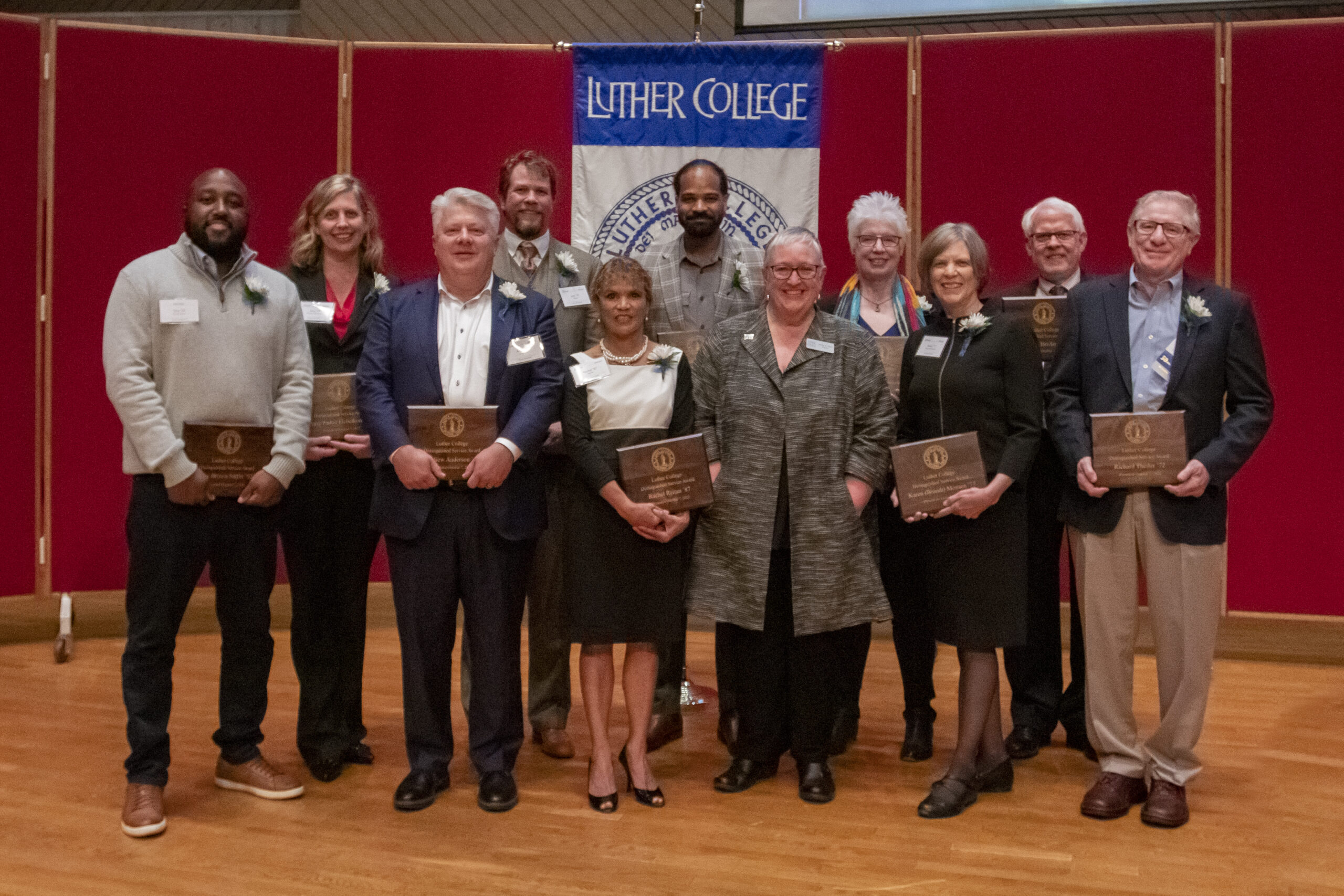 Luther College President Jenifer K. Ward is proud to announce the 2022 recipients of the Distinguished Service Award. The award is presented to alumni or individuals with strong connections to Luther College who have exhibited admirable service to society in areas such as education, government, the arts, business, church, labor, industry, agriculture, research, medicine and community affairs. 
This year's recipients are Michael Hovland '72, Richard Theiler '72, Karen (Brandt) Monsen '77, Tamara Gholson Bavendam '77, Rachel Reitan '87, Andrew Anderson '87, Joshua White '97, Amy Parker Fiebelkorn '97, Roy Brown Sartin '02 and Eli Williamson '02. 
Michael Hovland '72 
Mike Hovland was the director of enrollment management data analytics for the University of Iowa from 2014 until his retirement last year. He began his admissions career at Luther in 1973 and became an expert in effectively using data for enrollment management. Over decades, Hovland built a team that developed a suite of analytic tools and strategies for studying student enrollment behaviors. 
In addition to developing expertise in data science, Hovland is accomplished in the areas of literature and music. He received his Ph.D. in English from the University of Iowa, and for many years his primary scholarly interest was studying musical adaptations of the works of American writers—how poems and novels become songs and operas. He published one book and 18 articles in this field. 
Hovland married a Luther alumna, Dr. Nancy Jones '69, and has two sons, Sven and Bjorn. He plays tuba and for the past 41 years has sung in the Zion Lutheran Church Choir in Iowa City. Hovland also led the church's Sunday school musical opening for 12 years, directed many children's Christmas programs and led Bible studies for his church.
Richard Theiler '72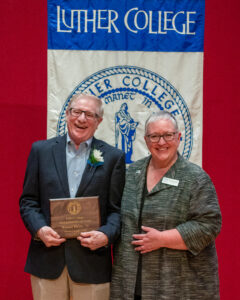 Rick Theiler graduated from Luther with a degree in chemistry and then earned a Ph.D. in biochemistry at the University of Illinois, where he received National Institutes of Health (NIH) research grants and was named an NIH fellow in both graduate school and post-doctoral studies. Theiler pursued a career in consumer products research and development, and he held senior management positions at Unilever and at Colgate-Palmolive. When he retired, Theiler was senior vice president of research and development for Henkel North America. He has more than 40 scientific publications and patents in his name.
Theiler served one term on the Luther College Board of Regents and is a current member of the Board's facilities and sustainability committee. One of his contributions was initiating a partnership between Luther's German department and the Henkel Corporation in Dusseldorf, Germany, to provide paid internships to students. 
Theiler is active in his Lutheran church in Arizona. He has chaired its board of trustees, done mission work in South Africa, and worked with Feed My Starving Children. He also sings in the choir and has initiated a solar project for his church. Theiler and his wife, Jane, helped establish a research fellowship for Luther students in biology. They also enjoy hosting Luther alumni gatherings in their home and spending time with daughters Dana '07 and Devan.
Karen (Brandt) Monsen '77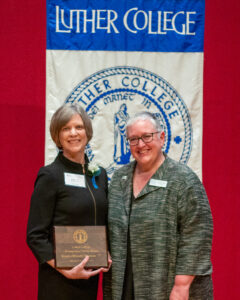 Karen (Brandt) Monsen is a public health nurse and a global academic leader who officially retired in June 2022. She was a professor of nursing at the University of Minnesota and a member of the faculty in multiple centers on campus. Monsen's expertise in public health nursing and nursing informatics led to her serving as an advisor to providers and systems as well as universities, faculty and students throughout the U.S. and the world. She serves on numerous boards and committees, including the American Correctional Nurses Association and health organizations in the Netherlands, Taiwan and New Zealand.
Last year Monsen received a top award from the American Medical Informatics Association and was named a fellow of the National Academies of Practice. Her commitment to health care quality and equity led to collaborations with community leaders in Minneapolis working to better address the needs of underserved groups. 
Monsen studied nursing at Luther College, where she met and married her classmate, Wayne, who urged her to become one of the first women on Luther's cross-country team. Early in their marriage, the pair served as Lutheran missionaries in Papua New Guinea. 
Tamara Gholson Bavendam '77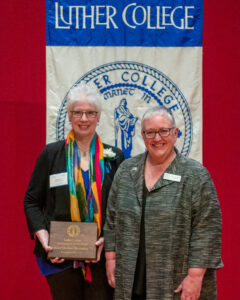 Tamara Gholson Bavendam recently retired from the National Institute of Diabetes and Digestive and Kidney Diseases (an institute within the National Institutes of Health), where she served eight and a half years as a senior advisor for women's urologic health. Bavendam developed a research program on the prevention of lower urinary tract problems in women, an issue that has been a passion and focus of her career. 
After graduating from Luther College, Bavendam attended the University of Iowa Medical School. After residency and a fellowship, she became a full-time faculty member, first at the University of Washington in Seattle and later at Drexel University in Philadelphia. Bavendam then joined Pfizer Inc., working on clinical trials for sexual dysfunction and overactive bladder, and completed other studies of lower urinary tract conditions.   
Bevendam was named Best Doctor in America by Woodward/White Inc. and Best Doctor in Philadelphia for Women awarded by Philadelphia Magazine. Last year, she received a Lifetime Achievement Award from the Society of Urodynamics, Female Pelvic Medicine, and Urogenital Reconstruction. In retirement Bevendam is serving her community in Nashville by volunteering with Habitat for Humanity and Nashville Tools for Schools.
Rachel Reitan '87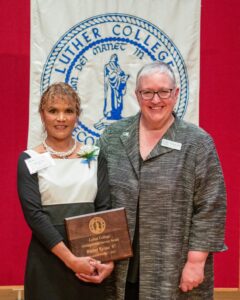 Rachel Reitan is an assistant clinical professor in the department of obstetrics and gynecology at Louisiana State University's School of Medicine. She is a specialist in minimally invasive surgery and is a certified da Vinci robotic surgeon. Her expertise is in the area of pediatric and adolescent gynecology, for which she serves as a consultant at the Children's Hospital of New Orleans. 
Reitan is not only a skilled practitioner but also a TV host. For nearly a decade, she has been a medical editor for the ABC News affiliate in New Orleans. Reitan also hosts her own medical segment on the broadcast, in which she is known as "Dr. Rachel – The Teaching Doctor," offering health tips and advice. Reitan was honored with an Emmy in both 2013 and 2014 for her On Camera Talent as a medical reporter. 
Reitan is on the board of Catholic Charities in New Orleans and on the board of  Vesterheim Museum in Decorah. She serves the public as an expert medical witness for the Jefferson Parish and Orleans Parish courts, where cases often involve rape. Reitan is also a passionate supporter of the Humane Society and Society for the Prevention of Cruelty to Animals. 
Reitan grew up in Decorah and is the youngest daughter of emeritus professor Phil Reitan and Ruth Reitan. 
Andrew Anderson '87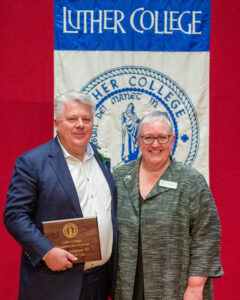 Andrew Anderson graduated from Luther and earned a law degree with distinction from the University of Iowa. Anderson has worked as a partner at Faegre Drinker Biddle & Reath in Des Moines for most of his career. He is currently focusing on projects in the renewable energy space, including solar, wind, renewable fuels and renewable natural gas.
Anderson has used his legal skills to provide significant pro bono community service that has benefited the state of Iowa and its citizens. He is a passionate ally for young people and has lobbied at the Iowa Legislature for improved youth mental health programs to prevent suicide. Anderson also led an effort to organize housing trust funds throughout the state so that local organizations could access funds to develop low-income housing. 
As the chairperson for the Vision Iowa Board for several years, Anderson helped communities access public infrastructure financing. He was involved with the financing and development of more than 100 projects across the state, including the World Food Prize Headquarters in Des Moines, the National Mississippi River Museum and Aquarium in Dubuque and the popular Trout Run Trail in Decorah. Anderson suggested the local trail committee not have the bike trail end at the fish hatchery, prompting the group to create a full loop that more than doubled the size and scope of the project.
Anderson's family has a long history with Luther College. His great-grandmother Josephine Stephens worked as a cook when Luther was an all-male institution. Additionally, Miller Hall is named after his grandparents, 1937 graduates Frank and Esther Miller. His mother, Marilyn (Miller) Anderson, attended Luther, as did his daughter Meghan '20, brother, five aunts and uncles, several cousins, and more than a dozen nieces and nephews.
Joshua White '97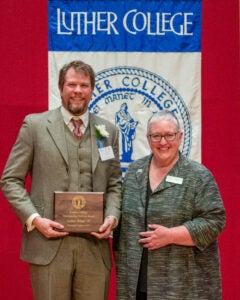 Joshua White is chief medical officer at Gifford Medical Center in Randolph, Vermont. After graduating from Luther College, he attended the University of Iowa Medical School and one decade later received a master's degree in health care from the University of St. Thomas.
In 2009, White co-founded the Community Health Initiative in Haiti. What began as a weeklong volunteer opportunity with a mobile medical clinic turned into many medical relief teams serving Haiti for over a decade. Shortly after the devastating earthquake of 2010, White led a team to care for more than 1,400 patients in the course of a week in the harshest of conditions. The Community Health Initiative continues its important mission today, partnering with a growing number of sister organizations and isolated rural Haitian communities to provide health and human services. The organization is also able to provide continuous primary health care by returning to the same communities with five medical and two surgical teams each year.
In addition to his years of service in Haiti, White mentored medical students in the organization Physicians for Health and Human Rights. He also volunteers for numerous ultramarathons, crewing, pacing, and providing nutritional counseling. White himself is an ultra-runner, having completed a 100-mile race a few years ago. 
A native of Decorah, White lives in Bethel, Vermont, with his wife and two children. 
Amy Parker Fiebelkorn '97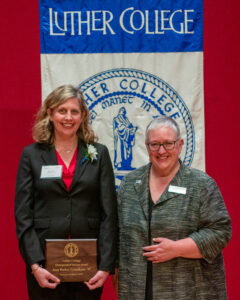 Amy Parker Fiebelkorn is a senior epidemiologist at the Centers for Disease Control and Prevention (CDC), where she serves as team lead in the Partnership and Health Equity Branch in the Immunization Services Division. She oversees 24 adult vaccination projects supporting national, state and community-based partners in building vaccine confidence, uptake, access and equity.
During the pandemic, Fiebelkorn led four response teams including the Long-Term Care Team, the Disproportionately Affected Adult Populations Team and the Influenza Response Team in the CDC's COVID-19 Vaccine Task Force. She managed more than 100 staff members across the four teams, overseeing the implementation of flu and COVID-19 vaccinations in highly affected populations. In this work, Fiebelkorn coordinated with the White House, multiple federal and private partners, and across the CDC for the successful booster dose rollout in long-term care settings. She also supervised contact tracing of CDC staff exposed to COVID-19 during deployments.
At Luther, Fiebelkorn double majored in psychology and anthropology, and stayed on another year to get a nursing degree. Shortly thereafter, she went overseas, volunteering as a nurse in rural villages in Ghana and Nepal and then working with women's groups in the urban slums of Bangladesh. These experiences affirmed her growing interest in public health, so Fiebelkorn enrolled at Emory University, where she received dual master's degrees in nursing and public health. While in graduate school, she worked with the CDC on implementing a safe water system for a rural Kenyan clinic. Fiebelkorn also published a safe water system resource guide and a standardized curriculum for Kenyan health care workers, both of which have been adapted for use in over 100 clinics in 10 countries. 
Fiebelkorn lives in Lawrenceville, Georgia, with her husband and two children.
Roy Brown Sartin '02 and Eli Williamson '02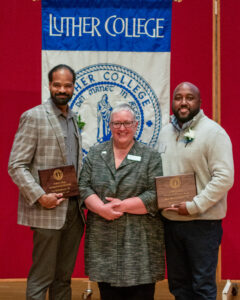 Roy Brown Sartin and Eli Williamson are receiving a joint Distinguished Service Award for their work in establishing Leave No Veteran Behind (LNVB), a 501(c)(3) charitable organization that invests in veterans through employment training, transitional employment programs, and educational debt relief.
Sartin and Williamson were called to active duty in the army during their senior year at Luther for the 9/11 mission. Williamson completed his degree after attending the Special Warfare Training Center at Ft. Bragg, North Carolina. He was deployed to Iraq and then to Afghanistan as a psychological operations specialist and Arabic linguist. Sartin, however, was forced to put a halt to his education and deploy with his reserve unit to Iraq. Upon return, he resumed his studies at Luther and completed his degree.
Sartin and Williamson originally joined the army to help with their college costs, but after their service, they still struggled to pay off their college loans due to various restraints for veterans. It was this experience that led them to co-found LNVB. The organization aims to invest in Americans who have served this country honorably and who seek to continue their service as assets in their home communities. The work of LNVB has been hailed by the media and supported by an impressive number of businesses and foundations. The organization has several Luther alumni and professors on their board of directors.
Currently, Sartin serves as vice president of Leave No Veteran Behind and independently consults internationally. Williamson is the president of Leave No Veteran Behind and owns and manages a consulting practice through which he advises high-net-worth individuals and institutions who want to invest their resources for positive social change. Williamson is also working on his master's degree in nonprofit management at DePaul University.
About Luther College
Luther College is home to about 1,800 undergraduates who explore big questions and take action to benefit people, communities and society. Our academic programs, experiential approach to learning and welcoming community inspire students to learn actively, live purposefully and lead courageously for a lifetime of impact. Learn more at luther.edu.