Contact Information
Laura Barlament
Executive Director of Strategic Marketing and Communications
Send Email
Phone: 563-387-1332
Andy Hageman named director of the Center for Ethics and Public Engagement at Luther College
December 6, 2021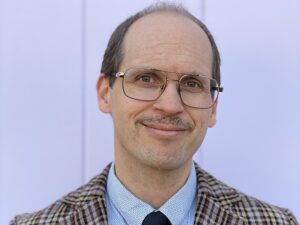 Andy Hageman, associate professor of English, has been named the new director of the Center for Ethics and Public Engagement (CEPE) at Luther College.
"I am thrilled and honored to be taking the role of director of the CEPE," said Hageman. "My training, research, and teaching focus on the power of narrative, the ethical opportunities and challenges as new technologies emerge and shape our cultures, and the role science fiction can play in creatively addressing climate change and racism. I look forward to leading the center with attention to ethics in the stories we create, circulate, and consume about justice, from algorithms and athletics to ancient aquatic arthropods."
Founded in 2006, the CEPE's mission is to extend conversation beyond the classroom by examining assumptions, exchanging ideas, and encouraging responsible action in our world. By encouraging and supporting deep reflection about ethical matters and responsible citizenship, the center helps students connect the pursuit of learning with what it means to live a meaningful life.
This mission is supported through programming such as guest speakers and residencies, discussions, reading groups, news hour gatherings, and panel discussions. A theme guides each year's focus. This year the theme is The Ethics of Leadership.
Hageman teaches courses in the English department, environmental studies program, Paideia first-year experience, and capstones on ethics. He promotes the rigorous imagining of how and why an interdisciplinary liberal arts education prepares students for a future of life, work, and civic engagement. He collaborates with students to shape their core competencies in creative analysis and design, ethical judgment, and the power of narrative.
"The CEPE is a portal through which Luther students, faculty, and staff can share their innovative and interdisciplinary work with broader communities. At the heart of my own work is embracing the entanglement of different disciplines. I see the center as a way to connect projects and pursuits–a space where scholars in English, environmental studies, and data science, for example, design projects together. Likewise, the center will provide students opportunities to connect their academic work to the paths they will move along after graduation," said Hageman.
Hageman will begin his five-year term as director of the CEPE in February 2022. He succeeds Victoria Christman who was recently appointed director of the Center for Global Learning at Luther College.
About Luther College
Luther College is home to about 1,800 undergraduates who explore big questions and take action to benefit people, communities and society. Our 60+ academic programs, experiential approach to learning and welcoming community inspire students to learn actively, live purposefully and lead courageously for a lifetime of impact. Learn more at luther.edu.
Contact Information
Laura Barlament
Executive Director of Strategic Marketing and Communications
Send Email
Phone: 563-387-1332