Xiao Hu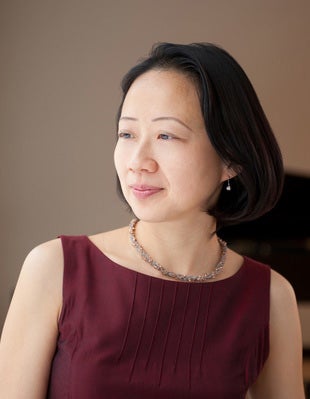 Associate Professor of Music
Piano
Biography
Education: D.M.A., State University of New York at Stony Brook; M.M., University of Cincinnati, College-Conservatory of Music; B.M., University of Cincinnati, College-Conservatory of Music
Pianist Xiao Hu is currently an Associate Professor of Music at Luther College in Decorah, Iowa, where she has been a member of the piano faculty since 2002.  She has enjoyed an active teaching and performing career.  Recent professional activities have taken her across the U.S., and to Austria, Brazil, China, Czech Republic, Japan, Malaysia, and the Philippines.  Hu has presented performance at the Konzerthaus in Vienna, Austria, as well as at Carnegie Hall's Weill Recital Hall in New York City.  She has presented concerts and master classes at many universities and institutions, including Chicago Institute of Music, Shanghai Conservatory of Music (middle school division), Western Texas A&M University, University of South Florida, University of Iowa, Western Illinois State University, China Central Normal University, Wuhan Conservatory of Music, University of the Philippines, etc.  Hu performs regularly with her husband, pianist Du Huang, as the Unison Piano Duo.  Praised by the New York Concert Review as "Sparkling and fleeting…unusually high level of ensemble playing," the Duo's performances have been featured frequently on Iowa Public Radio, Iowa Public Television and Minnesota Public Radio.  Recently, their world premier performance of composer Brooke Joyce's He Hung His Head and Died, was featured on National Public Radio's Performance Today.  Dr. Hu has served as an adjudicator for many piano competitions locally and abroad, including Music Teachers Association district auditions in the states of Iowa, Minnesota, and Wisconsin, Hong Kong Schools Music Festival (2010, 2015), and Shanghai International Piano Institute and Festival.
Born and raised in China, Xiao Hu received her early training from the elementary and the middle school affiliated with the Shanghai Conservatory of Music. She holds her Bachelor (summa cum laude) and Master of Music degrees from the University of Cincinnati under Eugene and Elizabeth Pridonoff, and her Doctor of Musical Arts degree from the State University of New York at Stony Brook under Gilbert Kalish.
MUS 130, 230, 330, 430 Applied Music- Piano
For music majors in varied years of study. Non-majors and music majors in their secondary areas may register for these courses with consent of instructor. Studio seminars may be required. Additional fees will be assessed for these courses.
MUS 115 Class Instruction- Piano
For piano and voice majors and non-majors with little or no background in those areas. Beginning guitarists will study music, notation, tablature, chording, and classical guitar literature. Additional fees will be assessed for this course.
MUS 116 Class Instruction- Piano
Contiuation of MUS 115. For majors and non-majors who have had some piano or voice. Emphasis is on developing good reading and practicing skills. Additional fees will be assessed for this course.
MUS 117 Class Instruction- Piano
For music majors only. Emphasis is on developing the skills required on the piano proficiency test. Additional fees will be assessed for this course.
Learn more about Keyboard at Luther
Mus 485 Seminar
Doctor of Musical Arts, State University of New York at Stony Brook, 2003
Master of Music, University of Cincinnati, College-Conservatory of Music, 1998
Bachelor of Music, summa cum laude, University of Cincinnati, College-Conservatory of Music, 1996