Rebecca Shaffer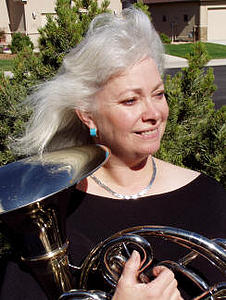 Adjunct Professor of Music
French Horn
Biography
Education: D.M.A., University of Northern Colorado
Dr. Rebecca Boehm Shaffer teaches horn, horn ensemble, brass methods and ear training at Luther College. While growing up on a lake in northern Wisconsin, Dr. Boehm Shaffer made the trek to Bloomington, Indiana to study with her first horn teacher, Philip Farkas. She holds a Bachelor of Music in horn performance from the University of Wisconsin at Stevens Point, a Masters of Music degree in horn performance from the University of Wisconsin at Madison where she studied with Douglas Hill and a doctorate in horn performance and pedagogy with a secondary emphasis in music history from the University of Northern Colorado. She was also a student of  David Jolley in New York and Jerry Folsom in Los Angeles.
For five years she taught horn and horn pedagogy at the University of Wyoming. An active player she is a member of the Fort Collins Symphony and the Rocky Mountain Horn Ensemble. She freelanced extensively in northern Colorado, where she performed with the Fort Collins, Cheyenne and Greeley Symphonies, Fort Collins Opera and Ballet, the UW Brass Quintet, UW Faculty Recital series, and the Northern Woodwind Quintet. She has performed solos, chamber music and in recording studios, opera and symphony orchestra across the country, and with many artists including Robert Shaw, Tony Bennet, Roberta Peters and Jan Peerce, Metallica and Ray Charles and Frank Sinatra, Jr.
Dr. Boehm Shaffer is the author of The Guide to Horn Ensemble Repertoire, the first reference book in its field. She was invited to conduct a university horn ensemble at the International Horn Symposium in Denver, Colorado in 2008. Dr. Boehm Shaffer, her husband and two daughters live in beautiful Northern Iowa near the Upper Iowa River where they enjoy biking, hiking and making music together.
MUS 130, 230, 330, 430 Applied Music- Horn

For music majors in varied years of study. Non-majors and music majors in their secondary areas may register for these courses with consent of instructor. Studio seminars may be required. Additional fees will be assessed for these courses.
MUED 260 
Brass Methods
Methods and materials of teaching brass instruments to elementary and secondary students. Includes knowledge of and proficiency on brass instruments, pedagogy, materials, assessment and grading for individual and small group studio lessons. Required for instrumental music licensure.
MUS 273 Chamber Music
Instruction in the literature for small ensembles. Ensembles should be approved by an instructor before registration. Open to all students regardless of major. All ensemble members must be registered. This is a chargeable credit and will count toward the 36 credits for the year.
MUS 345 Music History II: Classical and Romantic
This course offers a survey of vocal and instrumental music from approximately 1730 to 1900. We will trace the development of major genres, including the symphony, string quartet, concerto, aria, and oratorio. Students will consider how Classical composers contributed to Western Art Music by inventing or codifying some of the most enduring genres and forms and by creating the Galant style. We will then explore how Romantic composers transformed the genres, forms, and harmonic language inherited from Classical composers. Many of these changes resulted from a desire to express emotions and ideas through music, as we will see. Historical, social, and political factors that affected music and musical life will also be investigated.
Studio Ensemble: Horn
Degree: D.M.A., University of Northern Colorado