Nicholas Shaneyfelt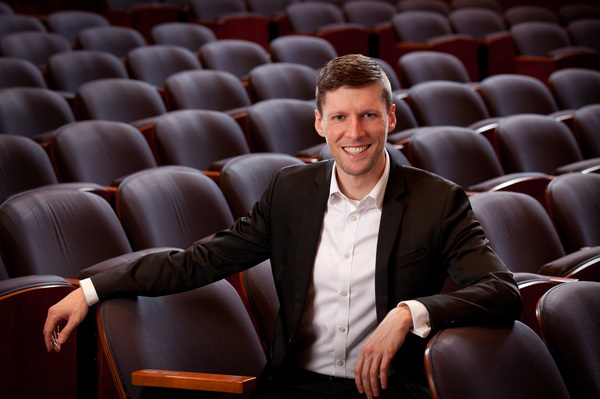 Associate Professor of Music
Collaborative Piano
Vocal Coaching
Biography
Education: D.M.A., University of Michigan; M.M., University of Massachusetts-Amherst; B.A. Music, B.S. Computer Science, University of Notre Dame
Nicholas Shaneyfelt is an Associate Professor of Music in Collaborative Piano at Luther College in Decorah, Iowa.  He completed his doctoral studies in the Collaborative Piano studio of Martin Katz at the University of Michigan. Prior to Michigan, he served as Staff Accompanist for the Department of Music and Dance at the University of Massachusetts Amherst, with regular involvements at the Northampton Community Music Center.  In the 2016-17 academic year, he accompanied Luther College's Nordic Choir, including rehearsals of Bach's B minor Mass, and has accompanied the Chamber Choir and Chorale at UMass under the direction of Tony Thornton, the UMass Conducting Institute, the South Hadley Chorale, and regional honor choirs and choral societies in Iowa, Massachusetts, New Hampshire, Connecticut and Maine.
Dr. Shaneyfelt serves co-director and vocal coach at the International Music Festival of the Adriatic, a summer festival for instrumentalists, vocalists, and composers in Duino, Italy. He has also music directed at Belvoir Terrace in the Berkshires of Massachusetts.
Dr. Shaneyfelt appears with saxophonist Jonathan Hulting-Cohen on his album "Second Flight," released in 2021 on the Innova label.  He was a recent participant in the prestigious NATS (Nat'l Assoc. for Teachers of Singing) Intern Program in Toronto, Ontario, the inaugural year the program was expanded to include collaborative pianists.  Notable recent performances include engagements in Berlin, Germany and Poznan, Poland with violist Spencer Martin, and performances in Los Angeles, New York City, and the Kennedy Center through the University of Michigan's Gershwin Initiative. Dr. Shaneyfelt tours frequently with Piatigorsky Foundation, an organization devoted to bringing live classical music to underserved communities across the country.
Originally from Knightstown, Indiana, Dr. Shaneyfelt received Bachelor's degrees in Music and Computer Science from the University of Notre Dame, and a Master of Music degree from UMass with a dual focus in Solo and Collaborative Piano. At UMass, he was the recipient of the 2011 Eugenie May Piano Award. While at Notre Dame, his piano trio, "The Nora Trio," was the first Notre Dame chamber ensemble to be selected as a finalist in the Fischoff National Chamber Music Competition.
His teachers include John Blacklow, Nadine Shank, Estela Olevsky, and Gilles Vonsattel.
MUS 360
Vocal Coaching
Guidance in the proper execution of vocal music dealing with diction, musical style, and assistance in repertoire selection. Additional fees will be assessed for this course.
MUS 362
Opera Workshop: Scenes
The study, rehearsal and staging of operatic repertoire (such as arias, scenes or one-act operas) through public performance and/or in-class assignments. Credit is dependent on role(s) and other duties assigned. This course may be repeated for credit.
MUS 363
Opera Workshop: Production
The study, rehearsal and performance of a music faculty directed opera. Credit dependent on role(s) and other duties assigned. This course may be repeated for credit.

MUS 376
Vocal and Instrumental Accompanying
A performance seminar for pianists. Students are coached in repertoire that requires keyboard accompaniment. The goal is for pianists to develop and refine skills unique to the art of accompanying while becoming familiar with a wide variety of musical styles. Emphasis on vocal accompanying with additional consideration of instrumental repertoire.
D.M.A., University of Michigan
M.M., University of Massachusetts-Amherst
B.A. Music, B.S. Computer Science, University of Notre Dame