Kirk Larsen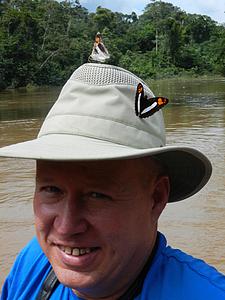 Professor of Biology
Biology Department Head
Biography
Education: Ph.D., Entomology, Ohio State University; M.S., Entomology, Michigan State University; B.S., Biology, Calvin College
I am an entomologist with special interests in prairie ecology and insect behavior, and have been teaching in the Department of Biology at Luther since 1993. Along with keeping up with my family (my lovely wife, 3 kids plus a son-in-law and daughter-in-law, and our dog), I have a variety of other interests.
One interest involves understanding the interactions between science and the Christian faith, especially the area of creation care, looking at our relationship to the environment and our responsibilities as stewards of creation. I am a member of Decorah Covenant Church.
I enjoy gardening, playing trombone, hiking, cross-country skiing, swimming and snorkeling, fly fishing, burning prairies, and eating ice cream. 
In the summer I often teach in the Black Hills of South Dakota at the Wheaton College Science Station. I've taught Ecology, Entomology, Field Zoology, and I currently teach the zoology portion of their Diversity of Life course.