Kate Elliott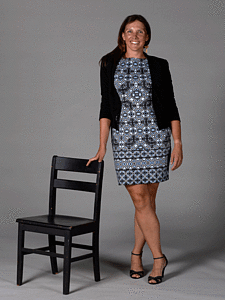 Dean of Student Success
Associate Professor of Art History
Director of the Center for Excellence in Learning and Teaching
Biography
Dr. Kate Elliott joined the Luther faculty in 2010, where she is an Assistant Professor of Art History and Curator of the Fine Arts Collection. She teaches the range of art history courses at Luther including the two-semester Survey of Western Art, American Art, Art of the 20th century, Contemporary Art and Ethics (a Paideia II course), Native American, and Nineteenth-century Art.
Her dissertation, "Epic Encounters: First Contact Imagery in Nineteenth and Early-Twentieth Century American Art" examines images of contact in American history painting from the 1830s through the Progressive Era. She is particularly interested in why the subject of the first meetings of European explorers and Native Americans had such longevity in America and how these images communicated vastly different messages at different moments in American history. First Contact images were integrally tied to the construction of a set of origin myths for the new country, a central concern for nineteenth-century artists. Her dissertation argues that, regardless of historical period, this mythologizing of North American explorers and their first encounters with Native peoples was an integral part of the process of understanding the current direction of the nation.
Dr. Elliott has been the recipient of several grants and fellowship to further her research, including the Wyeth Foundation Predoctoral Fellowship, sponsored by the Smithsonian American Art Museum in Washington, The United States Capitol Historical Society Fellowship, Washington D.C. and the H. George and Jutta F. Anderson Faculty Development Fund from Luther College.
She is currently working on a project concerning Herbjørn Gausta, a late nineteenth-century Norwegian-American painter, who immigrated to America in 1867. As an adult, Gausta traveled between Norway and the Upper Midwest, painting portraits of prominent Norwegian-Americans, religious works, and lovely genre scenes depicting life in this region, as well as life back in Norway.
Dr. Elliott also recently published an article, "Reclaiming the Land, Reclaiming the Indian: The La Salle Series of George Catlin". It is an examination of George Catlin's series of paintings depicting La Salle's travels through North America and the statements his pieces make about Native American culture.
Professor Elliott's Teaching Philosophy
The goal of art history, as I understand it, is to foster visual literacy and build critical thinking, while introducing students to history of art. This visual literacy includes exposure to art, lots of art, and (yes) committing seminal works to memory to serve as visual guideposts. But it also means trying to get students to start questioning the "truth" of images by nurturing an understanding that an artist makes conscious choices in the creation of his or her art. The same is true for the images that surround us in our daily lives.
I try to draw connections between the history of art (for instance, portraits of Louis XIV) and our contemporary media culture (such as presidential campaign ads) to not only make the artwork under examination relevant to students' everyday lives, but to also help them to become more conscious consumers of images.
If students can understand that a campaign ad is a carefully constructed piece of visual rhetoric designed to deliver a particular message about a candidate, they can also begin to see political portraiture in the same way and begin asking questions of a work of art: What is it saying? How does it deliver its message? How can the image help us to understand the larger historical and cultural context?
ART 103 Foundations: Circa NOW
This course introduces students to current art trends and theoretical preoccupations. We will begin to investigate visual language, its purpose, and its cultural and historical import with an emphasis on contemporary art and critical theory that has informed art production in the last 75 years. Students will endeavor to find a place for themselves within this tradition and critically reflect on their own artistic values and concerns.
ARTH 251 A Survey of Western Art I
This survey course will introduce students to the different styles and functions of art from the Paleolithic period to the Gothic age, giving students the background and tools for understanding the visual culture of each period against the cultural background of their times. Attention is paid to the analysis of the art objects alongside historical texts to allow for a historical interpretation of the past.
ARTH 252 A Survey of Western Art II
This course introduces students to the different styles and functions of art in the Western world from Renaissance to the present day. Our approach will be selective rather than comprehensive, and therefore we will examine the major monuments and art works from 1400 to 2012. The course will be a combination of lecture and discussion, prompted by various in-class activities designed to help students critically engage the art, our readings, and the techniques of art history.
ARTH 262 American Art
This course will survey the history of art in the United States from the colonial period through the 20th century. The class will address the meaning of and controversy surrounding the idea of a strictly "American" art. We will discuss the ways in which our relatively new country sought to define itself through visual media.
ARTH 264 Pre-Columbian and Native American Art
This course will examine the diverse artistic traditions of the Americas from the precontact period to the present day. Emphasis will be placed on situating artistic production within its cultural context and examining how precontact practices continue to inform contemporary artistic production.
ARTH 362 A 19th Century Art
This course will examine the major artists and artistic movements of the 19th century. In particular we will be concerned with how artists both participated in and responded to larger cultural and historical events.
ARTH 364 20th Century Art
This class examines a selection of the major art movements since 1880, including Impressionism, Post-Impressionism, Cubism, Dada, Expressionism, Abstract Expressionism, Pop, Minimalism, Conceptual art, and art of the Postmodern era. In this endeavor we will be primarily focused on the works of art themselves and on the writings of artists and critics.
WGST 368 Gender in Art
Taking Linda Nochlin's seminal essay, "Why Have There Been No Great Women Artists?" as our starting point, this course will explore the place of gender in the history of art. We will explore both images of men and images of women, as well as the differing roles afforded to male and female artists across time. We will examine assumptions we and others make about women, gender, art, culture, queer theory, and feminism.
ARTH 379 Art History Methods
This course will offer advanced students the opportunity to explore methods of art historical research and analysis, as well as historiography.
PAID 450 Thinking Through Ethics of Art
This team-taught course explores the relationships between practices and theories of art through the lenses of philosophy and art history. We'll take a thematic approach, focusing on ethical issues in the arts, such as art and censorship, recent deaccessioning controversies, use of animals in art, eco-criticism, and problems related to the representation of women, ethnic and racial groups, and children. We'll be particularly concerned with the way that artists across time and cultures have engaged these ethical issues.
Ph.D., American Art History, University of Iowa, 2003-2009
Dissertation: "Epic Encounters: First Contact Imagery in Nineteenth-century
and Early Twentieth-century American Art."
M.A., Art History; University of Iowa, 2000-2002
Thesis: "Definition from the Outside: Jeff Wall and The Children's
Pavilion."
B.A., Art History, St. Olaf College, 1998
Senior Thesis: "The Family of Man: The Position of Photography Within the
Fine Art Tradition."
B.A., Studio Art, St. Olaf College, 1998