Blakeley Menghini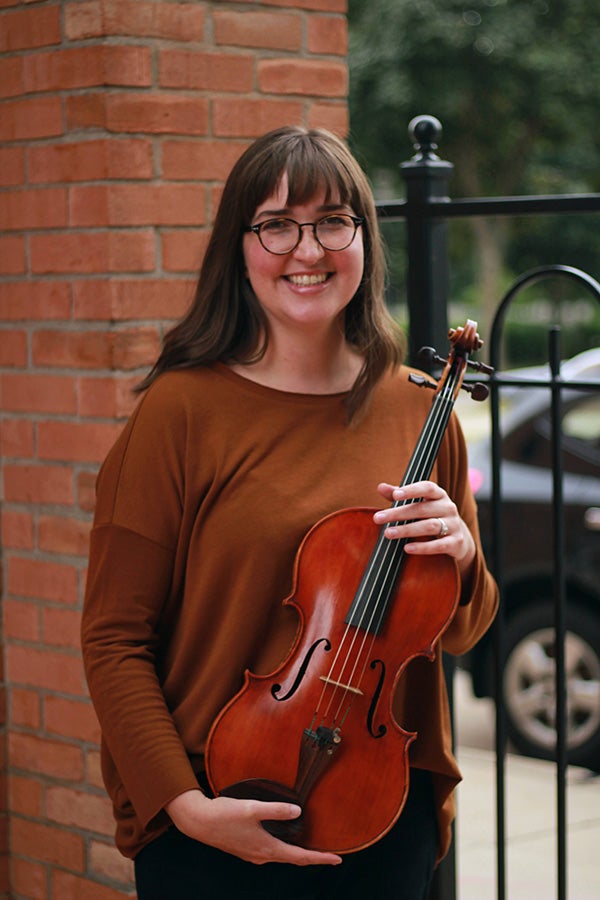 Visiting Faculty
Viola
Philharmonia
Methods
Music in Societies
Biography
Education:
D.M.A. Viola Performance, Minor: Philosophy of String Pedagogy, UW-Madison
Performer's Certificate, Viola Emphasis, Northern Illinois University
M.M. Viola Performance, Northern Illinois University
B.A. Viola Performance, Greenville University
While earning her DMA at UW-Madison, Blakeley was a member of the Hunt Quartet, a competitive graduate scholarship ensemble which focused on both formal performances and educational concerts for children through the Madison Symphony Orchestra's Up Close and Musical program. Blakeley has performed in masterclasses with Alban Gerhardt, Nobuko Imai, Laurie Smukler, and the St. Lawrence, Arianna, Avalon, Pro Arte, and Verona Quartets. She has participated in the Arianna Chamber Music Festival, Northern Lights Chamber Music Festival, Token Creek Chamber Music Festival, LunArts Festival, Caroga Lake Chamber Music Festival, and spent time in Lunenburg, Nova Scotia under the mentorship of the Verona Quartet at the Lunenburg Academy of Music Performance (LAMP). Her teachers include Sally Chisholm, Anthony Devroye, and Victoria Voumard. She has also studied pedagogy with Eugene Purdue and Ann Montzka-Smelser.
Her DMA project at UW-Madison entitled Character First, Ability Second: Character Development through Suzuki Inspired Pedagogy focused on the Suzuki Method and its ability to develop character through practices of Community, Repetition, and Listening. In 2020, Blakeley published a chapter in Humane Music Education for the Common Good about the Suzuki Method and its role in shaping humanity. In addition to Luther College, she has held teaching positions at Greenville University and Beloit College. In 2015 she wrote and taught a K-12 Music History/Appreciation curriculum for the Lahr-Well Academy in Edwardsville, Illinois.
From 2018 to 2022, Blakeley served Northeastern Wisconsin as a founding member and violist of the Griffon String Quartet, reaching audiences of all ages with the mission to Educate, Enrich, and Excite their community. In 2022, she co-founded the Kalara String Quartet, often featured in the Candlelight Series concerts in Milwaukee and Madison, Wisconsin. Passionate about chamber music for young people, the Kalara has offered masterclasses and chamber music camps in Wisconsin and Illinois. Blakeley has also held positions as principal violist of the Weidner Philharmonic (Green Bay, WI) and the Civic Symphony of Green Bay, and is a substitute violist in the Fox Valley and Madison Symphonies.
In her free time, Blakeley enjoys arts and crafts, organizing, running, and spending time with her husband Ben and grey cat Concs.