Oak Trio | Biography Information
Oak Trio consists of musicians dedicated to adding creative contemporary performance
repertoire for chamber ensembles. The trio collaborates with other artists and composers
to expand the music available to similar instrumental ensembles. Recent composers
include Brooke Joyce, Ian Deterling, and Robert Levy.
Oak Trio is named for the Burr Oak Tree, native to North American prairie and savanna
landscapes, and known for its resistance to drought, fire, and human caused stress. The
tree is lauded for its durability and strength.
Watch the livestream on the Music Department YouTube Channel
Suzanne Tirk | Clarinet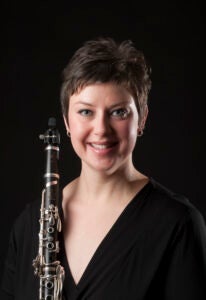 Dr. Suzanne Tirk is Associate Professor of Clarinet at the University of Oklahoma, a member
of the Oklahoma Wind Quintet, and the former Director of the OU Clarinet Symposium. A
dynamic performer and teacher, Dr. Tirk has established a national and international
reputation with numerous performance and masterclass presentations throughout North,
Central, and South America, Asia, and Australia. She has served as principal clarinet with
the Wichita Symphony Orchestra and Norman Philharmonic Orchestra and has performed
with the Classical Music Festival Orchestra in Austria and Hungary.
Richard Tirk | Trumpet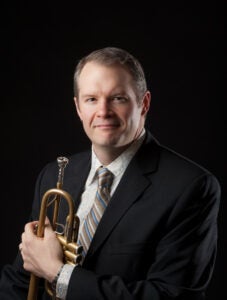 Trumpeter and conductor Dr. Richard Tirk has performed on five continents and for as
varied audiences from the King and Queen of Norway to the outdoor concert in the park
crowd in Woodstock, Illinois, his hometown.  In addition to solo performing, Tirk has been
a member of several Midwest orchestras, opera orchestras, and jazz ensembles sharing the
stage with artists such as Doc Severinsen, Bob Mintzer, and Joyce DiDonato.  A sought-after
clinician, Dr. Tirk has given masterclasses across the U.S., Brazil, Haiti, and the British Isles.
Richard has a music education degree from Lawrence University in Appleton, Wisconsin,
and degrees in trumpet performance from Western Michigan University and Michigan State
University.  He currently teaches trumpet and directs the jazz program at Southwestern
Oklahoma State University.
Benjamin Yates | Trombone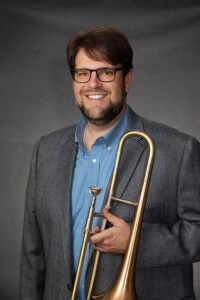 Trombonist and music educator Benjamin Yates teaches at the University of Louisiana at
Lafayette and at the Lutheran Summer Music Academy & Festival. Yates presents master classes throughout the U.S., Austria, Brazil, China, Japan, Dominican Republic, and the United Arab
Emirates. He has performed internationally for touring chamber and orchestral ensembles,
sharing the stage with Grammy winning ensembles, composers, and artists. Dr. Yates is a M&W Custom Trombones artist and a MADPipe trombone mouthpiece and lead pipe system artist.