Contact Information
Development Office
Loyalty Hall
Luther College
700 College Drive
Decorah, Iowa 52101
Send Email
Phone: 563-387-1862
Fax: 563-387-1322
Give Now
Student Philanthropy Council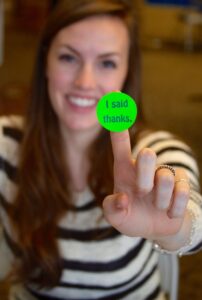 The Student Philanthropy Council (SPC) generates awareness and enthusiasm about giving by creating connections among Luther students, the campus community, alumni, and donors.
Main committees that branch off of SPC include philanthropy awareness and the Senior Giving Campaign.
Members of SPC coordinate with Development staff to plan and execute all Student Philanthropy events on campus.
Contact Information
Development Office
Loyalty Hall
Luther College
700 College Drive
Decorah, Iowa 52101
Send Email
Phone: 563-387-1862
Fax: 563-387-1322
Give Now