Contact Information
Office of Alumni Relations
Loyalty Hall
Luther College
700 College Drive
Decorah, Iowa 52101
Send Email
Phone: 563-387-1164
Fax: 563-387-1322
Lifelong Learner Seminars
Welcome to the 2022-23 season of Lifelong Learner Seminars at Luther College. The seminars offer an opportunity for area residents to enjoy the academic program at Luther College and engage in meaningful, scholarly dialogue and study in a college setting.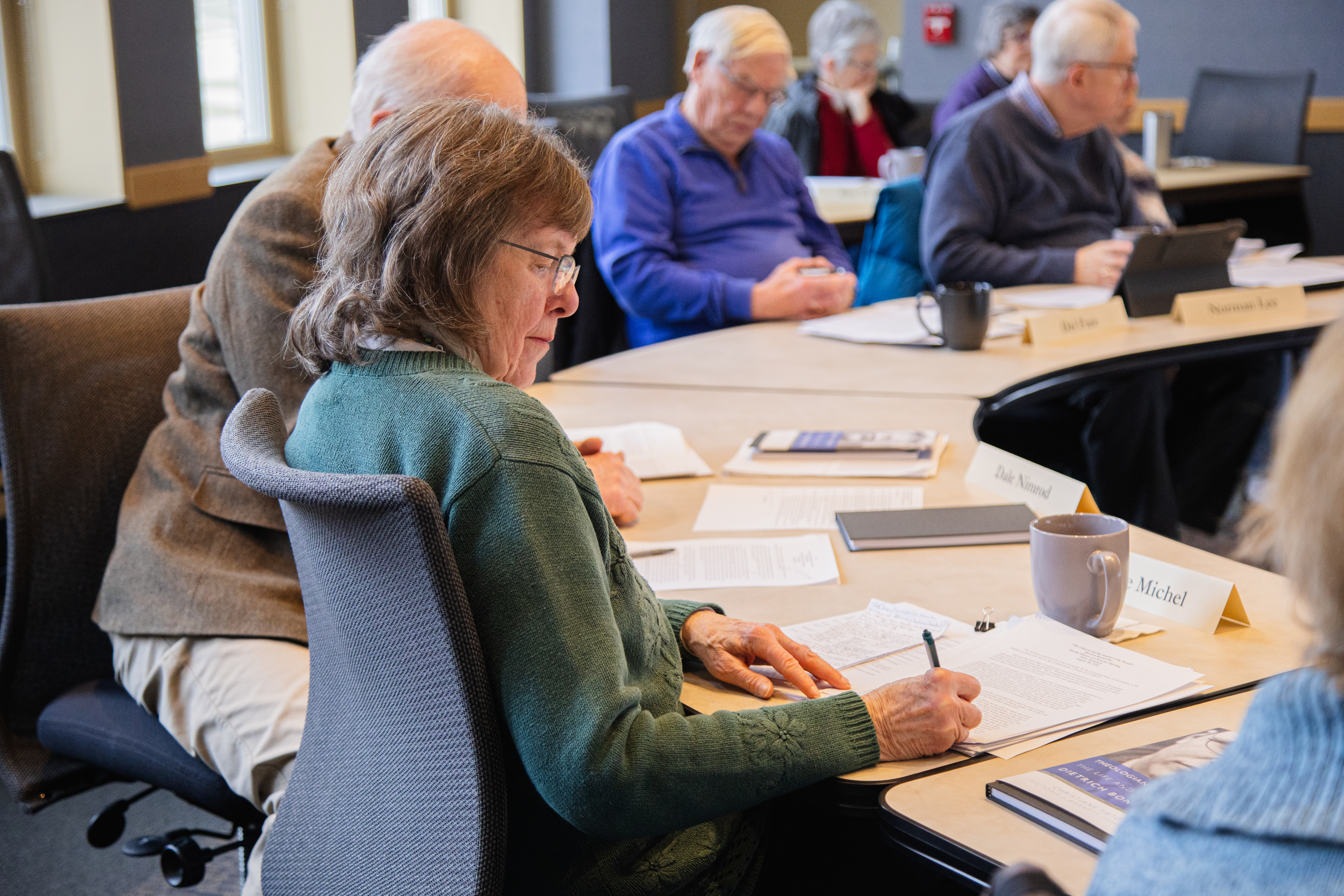 Each month-long seminar consists of four Wednesday sessions during the months of September, October, November, February, and March. The format combines lectures with discussion and an opportunity to socialize from 9:00 a.m. to 12:00 noon in the Loyalty Hall Board Room. Impact Coffee, tea, water and light snacks are provided. The cost for each seminar is $40 per person and can be paid at the first meeting of the seminar.
Class size is limited to twenty-five (25) spots. Those who sign up as a couple will be accepted together. Registration is largely first-come, first-served, but for high-demand courses a lottery system may be used to serve more individuals. 

Although the fall 2022 courses are full, a few spots remain for the February and March 2023 seminars. To register, email or call the Alumni Office at 563-387-1861.
Seminar 1 - The 1619 Project: Essays and Controversies, with emeriti Luther Professors Ruth Caldwell and Paul Gardner
SEPTEMBER and OCTOBER 2022 (class will meet Sept. 21, 28, and Oct. 5, and 12)
Schools, parents, politicians, historians, and citizens have joined conversations prodded by controversies regarding The 1619 Project. The Project's original essays, including Project creator Nikole Hannah Jones' essay on American democracy that earned a Pulitzer Prize, appeared in The New York Times in 2019. New and revised essays, in addition to poetry and prose, are included in the 2021 project book we will use in this seminar.
Please join us in this Lifelong Learner Seminar where we will together read and share our understandings of this work. We will send participants a reading schedule two weeks before we begin.
The 1619 Project: a New Origin Story can be purchased at the Luther Book Store and Dragonfly Books.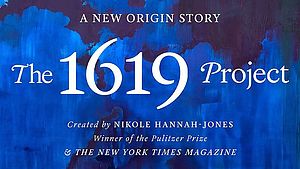 Seminar 2 - The Grapes of Wrath: Then and Now, with (Simpson College) Professor Emerita of English Nancy St. Clair
NOVEMBER 2022 (Nov. 2, 9, 16, and 30; no class on the 23rd due to Thanksgiving Holiday)

When American author John Steinbeck won the Nobel Prize in literature in 1962 the committee cited his novel The Grapes of Wrath as a masterpiece of realism, one that compassionately explored how the intersection of politics, environment, and economics shaped the lives of individuals pursuing the American dream. Published in 1939 while the Great Depression (1929-41) and the Dust Bowl (1930-40) raged, causing millions of Americans to lose their homes and livelihoods, forcing them to seek food and shelter on the road and in soup lines the novel still resonates today and has never gone out of print.In The Grapes of Wrath Steinbeck follows one family, the Joads of Oklahoma, as they lose their small farm and travel to California in search of work and a better life.
During our time together we will discuss the nature, complexity, and implications of the American Dream, a phrase we hear frequently, especially during political campaigns. We will explore Steinbeck's depiction of how that dream is realized (or not) and shaped by geography, class bias, economic policy, farming practices, and environmental factors as the Joad family make their laborious way across the west in search of better lives for themselves and their family, learning as they go how communities are formed, strengthened, and broken apart.
I chose this novel because I see so many parallels to the world Steinbeck created and the one we live in now. The gap between the rich and the poor has only grown greater in the decades since The Grapes of Wrath was first published. And while jobs seem plentiful many do not pay enough to support individuals or families. We face environmental catastrophe of even greater significance than those he depicted. And ours, like those in the novel are of our own making. I firmly believe literature can offer us ways to deal, if not always, solve our problems and I believe that this novel still offers hope and encouragement for readers in need of it.
The Grapes of Wrath can be purchased at the Luther Book Store and Dragonfly Books.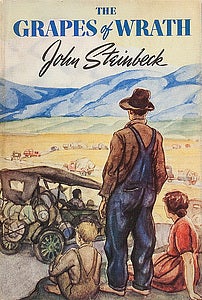 Seminar 3 - American Scene Painting: From the Ashcan School to Abstract Expressionism with Robert Wolf
FEBRUARY 2023 (Feb. 1, 8, 15, 22)

The purpose of this course is not only to introduce participants to the variety of subjects and styles within the American Scene movement but to have them learn, through hands-on practice, to see the structure and color choices of several major compositions. As participants learn to see the levels of skill and knowledge great painters bring to their work, they can carry this forward into future encounters with art.
Robert Wolf is a writer and visual artist. He is also the director of Free River Press, a nonprofit publishing company that documents contemporary American life through writing workshops that Wolf conducts across the country. Free River Press books have been featured on Morning Edition, All Things Considered and CBS Sunday Morning. His past lives include five years of college teaching and several years as a feature writer and columnist for the Chicago Tribune.
Groups/Schools:
Ashcan School
Stieglitz: Gallery 291
The Taos Eight
Santa Fe – Los Cinco Pintores
Institute of American Indian Arts
The Mexican Mural Movement
WPA murals
Benton, Wood, Curry & Others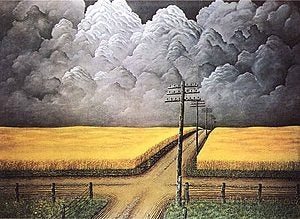 Seminar 4 - The Bach Cantatas with Professor Emeritus of Music James Griesheimer
MARCH 2023 (March 1, 8, 15, 22)

By the time of Bach's birth in 1685, the cantata had undergone considerable development in Italy, appearing in four distinct phases over the course of the Seventeenth Century. As Italian baroque style spreads north of the Alps, an interesting transformation takes place. Vernacular texts and adaptation to a Lutheran culture, esp. in the use of chorale tunes, make the German cantata a "national" property and a great musical inheritance for Bach.
Inasmuch as the vast majority of these works are sacred and liturgical, our main emphasis will be their place within the church year and the Lutheran service. On the other hand a substantial number—some two dozen—are for secular occasions: weddings, funerals, birthdays, investitures etc.; and several embrace subject matter from classical mythology, so that we are honor bound to include them as a separate category.
Some topics: Bach biography, brief history of the cantata in Italy and its transformation north of the Alps, evolution of the German sacred cantata, text painting and symbolism, the importance of key and tuning, Bach as theologian and editorial "homilist," the Bach instrumental menagerie and his use of instruments, authors and literary sources, related types: the passions and oratorios, and the Bach cantata as a great summarizing genre.
Within this historical and technical framework, we will be enjoying real music of stunning complexity and surpassing beauty.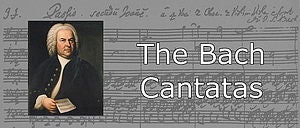 Contact Information
Office of Alumni Relations
Loyalty Hall
Luther College
700 College Drive
Decorah, Iowa 52101
Send Email
Phone: 563-387-1164
Fax: 563-387-1322