Program Highlights
Spanish majors and minors must complete a language immersion experience. You can study away for a semester, a summer, or a January Term course, or you can complete an internship in a Spanish-speaking environment. Study abroad locations include the Dominican Republic, Ecuador, Chile, Spain, Mexico, and more.
Luther's large alumni network helps you get professional work experience. Luther students have completed internships abroad and in the United States.
The Language Learning Center (LLC) provides you with the language assistance you need to excel and succeed in your program. The LLC offers drop-in assistance including tutoring, conversation, help with homework and presentations, and test preparation. Access extensive foreign-language film collections and print resources, gather groups to work on projects, or hold study sessions. The LLC can help you improve your language abilities in many ways!
What You'll Learn
As a Spanish major at Luther, you'll develop strong language, communication, and literacy skills.
Spanish Major
Spanish majors must complete 32 credit hours. Required courses teach effective writing in Spanish; explore Hispanic art, literature, and film; and investigate cultural expressions of the Hispanic world.
You must complete at least one language immersion experience. You can complete six weeks of credit-bearing study through an approved study-abroad program or at an internships of at least six weeks in a Spanish-speaking environment.
Spanish Minor
Spanish minors must complete at least 20 credit hours. You'll develop skills in writing and reading comprehension in a variety of cultural contexts. You must complete at least three weeks in a study-abroad program, or a three-week internship in a Spanish-speaking environment.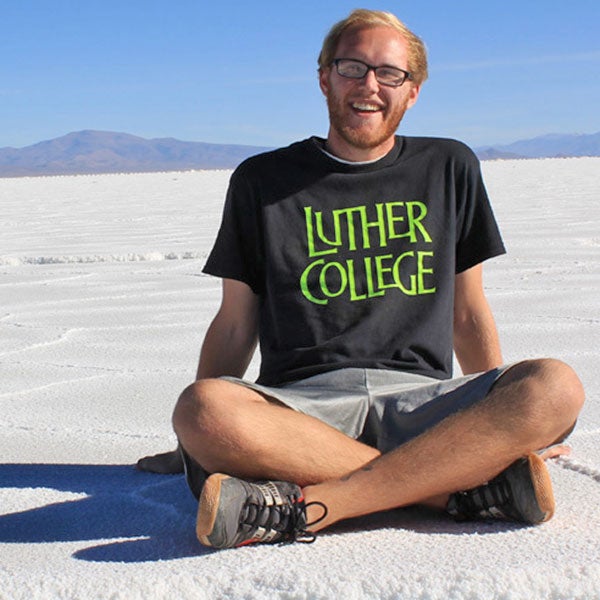 With the wealth of experiences I had at Luther, both in and out of the classroom, I feel prepared to take on any new role that I wish to pursue.
Ryan Goos '16
SPANISH MAJOR
Careers and Outcomes
Luther Spanish graduates are highly sought after, with 92 percent of graduates seeking continuing education, volunteering, or finding a job within a year of graduation.
Graduates from the program are prepared for a variety of careers in fields that include:
Government
International business
Health professions
Education
Teaching English as a second language (ESL)
Students often spend a year engaged in volunteer service or internships with organizations like:
Peace Corps
Teach for America
Lutheran Volunteer Corps
Young Adults in Global Mission