Program Highlights
Expedited Path to a Graduate Degree
Luther's partnership with the University of Iowa College of Public Health creates a direct and expedited path to a graduate degree in a field that is both timely and relevant. The program provides the opportunity to start your graduate degree while you are a senior in college, and finish your graduate degree in one additional year.
Individualized Plans of Study
Upon admission to the program, you will be given a prepared individualized plan of study to ensure that your undergraduate and graduate degrees are completed within five years' time.
All Majors Considered for Admission
Luther students from any major will be considered for admission to the Master of Public Health degree program.
You can apply to the program during your third year at Luther, after completing 80 credit hours of undergraduate work and a minimum of 3.25 GPA. If accepted, you will receive graduate credit from the University of Iowa online courses that you take during your senior year, allowing you to graduate with two degrees in 5 years.
What You'll Learn
The Master of Public Health degree program provides training in epidemiology, biostatistics, community and behavioral health, occupational and environmental health, and health policy.
The 4+1 program begins when you're a senior at Luther, where you'll take both Luther courses and online graduate courses via University of Iowa. You'll be invited to participate in the events and activities at the University of Iowa College of Public Health. You'll also have a graduate school academic advisor and be encouraged to get to know other students in your cohort and the University of Iowa faculty.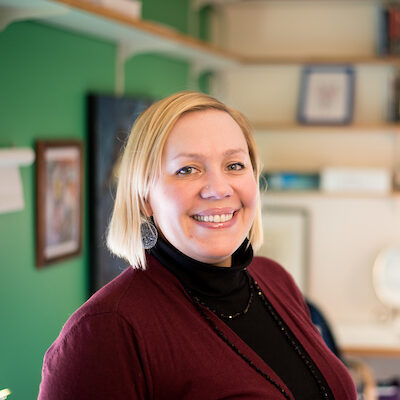 This accelerated path allows for substantial savings in both time and money, while pursuing education in one of the top 20 colleges of public health in the U.S.
Maryna Nading
ASSOCIATE PROFESSOR OF ANTHROPOLOGY AT LUTHER COLLEGE
Career Fields
Graduates from the Master of Public Health program find work as:
epidemiologists
policymakers
biostatisticians
administrators
program planners
environmental specialists
health and safety engineer
health educator
Employers of graduates include:
government agencies
construction companies
technology companies
community organizations
hospitals and other medical facilities
nonprofit organizations
health education programs