Cecilia Douma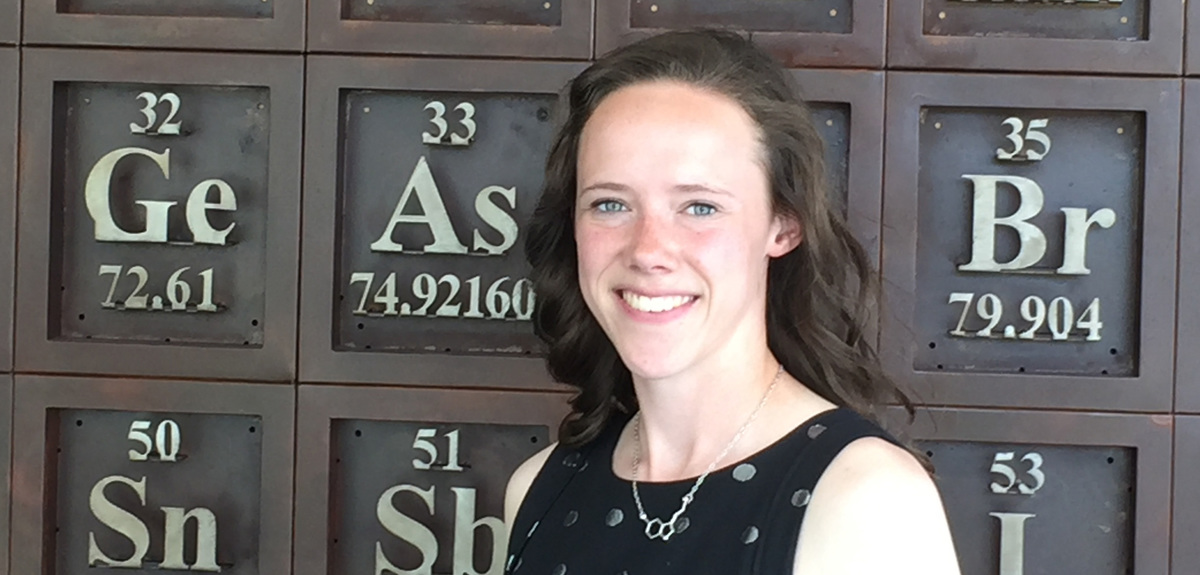 Striking a Balance
Majoring in chemistry at Luther, Cecilia Douma '16 has developed the ability to learn quickly and independently, an important skill in her current journey towards earning a Ph.D.
"I relied much more on the skills I learned through my chemistry training than on the content of my classes," she says. "Studying chemistry at Luther, prepared me to write effectively, work efficiently, and solve problems on my own."
But that is not the most valuable thing about Luther to Cecilia.
Athletics as Career Preparation
"The opportunity I value the most from my college experience actually wasn't an academic one. It was soccer," Cecilia says. "My four years as an outside back undoubtedly made me a stronger chemist."
Cecilia wanted to play soccer in college and Division III schools seemed to offer the right mix. "It was important for me to find someplace where I was respected and supported as both a student and an athlete," she says. "Luther checked all those boxes and more. I was able to stay active in music, had the flexibility to study abroad, and instantly felt comfortable on campus."
Cecilia found that when classes got challenging, soccer kept her grounded and helped to put academic pressures into perspective. "I learned to value myself as a whole person with skills in many different contexts. A tough day in the classroom could always turn into a great day on the field, or vice versa," she says. "Soccer taught me resilience—how to struggle, fail, and keep moving forward."
Cecilia also found that it taught her discipline, not only in working hard but also in giving herself time to recover. "Soccer gave me a group of teammates and coaches who were my support network for four years," she says. "It made me happy day in and day out, even when my schoolwork was at peak intensity."
It was the cumulative experience of being part of the Luther community for four years that shaped who I am and how I interact with my world.

Cecilia Douma '16
A Notable Career Path
During her senior year at Luther, Cecilia knew that she ultimately wanted to go to graduate school, but didn't feel like she refined her research interests enough to choose the right program.
"Instead of going directly to grad school, I worked for two years at Integrated DNA Technologies (IDT) in Coralville, Iowa," she says. "The company synthesizes oligonucleotides that are used as reagents in many different scientific applications. In my role, I answered questions about those oligonucleotide products from customers around the world. It was a meaningful and interesting job that has certainly influenced my personal research interests."
Cecilia is now a graduate student at the University of Minnesota. Her current work in bioanalytical chemistry relies heavily on the oligonucleotide products she supported when she worked at IDT. "Taking time to work in industry after graduation helped me explore my interests and exposed me to careers I might not have otherwise considered," she says,
While Cecilia believes targeted research experience is important, she wants to remind students that your undergraduate experience should be about more than just classes and labwork. "Take advantage of opportunities to study outside your major, compete in your favorite sport, find creative or musical outlets, develop friendships, and just enjoy the experience," she says.
Appreciation for the Luther Community
Cecilia says that the Luther experience she's most thankful for today can't be distilled into a single moment, activity, or event.
"Because Luther is a tight-knit, residential college, I had the opportunity to see my peers in many different contexts. I took classes with my teammates, watched my lab partners perform in shows and concerts, and worked the Sunday morning cafeteria shift with future club presidents," she says. "Eventually, I got to see everyone at their best."