Steve Pasche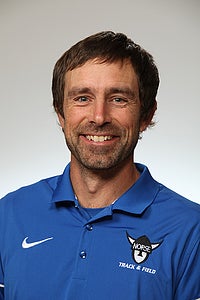 Director of Men's Track and Field and Cross Country
Staff Instructor of HES
Biography
About Coach Steve:
Head Coach for Cross Country
He also serves as the distance coach for track and field
Instructor for J-Term in New Zealand Course
Iowa Conference Coach of the Year in 2006, 2007, 2008, 2009, and 2010
Coaching at Luther
2022 will be Steve's 18th season as head coach
Named Iowa Conference Coach of the Year in 2006, 2007, 2008, 2009, and 2010
Has led the Norse to five Iowa Conference Championships in 2006, 2007 2008, 2009 and 2010
Has also led the Norse to the NCAA III National Championships placing 6th in 2006, 8th in 2007, 26th in 2010, 24th (men) and 14th (women) in 2012
Also serves as assistant track and field coach
Coaching Prior to Luther
Spent two years as an assistant at Williams College (MA), where the women's team won the national championship in 2004 and the men's team finished in the top-10 in 2003 and 2004
From 2000-2002 he was the head men's coach of cross country at Macalester College (MN)
Running Career
1997 graduate of St. John's University (MN) where he earned all-conference honors in cross country and track
1999 graduate of University of Iowa – M.S. Exercise Physiology
Course Description: 
This course is a thorough investigation of the protection system, particularly as it is applied in forms of top rope climbing. Techniques are in concert with the AMGA's (American Mountain Guides Association) guidelines for institutional top-rope climbing. Students are exposed to skills such as belaying, building belay anchors and belay stations, tying off and escaping the belay, crevasse self-rescue and team-rescue, rappelling. We also may practice leading on sport. Practice and instruction in face-climbing movement while on top-rope is also a daily part ofthe course.