Christine Bjornstal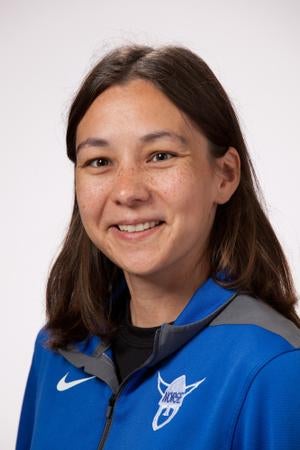 Athletics Communications Director (Interim)
Biography
Christine Bjornstal joined Norse Athletics in September of 2022 as the Assistant Athletic Communications Director. In the summer of 2023 she was promoted to Athletic Communications Director.
In her first year with the Norse, Bjornstal served as the primary contact for baseball, cross country, men's and women's soccer, men's and women's track and field and wrestling. She was instrumental in transforming the live stream productions as executive producer guiding 108 broadcasts incorporating new graphics, instant replays, ads and video clips. Bjornstal directed the first multi-camera stream at Luther for the baseball team giving fans the ultimate experience featuring four cameras. Among her other talents she created content for the video board during the men's and women's basketball season. She received the 2023 College Sports Communicators (CSC) attendance grant for the 2023 convention in Orlando, Florida.
Prior to joining the staff at Luther College, Bjornstal served as the Digital Marketing and Creative Content Specialist at the University of Wisconsin-Superior in Superior, Wisconsin. During her time with the Yellowjackets she filmed hours of footage for all 19 varsity sports. In one year she created over 300 videos which helped grow all the social media accounts for the teams. As the videographer she produced highlight videos, plays of the week, student features, and additional department videos like National Girls and Women in Sports Day. She also had the opportunity to travel with the women's soccer team for their first NCAA appearance in 2021 and men's tennis for their first NCAA tournament match in 2022.
Additionally, Bjornstal comes from a television background working professionally as a Sports Photographer at WKBT News 8000 in La Crosse, Wisconsin covering local high school and collegiate sports. She was also a Production Assistant at KSTP-TV in Minneapolis, Minnesota working on the morning show from 2019-2020.
While at the University of Wisconsin Oshkosh she worked with Titan TV the student television station on campus from 2017-2019. In her second year she was named Sports Director for 2018-2019 academic year and broadcasted 25 events. She worked closely with the athletics department to create a broadcast schedule for men's and women's basketball, football, women's soccer and volleyball. Not only did she produce and direct but she often was the play-by-play analyst for men's and women's basketball, women's soccer and volleyball. She won a total of five Wisconsin Broadcasters Association and two Best of the Midwest Media Fest awards. Her biggest accomplishment was winning first place in 2019 for directing a football broadcast vs UW-Stout in the Sports Play-by-Play (TV) category. She also had the opportunity to be the videographer for the men's basketball team in back-to-back Final Four appearances in 2018 and 2019. She assisted on several NCAA regionals/sectionals hosted by UW-Oshkosh for men's and women's basketball, football and when Titans hosted the National Collegiate Gymnastics Association National Championship in 2019.
She graduated from the University of Wisconsin-Stevens Point in Stevens Point, Wisconsin in 2016 with a Bachelor of Arts in Communication and the University of Wisconsin Oshkosh in Oshkosh, Wisconsin in 2019 with a Bachelor of Science in Radio-TV-Film with a minor in Anthropology. Outside of sports she loves to travel, play video games, and watch movies.