TUESDAY 10/12/2021

The most recent version of the Tuesday is always available online at: http://www.luther.edu/tuesday/
Published for faculty and staff by the Luther College Media Relations office • Copy deadline: Friday, 3 p.m., 75-word limit • Phone: (563) 387-2992 • Email: <Tuesday>
Note: All campus telephone numbers are in the 563 area code, all campus email addresses end in @luther.edu • ©2021
Submit an item for the Tuesday at: www.luther.edu/tuesday/submit/
ANNOUNCEMENTS / COLLEGE OPERATIONS / EVENTS
COMMUNITY / ARTICLES, CREATIONS, HONORS / UNCLASSIFIED ADS
ANNOUNCEMENTS
Victoria Christman named director of Center for Global Learning
Victoria Christman has been named the new director of the Center for Global Learning. She will begin her new role in January 2022. President Ward invites nominations for the position of director of the Center for Ethics and Public Engagement (CEPE) at Luther College as Christman is concluding her service as the director of the CEPE in Dec. 2021. Nominations and expressions of interest should be sent through campus mail or email to Tara Quass <quasta01> no later than Oct. 18, 2021.
Being Community updates
The Being Community website is the hub of information and inspiration for Luther's approach to the 2021-22 academic year. We invite community questions and feedback.
COLLEGE OPERATIONS
Flu shots for employees

Luther will be providing flu shots for employees 10 a.m.-noon Tuesday, Oct. 26. You just need to sign up for a time slot. If you are not on the Luther insurance, you will need to provide a copy of your insurance card so we can have that company directly billed. Email <wellness> with any questions. Flu vaccination is especially important for the 2021-22 flu season, because of the COVID-19 pandemic. Flu vaccines will not prevent COVID-19, but they will reduce the burden on the health care system and conserve scarce medical resources for the care of people with COVID-19.
Campus Social Media Group
The marketing and communications department invites you to participate in our now quarterly Campus Social Media Group. The primary purpose of these meetings is to provide support and direction for administrators of the Luther College institutional social media accounts, as outlined in the Luther College Social Media Policy. If you are in charge of a Luther College branded social media account that we are not already aware of, please contact Lane Rahlf <rahlla01> to be added to the invite list. We encourage one staff/faculty representative from each Luther College account to participate in this group. Please stay tuned for more information as we close in on a November meeting date.
Want to be a certified Mental Health First Aid provider?
Employees can register to participate in Adult Mental Health First Aid certification training on Friday, Dec. 17, from 8 a.m.-5 p.m. MHFA teaches how to help someone developing a mental health problem or experiencing a mental health crisis. Training is free and you receive a 3 year certification. This program can help prepare you to support colleagues, students, friends, and family members. Register here. Contact <molobo01> with any questions.
October Luther Works supervisor support session
Work-study supervisors: join us on Thursday, Oct. 21, from 9-10 a.m. in Mott for our next supervisor support session. We will work through how to manage difficult conversations with your student employees, including performance improvement coaching and corrective action. Hope to see you there!
Projects for Peace proposals

The Projects for Peace program encourages students to develop innovative, community-centered, and scalable responses to the world's most pressing issues. If selected, students/student groups receive $10,000 to carry out their project during summer 2022. If interested in learning more, contact Jon Lund, <lundjon>, to discuss the proposal process, budget development, and timeline. Proposals are due Jan. 17, 2022.
2021 Distinguished Service Award recipients
The 2020-21 recipients of the Distinguished Service Award were celebrated during Homecoming weekend. The 2021 recipients are Lee Afdahl '71, Denise (Danielson) '77 and Michael Bernatz '76, Karen (Gulsvig) Johnson '61, Kathy MacLaughlin '91, Suzanne (Roverud) Mineck '96, Arlivia (Owens) '72 and Willard Williamson '71, and Kristen Weeks Duncanson '81. Watch the Youtube series recognizing all 2020-21 recipients.
2021 Homecoming music awards
This 2021 homecoming season, Luther College continues the tradition of presenting the Weston Noble, Dr. Carlo A. Sperati, Presser Scholar and Hemp Prize awards. Student and alumni award winners are recognized each year during the annual Homecoming Concert. Timothy Peter '86 is the recipient of the 2021 Weston Noble Award. Mollie Busta Lange '01 is the 2021 recipient of the Dr. Carlo A. Sperati Award. Kaleb Krzyszton '21 is the 2021 recipient of the Presser Scholar Award. Gibson (Gibby) Swalley '21 is the 2021 recipient of the Hemp Prize.
Sales tax on commercial card purchases
Financial Services has been noticing a larger than normal amount of commercial card receipts with sales tax added, especially by Decorah merchants. Please remember to mention Luther's tax exemption to clerks and wait staff. Check receipts when they are received so, if needed, the issue can be resolved immediately.
Foreign Policy and Practice series
The Associated Colleges of the Midwest announces the first session in the new Foreign Policy and Practice series hosted by the ACM and Chicago Council on Global Affairs. Entitled Public Opinion and Foreign Policy: Does It Matter and, If So, How?, this session will be held on Wednesday, Oct. 27, from 5-6:30 p.m. Open to all interested faculty, students, and staff. More information and registration here.
"Viking Economics" book discussion
Maren Johnson (Nordic Studies) and Berit Skogen '23 will lead a discussion on "Viking Economics" by George Lakey at 7 p.m. Wednesday, Oct. 27, via Zoom. Lakey provides a guide for the non-specialist to compare and contrast modern economic systems in developed countries, with a focus on Norway and the United States. Along with history and statistics, he includes personal stories and conversations. Sign up to receive your free copy and register for the discussion. A Civic Sustainability event, in collaboration with Center for Ethics and Public Engagement, Torgerson Center for Nordic Studies, and Vesterheim Norwegian-American Museum.
Luther College Woman's Club to meet Oct. 19
Stephanie Fromm and Lora Friest will present on the Northeast Iowa Child Development and Discovery Center at the next meeting of the LCWC, Tuesday, Oct. 19. The meeting takes place at 1:30 p.m. in Peace Dining Room, Dahl Centennial Union. Shuttle service from the Decorah pool lot leaves at 1:10 p.m.
Compost collection closed Oct. 14-21
Compost collection will be stopped at all locations for Fall Break beginning Oct. 14th. Compost collection will resume on Oct. 21.
HR updates
Reminder: Nominations for Staff Excellence Awards
Staff and faculty are invited to nominate an administrative or support staff person for the Staff Excellence Awards. Nominations are due Friday, Oct. 22, in the Human Resources office. Recipients will be announced at the December staff meeting. More information about the award and the nomination process, as well as the Google nomination form can be found here.
Midterms Care Packages available!
Midterms Care Packages are now available from the Luther Book Shop! Show your Luther student some SPO love to help keep their stress levels in check! Available here.
College Ministries
World Food Day - Food drive
College Ministries is collecting donations for the Little Free Pantry for World Food Day on Oct 16. The Little Free Pantry is a resource on campus that provides all students, staff, and faculty with access to free foods like snacks, drink mixes, and shelf-stable goods. The Little Free Pantry is open 24/7 and is located within the prayer chapel (a little door across the street from Valders). Donations are always welcome and encouraged, they can be dropped off in a box next to the Little Free Pantry or the College Ministries Office.
Chapel Streaming
Chapel streaming is back! Look up "Luther College Ministries" on YouTube and subscribe while you're there!
Collecting memories of 9/11
Brooke Joyce is interested in collecting short audio recordings of Luther community members' memories of 9/11. These will be woven into a concert of memorial music on Oct. 21. To participate in this project, send him an email <brooke.joyce>.
Luther Cheer presents: Junior Cheer Clinic
The Luther cheerleaders are excited to host an on campus youth clinic (boys and girls K-5th) on Saturday, Oct. 16, from 9-11 a.m. in the SRC! The children will be learning a couple of cheers and a routine to perform during halftime at the home football game against Wartburg that day at 1 p.m. The Cost of the clinic is $30 (t-shirts and snack included). Register here.
Luther employee fitness classes are back!
Sign up today for the second six-week session of fall classes of wellness subsidized employee Yoga and Zumba classes. Details and the registration form are available on the online fitness class site. Classes are open to current employees and spouses. Email Wellness <wellness> with questions.
Spraying for weeds
The grounds department will be fertilizing the upper campus next week and spraying for weeds around the athletic fields.
Take a survey for a chance to win Dining Dollars!
Dining Services is administering a customer satisfaction survey, asking students, faculty, and staff to provide feedback about their campus dining experiences. The results of this survey will help Dining Services implement changes to improve customer experience. We'd like to check in to see how we're doing! Please take a few minutes to complete our Customer Satisfaction Survey. Survey participants will be entered to win $50 dining dollars. The survey will close on Saturday, Oct. 16.
Not Quite Free Lunch Oct. 12
Join colleagues at the Not Quite Free Lunch 11:30 a.m.–1:15 p.m. Tuesday, Oct. 12, in the Peace Dining Room, sponsored by Wellness. Boost social and emotional wellness by getting away from the typical work space and mingling with folks from across campus. The menu includes Caprese Biggie Sandwich, roasted Caesar vegetable wrap, creamy coleslaw, Italian pasta salad, creamy turkey and wild rice soup, dessert and beverage.The charge is only $5, payable by cash, check or Luther ID. Contact Wellness <wellness> with questions.
Title IX Suppression Clause policy update
In response to recent guidance from the U.S. Department of Education, Luther revised its Title IX Policy to comply with a recent court decision supported by OCR. This revision removes the language from the 2020 regulations that require parties (including witnesses) to attend a hearing and participate in live, oral, and direct cross-examination in order for their statement/evidence to be considered. The full updated policy with the revised language is found on Section 27 of the Title IX Policy, under "Refusal to Submit to Cross-examination and Inferences." If you have any questions or would like more information, contact Kasey Nikkel, Title IX Coordinator, <kasey.nikkel> or call 387-1825.
Wellness is hosting a massage therapist weekly on Mondays for $30/20 minutes or $40/30 minutes chair massages (cost includes tip and is payable by cash, check or card at appointment or when booking), which can help reduce muscle tension, improve blood flow/circulation, increase energy-improving productivity, decrease anxiety, and enhance immune system function. Chair massage is done on a chair designed for massaging the back, neck, shoulders, arms, and hands. Massages are done fully clothed. Sign up for a 20 or 30 minute session. New location: Union 102.
EVENTS
Chapel this week
The fall chapel theme to begin the 2021-22 academic year is: "A New Creation." This theme, grounded in Isaiah 65: 17-18, invites us to reflect on God's work in continually making all things new. Monday chapels will be Sung Morning Prayer, a liturgy written by Marty Haugen '73, and led by campus organist Gregory Peterson. Wednesday and Friday chapels will include music, prayer, and reflections from a variety of speakers, such as: senior students, faculty, staff, and our new campus pastor and director of College Ministries, Pastor Melissa Bills. All chapels begin at 10:30 a.m. and take place in the CFL Main Hall unless noted otherwise.

Wednesday, Oct. 13: David Faldet, Norskkor, in Bentdahl Commons for Founders Day Chapel
Friday, Oct. 15: Pastor Melissa Bills
Monday, Oct. 18: No Chapel, Fall Break

Events this week
The Office of Campus Programming maintains a Calendar of Events which includes listings for student activities, athletics, lectures, and more, with links to virtual events. Visit the online Calendar of Events for a complete list of Luther events happening from Tuesday, Oct. 12–Monday, Oct. 19. Contact <schedule> with questions. For a complete listing of athletic events, visit luthernorse.com.
A CEPE and Civic Sustainability Event: Jillian Peterson, "The Violence Project: How to Stop a Mass Shooting Epidemic," Oct. 13

Hamline University professor of criminology and criminal justice, Jillian Peterson, will discuss her research into mass shootings and those who perpetrate them. With her colleague, James Densley, Peterson has spent years identifying commonalities in the life stories of mass shooters, and in her new book, calls for evidence-based strategies to stop these recurring tragedies. Peterson's lecture is open to the public with no charge for admission. A book sale and signing will take place following the lecture. Please email <cepe> if you have questions.
Local Candidate Forum Oct. 27

Sponsored by the Center for Ethics and Public Engagement, political science department, and social work program, candidates for the offices of Decorah City Council and Decorah School Board (listed here) will answer questions from the public. This is an opportunity for constituents to ask candidates about their positions in advance of the Nov. 2 election. The event will be held via Zoom and is open to all. Attendees may submit questions to the candidates via the Zoom Q&A function. Luther students and faculty are invited to attend a watch party in Valders 206. Find the Zoom link here.
"Music in the Shape of a Pear: 9/11 Memorial Concert" Oct. 21
At 7:30 p.m. Thursday, Oct. 21, in the Noble Recital Hall of the Jenson-Noble Hall of Music will be the concluding event of the 20th anniversary of 9/11 organized by the Center for Ethics and Public Engagement, this concert will combine musical selections composed in response to 9/11 and personal recollections of community members. Included on the program are compositions by Adam Gwon, Ned Rorem, Bruce Springsteen and Karen Walwyn. "Music in the Shape of a Pear" is an annual concert series directed by Brooke Joyce.
COMMUNITY
Welcome, new hires
Jessica McKone started as a student accounts assistant on Sept. 30. Jessica's office is Main 118, telephone 387-1011.
Miriam (Mimi) Delrahim started as the regional admissions counselor in the Twin Cities on Sept. 23. Mimi will work out of the Minneapolis regional office, telephone 763-208-5293.
Linnea Lee-Brown started as the assistant men's and women's swimming and diving coach on Oct. 1. Linnea's office is Regents Center 208, telephone 387-1578.
Celebrations this week
Birthdays
Oct. 12: Kris Agena, Daina Bond
Oct. 14: Heather Armstrong, Deborah Meyers, Christina Vrtis
Oct. 15: John Androus, Annette Laitinen
Oct. 16: Jena Benson, Rebecca Shaffer
Oct. 17: Josh Snyder
Oct. 18: Orcun Selcuk
Position openings
Off-campus programs advisor (.83 FTE): 10-months per year. Will advise students interested in participating in off-campus programs, coordinate administration of assigned off-campus programs, and collaborate with colleagues on the work of the Center for Global Learning. Position also includes marketing and social media elements. Bachelor's degree is required. Master's degree preferred.
Assistant sports performance coach/director of the Legends Fitness Center (.83 FTE): Will lead team speed, strength, and conditioning sessions as well as manage the day to day operations of the Legends Fitness Center. Requirements: Bachelor's Degree required, Master's Degree preferred in Exercise Science or related field; at least 1-3 years of relevant experience in strength and conditioning at the collegiate level; C.S.C.S., SCCC, or comparable certification.
Campus mover (1.0 FTE): Will provide support to campus via movement of materials around campus. This support includes acceptance and delivery of incoming freight, delivering materials for campus events, and movement of offices and furniture. Other duties will include light maintenance of vehicles, minor repair to furniture, and assisting other facilities services departments. High School diploma or equivalent as well as valid driver's license, and computer skills to access college's web-based work order system. Must be able to work with minimum supervision.
Director of music marketing (1.0 FTE): The Director of Music Marketing develops and promotes a variety of special events to recruit students and garner visibility for the college and the exceptional Luther College Music Department. These events include the storied annual Christmas at Luther performances, domestic and international music tours, and a suite of Dorian Music Festivals and Summer Music Camps. A bachelor's degree and experience coordinating programs or events is required, and 3-4 years music or arts management experience is preferred. This position is open only to internal applicants.
Institutional research analyst (.75 FTE): 30-hours per week, benefit-eligible. This position is responsible for a broad range of activities involving data collection, analysis, and reporting in academic and administrative areas. Bachelor's degree required. Master's degree in a research-related field with strong quantitative data analysis training preferred.
To view the complete job descriptions and apply for these positions and all current openings, please go to the employment website at https://luthercollege.hiretouch.com.
ARTICLES, CREATIONS, HONORS
Norma Hervey was a panelist speaking on her experience during the Civil Rights Movement of the 1960's during a televised program on the global impact of the Black Lives Matter movement at the Prague Public Library on Oct. 4, a program funded by the U.S. Embassy.
Loren Toussaint gave a keynote address for the university of Sinu's forgiveness campaign. uni Sinu is in Columbia. The talk has been translated into Spanish. Watch it here.
Gereon Kopf's "Buddhist Death Rituals: For the Living – Not for the Dead" appeared in Buddhistdoor Global.

Colin Betts gave a live-stream presentation on his research for the Iowa Office of the State Archaeologist for Iowa Archaeology Month titled Remote Sensing and Effigy Mounds on Oct. 5. The lecture can be viewed here.
Bailey Connors '22 collaborated with Andrew Last to research the 75 year history of the Luther College Nordic Choir. The student-faculty duo worked together over the summer in the archives of the Luther College Preus Library to sort through old images and documents and collected accounts from alumni who were in the choir. They will be producing a timeline that will be available to view online and in-person in the Jenson-Noble Hall of Music and they are putting together a compilation of pieces performed by Nordic Choir over the years. Watch the video.
UNCLASSIFIED ADS
Wanted: Roommate. I have a walk-out basement with lots of natural light. It has one bedroom, one bath, a living room, and dining room. The shared kitchen is upstairs. Home is located just outside of town, past the airport. No smoking or pets as I already have one dog. Rent is $800/month and includes snow removal, internet, and lawn care. Electric and gas would be split. Owner is licensed Realtor in the State of Iowa. Call 563-380-1388 or email [email protected]

For sale: Grass-fed beef, intensively-grazed with attention to soil health, building organic matter/microbes, and individualized animal care. No antibiotics/growth hormones. Available in quarters or 1# ground beef packages. Ready in November. Email <enosbejo> or call 563-380-4185.
For sale: 2008 Volvo XC90 Sport, Yamaha V8 4.4L, 6 speed automatic/manual mode, AWD with 102,xxx miles. Private party cash $8,750. California car in good-excellent condition by KBB definitions. VIN YV4CZ852381478475, built in Sweden. Service documents included. Loaded; heated front seats, leather, premium audio, HomeLink, navigation, reverse parking assist, tracking headlights, rear AC for jump seats, non-smoking, clean. Everything works, title is clean. Selling because we went to an electric vehicle. Luther staff/faculty/alumni receive 15% discount from asking price. More information and photos available when requested to <[email protected]>.
EDITORIAL COMMENT
And finally...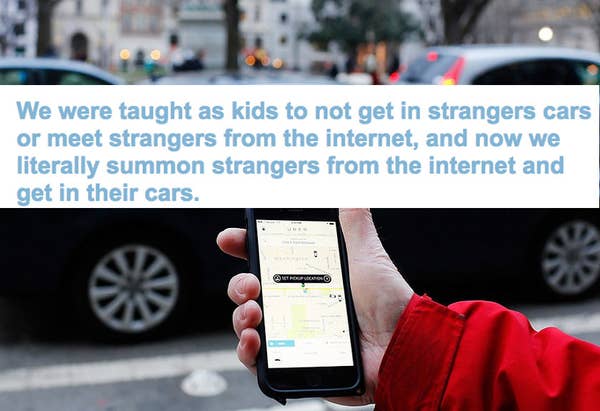 (Courtesy: Buzzfeed)